January, 19, 2017
Jan 19
6:11
AM PT
Julius Randle continues his growing pains on the court: Effort is rarely an issue for Julius Randle, the blue-collar forward who was the seventh pick in the 2014 draft, but consistency in decision-making, performance and production has been elusive. Randle endured more growing pains Tuesday in the Lakers' 127-121 loss to Denver, making two of eight shots for seven points and committing five turnovers. -- Los Angeles Times
Lakers' Luke Walton likes how D'Angelo Russell, Julius Randle handled sitting late in Tuesday's loss to Denver: The unspoken words told Lakers coach Luke Walton that Lakers guard D'Angelo Russell and Lakers forward Julius Randle would not sulk about sitting out in fourth-quarter stretches. Their effort in Wednesday's practice showed Walton they will channel any frustration with diminished playing time productively on the court. "There was also a nice feistiness to practice with guys getting after it," Walton said. -- Los Angeles Daily News
January, 18, 2017
Jan 18
5:05
AM PT
Magic Johnson vows to stay patient as young Lakers endure growing pains: The smile was unmistakably Magic Johnson and evoked his excitement at watching a young Lakers team grow. Moments later, Johnson shook his head incredulously over the inexperienced roster's learning curve. "Fans have to be encouraged, but Lakers fans are tired of losing," Johnson told Southern California News Group. -- The Orange County Register
Lakers stage fourth-quarter rally, but fall short to Nuggets, 127-121: The Los Angeles Lakers extended their losing streak to five with a 127-121 loss to the Denver Nuggets in Staples Center on Tuesday night, their 21st loss in 26 games since Dec. 2, but unlike so many of their previous defeats, this one didn't leave such a sour taste in their mouths. -- Los Angeles Times
Lakers' Luol Deng is out 'indefinitely' with sprained right wrist: Lakers forward Luol Deng suffered a sprained right wrist Sunday night against the Detroit Pistons and was inactive for Tuesday night's game against the Denver Nuggets. Deng had an X-ray, which was negative. The team announced an hour before the game that Deng, who is averaging 8.1 points and 5.8 rebounds while playing an average of 27.6 minutes a game, is "out indefinitely," but it did not specify whether that meant days or weeks. -- Los Angeles Times
Through team struggles, Lakers Coach Luke Walton hasn't considered changing starters: During the past two months, a difficult stretch for the Lakers, they've remained steady with one thing: injuries aside, their preferred starting lineup hasn't changed. And it won't any time soon. Lakers Coach Luke Walton hasn't considered a change to that group. -- Los Angeles Times
Lakers show good, bad and ugly in 127-121 loss to Nuggets: When they weren't inspiring with the way they sliced into a sizable deficit, they were frustrating with the way they allowed Denver to score at will. The Lakers' 127-121 loss to the Denver Nuggets on Tuesday at Staples Center summed up the team's good, bad and ugly during a season that's been characterized by youthful promise and youthful mistakes. -- The Orange County Register
Why Lakers' Luke Walton has not considered changing his starting lineup: The starting lineup has fluctuated nearly every three games the Lakers have played. It happened again when Lakers forward Luol Deng missed Tuesday's game against Denver because of a sprained right wrist suffered during Sunday's loss to Detroit. Lakers rookie Brandon Ingram took the place of Deng, whose timetable is indefinite after X-rays turned out negative. The Lakers' 14 starting lineups this season all stem from overlapping injuries or rest needs. Even through the Lakers' inconsistency, Walton said he has never entertained changing his starting lineup. -- The Orange County Register
Lakers coach Luke Walton draws a line in the sand: It took 36 ugly minutes, plus many a long December and January night, but the Lakers rediscovered the grit, joy and effort that made them such unlikely contenders for a playoff spot early in the season. And Luke Walton finally found a lineup that provided those things. The Lakers chipped away at a 17-point deficit, crawled within one. They glided back on defense and a certain lanky center challenged shots at the rim. -- The Orange County Register
January, 17, 2017
Jan 17
10:17
PM PT
Associated Press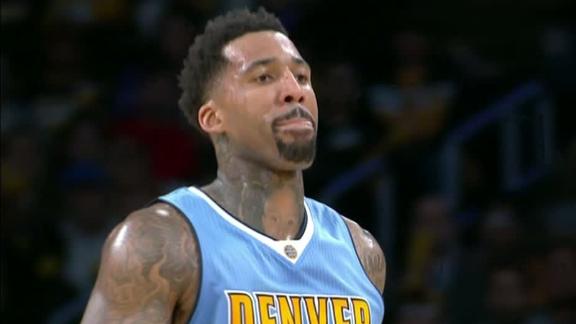 LOS ANGELES -- Nikola Jokic had 29 points and 15 rebounds, and the Denver Nuggets withstood a furious late rally by the Los Angeles Lakers to hold on for a 127-121 victory Tuesday night.
Denver led by 19 late in the third quarter only to see the Lakers close within one with 1:59 to play. The comeback fell short, however, and Los Angeles lost its fifth consecutive game.
Will Barton added 26 points and eight assists to help the Nuggets win their third straight. Kenneth Faried had 20 points and seven rebounds.
Lou Williams scored 24 points and Nick Young had 22 for the struggling Lakers, who have won just five of their last 26 games.
January, 17, 2017
Jan 17
6:26
PM PT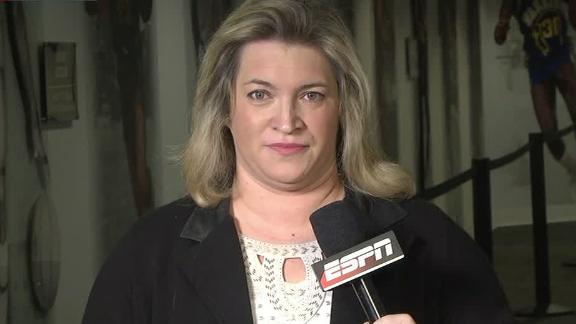 Los Angeles Lakers co-owner Jeanie Buss met with Hall of Famer and former Lakers point guard Magic Johnson on Tuesday night, sources with knowledge of the meeting told ESPN.
The exact nature of the meeting was not immediately clear, but sources said Buss has been soliciting opinions on the direction the franchise should take moving forward, after three straight losing seasons and possibly a fourth, with the Lakers already having lost 31 games this season.
Buss, Johnson, Lakers executive Linda Rambis and Johnson's longtime friend and business partner Lon Rosen were seen having dinner at a restaurant inside Staples Center before Tuesday's game against the Denver Nuggets, according to sources.
After the dinner, Buss and Magic sat next to each other to watch the Lakers' 127-121 loss to the Nuggets.
Johnson told Southern California News Group the meeting was not unique, calling Buss a "close friend" who he has had dinner with frequently the past "three or four years."
"She always wants to ask, 'What do you see, what do you think, what do you like?'" Johnson said. "We always get together. You know me. I'll break it down for her as much as I can. I love the Lakers."
Johnson, currently an analyst for ESPN's NBA Countdown, holds an ownership stake in the Los Angeles Dodgers and has been close to the Buss family since he was drafted by the Lakers in 1979. Jeanie Buss worked for her father, the late Dr. Jerry Buss, at the Forum in Inglewood in those days.
January, 17, 2017
Jan 17
6:38
AM PT
Lakers hope added practice time this week can address defensive deficiencies: As he has guided his young team with a reassuring touch and honest feedback, Lakers coach Luke Walton has instructed those players to adopt a consistent routine. That way, developing habits could soon lead toward instinctual behavior. If only Walton could provide the same consistency with the Lakers' practice itinerary. No NBA team ever faces the same amount of off-days and practice time with an 82-game schedule that includes fluctuating travel and games on back-to-back days. -- The Orange County Register
Lakers reluctant to play the 'youth' card as season goes on and losses pile up: What Lou Williams said Sunday night after the Lakers' 30th loss of the season wasn't new to the rhetoric coming from within his team. The veteran guard was asked if the callow Lakers can make the improvements they need to make now, or if a growing-up process must be completed first. "It definitely can improve right now," Williams said. -- Los Angeles Times
January, 16, 2017
Jan 16
8:01
AM PT
Lakers' Ivica Zubac is effective as well as a 'bit tired': Unlike the last two Lakers games in which he played, Ivica Zubac got meaningful minutes with the Lakers on Sunday. That was part of a plan. "We've been talking as a staff to try and find some way to get Zu some minutes," Lakers Coach Luke Walton said. -- Los Angeles Times
Lakers battle to the end but fall to the Pistons, 102-97: Something clicked for D'Angelo Russell offensively Sunday, but as the rest of the starting group struggled to contribute, Russell's impact didn't lead to a win. After two consecutive blowout losses, the Lakers were more competitive. Still, they fell to the Detroit Pistons, 102-97, at Staples Center. -- Los Angeles Times
Lakers show more inconsistency in 102-97 loss to Pistons: The debilitating losses in recent days did not just expose the Lakers' inferiority against the NBA's elite. It also sapped the joy out of a season centered more on if the Lakers' progress than the end result. So the Lakers spent their 102-97 loss to the Detroit Pistons on Sunday at Staples Center offering another trend that has plagued their season. They cannot close games out consistently. They cannot sustain their effort, either. -- The Orange County Register
Lakers' Ivica Zubac absorbing plenty of trash talk from D-League players: With a stoic expression on his face, Lakers rookie center Ivica Zubac sat by his locker. He expressed what his body language suggested he felt. "I'm tired," Zubac said before the Lakers played the Detroit Pistons on Sunday at Staples Center. In an experience he called "exhausting," Zubac appeared for three minutes in the final moments of Saturday's loss to the Clippers before playing that evening for the Lakers' Development League affiliate. -- The Orange County Register
January, 15, 2017
Jan 15
9:05
PM PT
Associated Press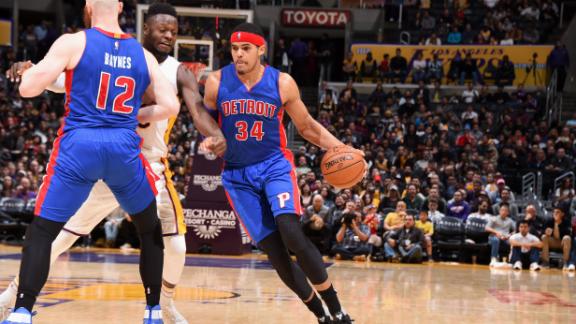 LOS ANGELES -- Tobias Harris scored 23 points and hit a decisive 3-pointer with 30.5 seconds to play, and the Detroit Pistons snapped a three-game losing streak with a 102-97 victory over the Los Angeles Lakers on Sunday night.
Marcus Morris scored 23 points and Andre Drummond had 15 points and 17 rebounds for the Pistons. They wrapped up their longest trip of the season by beating the Lakers at Staples Center for the first time in seven tries since Nov. 14, 2008.
Detroit barely hung on down the stretch of a back-and-forth game with the Lakers, who lost their fourth straight despite 26 points from Lou Williams.
D'Angelo Russell added 20 points for the Lakers. They have lost 20 of 25 since their 10-10 start to coach Luke Walton's first season.