June, 28, 2017
Jun 28
6:31
PM PT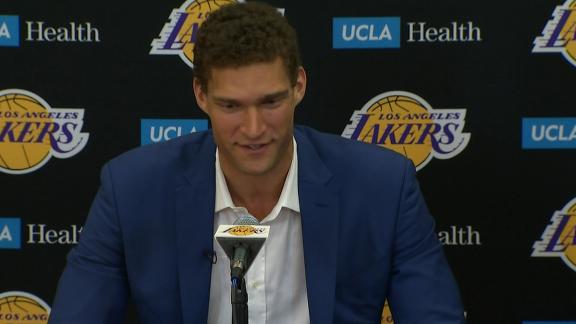 EL SEGUNDO, Calif. -- During his opening statement while introducing new center Brook Lopez on Wednesday, Los Angeles Lakers general manager Rob Pelinka made a comment that raised eyebrows.
"We don't see next year at all as a rebuilding year," Pelinka said at the team's practice facility. "We see it as a Lakers year. A lot of that is going to be centered around [Lopez] and what he stands for and what we know he'll give this organization."
On the surface, it was an incredibly bold statement for a team that posted a 26-56 record last season, the league's third-worst mark, and hasn't made the playoffs in four straight seasons.
It was even bolder considering that Lopez, whom the Lakers acquired in a trade with the Brooklyn Nets, will be asked to play a key leadership role on a team that features several key players in their early 20s who, while talented, are largely inexperienced.
For the cherry on top, it's worth remembering that Lopez might not be around the Lakers beyond this season. Although the 29-year-old Lopez is one of the NBA's premier centers, having averaged 20.5 points, 5.4 rebounds, 2.3 assists and 1.7 blocks for the Nets last season, he is also entering the final season of his contract that will pay him $22.64 million, which matters greatly for the Lakers.
By trading center Timofey Mozgov to the Nets last week and thus clearing his massive contract -- he is entering the second year of a four-year, $64 million deal -- and with Lopez's expiring deal, the Lakers should have close to $60 million in significant cap room next summer.