February, 25, 2017
Feb 25
8:35
PM PT
By
ESPN.com news services
Lonzo Ball's father clarified statements made Saturday to an Arizona radio station about the UCLA star playing only for the Los Angeles Lakers.
"All I said was that my boy is going to play for the Lakers, and I'm going to speak it into existence," LaVar Ball told ESPN on Saturday night. "I want him to be a Laker, but I wasn't saying he's only going to play for the Lakers."
Earlier Saturday, Ball told KCUB Sports Radio 1290 in Tucson he wants his son to play for Jeanie Buss' franchise so much that he would discourage other teams from picking him in this summer's NBA draft.
"I want him to be a Laker," Ball told KCUB. "He's gonna be the first one that's homegrown, and trust me he'll do the same thing he's doing at UCLA."
In a response to a question about the Lakers hypothetically securing the third pick in the draft, the elder Ball said he would tell the top-two squads to avoid drafting his son.
The elder Ball hedged that statement when speaking to ESPN.
"I'm not trying to say he won't play for a different team," LaVar Ball said. "But I'd like him to play for the Lakers because it's home and I'd love him to learn from Magic (Johnson) He's the best guard ever to me, and nobody better for Lonzo to learn from than Magic Johnson."
Johnson, the Lakers' new president of basketball operations, sat in the front row at Pauley Pavilion and watched Lonzo Ball lead UCLA to a come-from-behind win over Oregon on February 9.
When asked about his father's statement, Ball said: "All I do is go out and play basketball, man."
Ball finished with 11 points, eight assists, five rebounds and two steals in his team's 77-72 win at Arizona
February, 25, 2017
Feb 25
12:00
PM PT
Los Angeles Lakers guard Jose Calderon has emerged as a potential candidate to join the NBA's annual March buyout market, according to league sources.
Sources told ESPN that it's not yet a certainty Calderon will secure his release from the Lakers in the coming days, but the sides are indeed discussing the options as Wednesday's playoff eligibility deadline nears.
The likes of Calderon and Philadelphia's newly acquired Andrew Bogut must be waived by Wednesday to retain eligibility for this season's playoffs with their next team.
Sources say that Calderon, if he winds up hitting the open market, would instantly become a target for both the Golden State Warriors and the Houston Rockets.
The Rockets, in particular, have vowed to be aggressive in their pursuit of veterans such as Bogut and Calderon after clearing an additional $3.5 million in salary cap space through their deadline-day trades that shipped out K.J. McDaniels and Tyler Ennis.
Golden State could have an open roster spot as soon as Sunday, with guard Briante Weber's second 10-day deal coming to an end after the Warriors host Brooklyn on Saturday night.
February, 24, 2017
Feb 24
8:41
PM PT

By Baxter Holmes
ESPNLosAngeles.com
Archive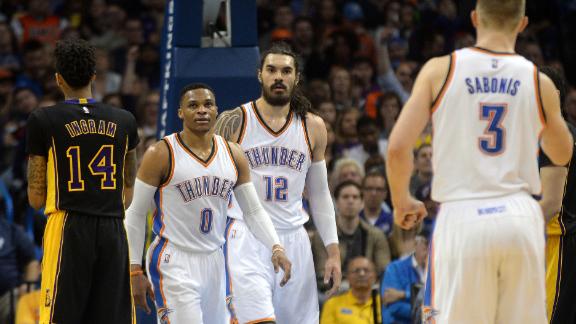 OKLAHOMA CITY -- There he sat on the aisle, halfway up Section 114, maybe 15 rows directly behind the Los Angeles Lakers bench, beside the offspring of the owner who drafted him.
From his perch next to Lakers executives Joey and Jesse Buss, Magic Johnson munched on popcorn Friday and surveyed his young, rebuilding squad play its first game since he ascended from a nebulous advisory position to president of basketball operations in a dramatic in-house bloodletting earlier this week that shook the franchise's foundation and the NBA landscape.
And the Lakers can feel his presence.
"It's like you're starting over and trying to impress," Lakers point guard D'Angelo Russell said after L.A.'s 110-93 loss to the Oklahoma City Thunder at Chesapeake Energy Arena.
"Everybody has to look over their shoulders once again. It's like coming to a new team. You try to impress the GMs and the guys in the front office with your play and off the court, the way you handle yourself. It's just all different."
Midway through the second quarter, Johnson joined the in-game broadcast on Spectrum SportsNet, and after preaching patience with repairing a team that has the NBA's third-worst record and has missed the playoffs for three consecutive seasons, he headed toward a nearby tunnel.
But star power of his caliber doesn't visit Oklahoma on just any day, so nearby fans zeroed in with smartphones and snapped away, screaming, "Magic!" He offered his classic smile in return.
"There's a reason he's as successful as he is, because he has a way with people," Lakers coach Luke Walton said before his team fell to 19-40 on the season.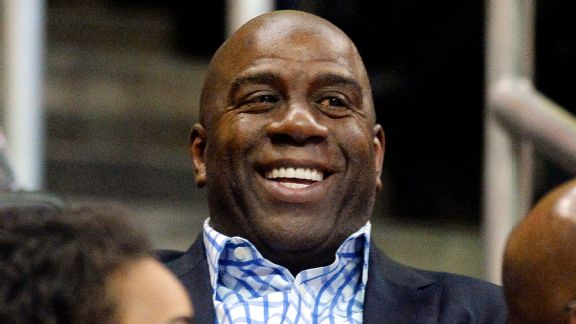 Mark D. Smith/USA TODAY SportsNew president of basketball operations Magic Johnson was on hand Friday as the Lakers lost at Oklahoma City.
Johnson oozes charisma, not to mention the legendary clout that comes with being one of the most exciting athletes in history -- winning five championships, achieving Basketball Hall of Fame status and putting together one of the most successful nonsports résumés of any player ever.
But the task ahead of him is staggering -- a yearslong venture, at least -- and his lack of front-office experience justifiably gives many pause as to whether he is fully equipped to make the Lakers great again, no matter his other credentials or what he tweets or boasts during national media tours.
Still, Johnson is the first to admit that he is up against a monumental feat, that there will need to be baby steps before giant leaps. On Thursday night, Johnson took several members of the team's coaching staff and front office to dinner at Mahogany Prime Steakhouse, a few blocks from their downtown Oklahoma City hotel, to lay out his vision and discuss ideas.
"He's been awesome," Walton said. "There's been a lot of really healthy dialogue going on."
Walton said the Lakers would love to have Johnson around as much as possible, and so far, Johnson has attended practices and even worked with players on individual moves. But Johnson likely won't attend many road games beyond Friday, which was a statement appearance, given the team's massive shakeup.
He did tell the players that the door to his office is always open, and Russell said he and his teammates are expected to have one-on-one sessions with Johnson over the next few days.
But from now until their regular-season finale April 12, the Lakers' goal is twofold, yet should unfold without much effort: to develop their young players and to lose.
With star reserve Lou Williams shipped to the Houston Rockets this week, Russell and Jordan Clarkson will play more, especially in crunch time, as Walton acknowledged.
As for losing, the Lakers won't have to try much, because they simply aren't talented or experienced enough to even be competitive most nights, especially in the Western Conference. In other words, no "tanking" is necessary. But all those defeats will come in handy during the NBA draft lottery on May 16, as the Lakers are praying they'll be able to keep a top-three protected first-round draft pick.
The outcome of that crucial draft lottery will help shape the Lakers' immediate future, though their next 23 games are key for their young core to gain valuable experience and chemistry and to develop what Johnson hopes, as he said on Friday's broadcast, is an identity.
During that time, it will also be key for Johnson to gain more understanding of the NBA's collective bargaining agreement, as well as the ins and outs of running a modern NBA front office.
Yet his presence alone is already changing the atmosphere around the team.
"He's Magic Johnson," Lakers guard Nick Young said. "Change is happening. It makes you stay on your toes, stay focused."
Right now, the Lakers will appreciate every positive step forward, no matter how small, as they know full well it will take many such steps -- along with dramatic changes -- for them to emerge from the lowest era in franchise history.
February, 24, 2017
Feb 24
7:44
PM PT
Associated Press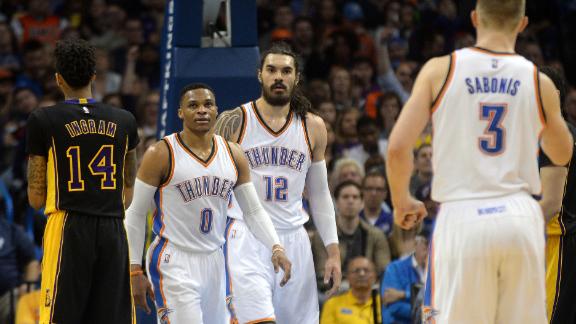 OKLAHOMA CITY -- Russell Westbrook scored 17 points in his 28th triple-double of the season, and his new teammates fit in seamlessly as the Oklahoma City Thunder defeated the Los Angeles Lakers 110-93 on Friday night.
Westbrook also had 18 rebounds and 17 assists for the 65th triple-double of his career.
It was the first game for new Thunder players Taj Gibson and Doug McDermott, acquired Thursday in a trade with the Chicago Bulls. Gibson scored 12 points and McDermott added eight, even though they arrived Thursday night and weren't even available for shootaround on Friday.
Alex Abrines and Andre Roberson each set a career high with 19 points, and Steven Adams added 15 points and 10 rebounds for the Thunder.
D'Angelo Russell scored 29 for the Lakers.
February, 24, 2017
Feb 24
8:51
AM PT
The Lakers can win by continuing to lose -- honestly, of course: The NBA trade deadline passed Thursday with one notably loud and wonderful grinding of gears. The team that took the biggest step forward was the one that threw itself in reverse. The big winners were the Lakers, because they set themselves up to be losers. -- Los Angeles Times
Magic takes in Lakers; begins to leave his mark: Weeks ago now-Lakers President of Basketball Operations Magic Johnson told Coach Luke Walton he was ready to grind. On Thursday morning, Johnson stood on a blue swath of Oklahoma City's court wearing black warmup pants and a black Lakers sweatshirt, reviewing practice with Walton. -- Los Angeles Times
Lakers don't make a big move at NBA trade deadline as Paul George remains with Pacers: As the NBA's trade deadline passed Thursday, president of basketball operations Magic Johnson sat in the Lakers team plane, flying to Oklahoma City, where they'll play Friday. -- Los Angeles Times
Lakers acquire point guard Tyler Ennis from Rockets for Marcelo Huertas as NBA trade deadline passes: Lakers president of basketball operations Magic Johnson has fielded phone calls from numerous executives in his new job. While none of those conversations yielded a blockbuster move, they still resulted in roster changes. The Lakers acquired 22-year-old guard Tyler Ennis from the Houston Rockets for veteran guard Marcelo Huertas on Thursday. -- The Orange County Register
Lakers' Magic Johnson showing patience on all fronts: Magic Johnson is diving headfirst into his new role with the Lakers, starting Thursday on the team plane to Oklahoma, pulling off a minor trade before the midday deadline then grabbing rookie forward Brandon Ingram aside for some one-on-one tutoring during practice. -- The Orange County Register
February, 23, 2017
Feb 23
12:32
PM PT
February, 23, 2017
Feb 23
1:37
PM PT
ESPN.com news services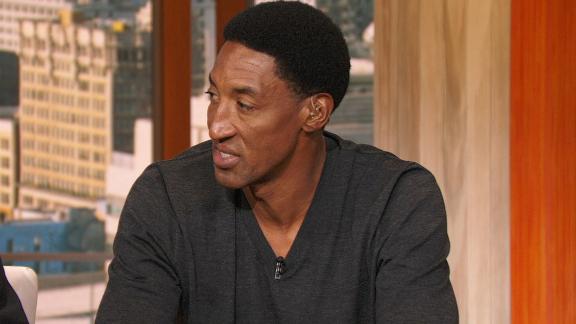 The NBA trade deadline passed Thursday with several big names mentioned in potential deals -- notably All-Stars Paul George, Jimmy Butler and Carmelo Anthony -- staying put.
One source close to the process told ESPN's Marc Stein that Indiana Pacers ownership, in the wake of George's recent comments to ESPN Radio about wanting to play on a team that contends for championships, felt compelled to hear out interested teams this week to see what suitors were prepared to offer.
But the source said Pacers president Larry Bird -- who has made no secret of his desire to persuade George to stay for the long term -- was determined to swat away all interest Thursday, hearing nothing from any team that moved him to seriously consider parting with George.
One of the teams interested was Denver. League sources told ESPN's Chris Haynes and Stein that the Nuggets made an aggressive pitch for George before Thursday's 3 p.m. ET deadline, but the talks never got serious, partly because of George's reluctance to commit to Denver. He can opt out of his current deal after next season.
The Nuggets were not prepared to include star big man Nikola Jokic in any talks, sources said, but Denver had hoped its array of draft picks and young players would appeal to the Pacers.
Speaking to reporters later Thursday, George called the process frustrating.
"I was kind of on the ropes just like you guys were on what was about to happen,'' George said. "It's kind of a dark moment, a lot of uncertainty. That was the frustrating part. You want me to be your guy here -- I thought I'd be in the loop a little more on that.''
Sources told ESPN earlier Thursday that George, at this point, is not prepared to commit his long-term future to any team other than the Pacers or his hometown Los Angeles Lakers
February, 23, 2017
Feb 23
11:42
AM PT
NEW ORLEANS -- The Houston Rockets traded forward K.J. McDaniels to the Brooklyn Nets on Thursday just before the 3 p.m. ET trade deadline in a move, according to a source, to add salary-cap space.
The Rockets also traded Tyler Ennis to the Lakers in exchange for fellow guard Marcelo Huertas. Houston is expected to waive Huertas.
The trades will give the Rockets $3.5 million in cap space, which a source said they will use in an attempt to sign players who have been bought out.
The Nets also waived guard Marcus Thornton, acquired Wednesday in their trade with Washington.
McDaniels, who's 6-foot-6, 205 pounds, just couldn't get into coach Mike D'Antoni's rotation and played 212 minutes in 29 games. At the start of the season, D'Antoni wanted McDaniels to become a wing defender, but he struggled and fell behind Corey Brewer and Sam Dekker at small forward off the bench.
Last month, McDaniels was almost traded to Cleveland for Mike Dunleavy Jr., but the Rockets pulled out of the deal. Instead, Dunleavy was eventually traded to the Atlanta Hawks for Kyle Korver.