September, 27, 2016
Sep 27
1:40
PM PT

By Baxter Holmes
ESPNLosAngeles.com
Archive
SANTA BARBARA, Calif. -- The clock is ticking ever closer toward a potential front-office shakeup for the NBA's glamour franchise, the once mighty, but now rebuilding, Los Angeles Lakers.
The timeline was first set in April 2014 when Lakers part-owner and executive vice president of basketball operations Jim Buss told the Los Angeles Times that he would step down within three years if the team hadn't made a deep playoff run by then.
The Lakers, who opened training camp at UC Santa Barbara on Tuesday, are entering the final season of Buss' self-imposed deadline, one that Lakers president and co-owner Jeanie Buss has time and again publicly stated that she will make sure her brother honors.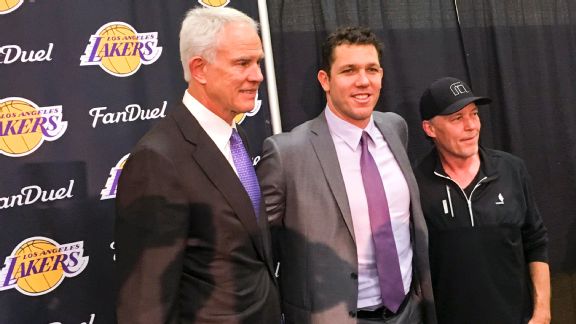 AP Photo/Greg BeachamLakers general manager Mitch Kupchak, new coach Luke Walton and team owner Jim Buss aim to improve on last season's 17 wins.
There's a chance -- if not a strong possibility -- that Jim Buss' potential departure won't be the only one within the Lakers front office, though it's unclear what exactly might happen. It has long been widely speculated, though, that if Jim Buss departs, so too would Lakers longtime general manager Mitch Kupchak.
In the past, Kupchak has deferred questions about Jim Buss' deadline to turn around the Lakers, who have missed the playoffs for three straight seasons and are coming off their worst campaign in franchise history after finishing 17-65 last season.
And Kupchak again deferred such questions as the youthful Lakers, without the retired Kobe Bryant, opened training camp.
"I'm not really in a position to debate some of the stuff," Kupchak said. "I'm not even sure what was said with certainty. From my point of view, we've created a team that has a lot of young talent that can grow into, I believe, really good [players] and hopefully NBA players that can leave an imprint on this league.
"I think we've surrounded them with some older veterans that can help us win games. I'm excited about our coaching staff. I want to see improvement in the young players. I want to see some production from our rookies. And I want our team to be fun to watch. And I want them to have fun playing. And I want them to get better as the season goes along.
"I don't know how that translates to anything else under my control. Wins and losses, I couldn't pick a number. I could guess. I would not guess in front of [media]. That's not something I would do. I'd have to stare at it for the rest of the year."
Kupchak did state, however, that the Lakers' improvement would be measured in part by wins.
"Last year, we had 17 [wins]," Kupchak said. "It's got to be more than 17. It can't be a game or two more. We have to show progress. Are we a playoff team? Are we a contending team? Anything can happen at any time in the season. We've seen that here in our organization when you make a deal and all of the sudden things turn around. Clearly that's a possibility, but we're not going into the season thinking that's what we're going to do.
"We want these young players to get minutes, to develop. We think several of them can be starters and perhaps even leave an imprint in this league. That's my approach and that's my take on where we want this team and where I want this team to go this season."