August, 31, 2016
Aug 31
4:22
PM PT
EL SEGUNDO, Calif. -- With Kobe Bryant retired after two decades in purple and gold, the Los Angeles Lakers are entering a new and somewhat uncertain era featuring a first-year head coach and a roster built around several promising young players.
And as the illustrious franchise seeks to reclaim its place among the NBA's elite after three straight seasons of missing the playoffs, and after posting their worst record ever last season, the Lakers looked ahead Wednesday to one of the most exciting, and certain, elements of their future: their state-of-the-art $80 million training complex.
Standing before the imposing shell of a two-story, 120,000-square-foot structure that is expected to open by summer 2017, Lakers officials offered a glimpse Wednesday into the new facility while also announcing a "long-term" partnership with UCLA Health, whose name will grace the not-yet-finished building. Lakers officials said the UCLA Health Training Center will be triple the size of the team's current training facility, the Toyota Sports Center, which sits less than a half mile away. (The Lakers have practiced at the Toyota Sports Center since 2000 and today share the complex with the Los Angeles Kings of the National Hockey League.)
Construction on the Lakers' spacious new complex -- which, for the sake of convenience, isn't far from Los Angeles International Airport -- began in September 2015. It will house the Lakers' business and basketball operations, as well as the team's D-League affiliate, the D-Fenders. Other impressive features include a barbershop, multiple whirlpools, cryogenics chambers, a theater, kitchen and more.
"We want players to treat this place like a second home," said Lakers chief operating officer Tim Harris.
June, 14, 2016
Jun 14
4:52
PM PT
AP Photo/Charles KnoblockFlanked by the Globetrotters' Sweetwater Clifton, left, and Babe Pressley, Minneapolis star George Mikan grabs a rebound during the teams' February 1950 meeting. It was the fourth of eight matchups between the Globies and Lakers.
With the Rams rebooting in Los Angeles, ESPN.com presents a series exploring the remnants departed teams have left behind in the cities they abandoned.
The Harlem Globetrotters are seen today as an entertainment-first team that couldn't compete against the NBA's best in a legitimate competition. And if the Minneapolis Lakers are remembered at all beyond the Twin Cities, it's usually for being the NBA's first dynasty behind 6-foot-10 George Mikan or moving to Los Angeles in 1960 and establishing a winning tradition there.
But the basketball world was a dramatically different place when the all-white Minneapolis Lakers first played the all-black Globetrotters on Feb. 19, 1948. The exhibition was the opening game of a doubleheader that also featured the Chicago Stags against the New York Knicks in a Basketball Association of America game. A sellout crowd of 17,823 packed the old Chicago Stadium.
"Little did we realize it would turn out to be one of the most memorable basketball games of all time," Max Winter, the Lakers franchise's first general manager, told Minneapolis-based author Stew Thornley.
Segregation was finally on its way out in basketball. But the Lakers-Globetrotters series gave it one last shove.
August, 24, 2016
Aug 24
2:29
PM PT
August, 24, 2016
Aug 24
4:14
PM PT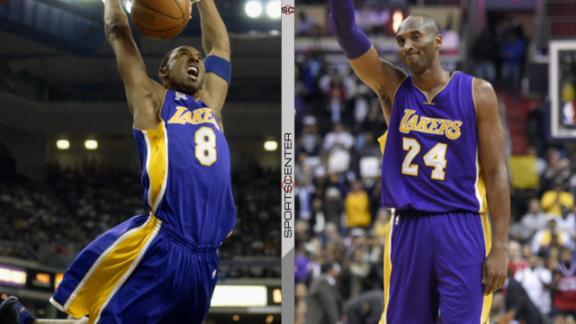 Wednesday was Aug. 24, or 8/24 in the U.S., the day the city of Los Angeles declared Kobe Bryant Day because of the two jersey numbers the star wore in his career.
That brings back a longstanding debate among Los Angeles Lakers fans and NBA fans as a whole:
As the video above states, Bryant played 10 seasons in each uniform. He scored 16,866 points as No. 8 and 16,777 as No. 24. He won more championship rings wearing his first uni (three to two), but he made 10 All-Star Games as No. 24 compared to eight at No. 8. He won his only MVP and Finals MVP awards wearing the latter number.
August, 24, 2016
Aug 24
1:03
PM PT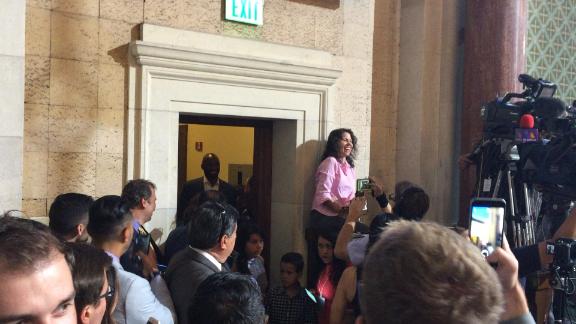 LOS ANGELES -- Even as the Los Angeles City Council paused to honor Kobe Bryant and reflect on everything he has done since he arrived in the city 20 years ago it was evident that Bryant's mind was elsewhere, looking ahead, consumed with what comes next.
Wednesday was "Kobe Bryant Day" in L.A., by official proclamation. And after some awkward bits of democracy -- when citizens used the open microphone to decry city expenditures, say "Go Lakers!" and hurl expletives and racial slurs -- the council got down to honoring Bryant's basketball accomplishments and civic contributions in his two-decade career with the Los Angeles Lakers as purple-and-gold clad fans filled council chambers chanting "Ko-be" and "M-V-P."
"When Kobe Bryant and the Lakers were playing well we were all Angelenos, united and watching greatness," council member Jose Huizar said.
"The unforgettable moments at the buzzer inspired us to work harder on the things in our lives," Mayor Eric Garcetti said.
Speaking in Spanish at the conclusion of his remarks, Garcetti said Bryant represents the spirit of Los Angeles and the heart of Los Angeles.
Bryant, with his daughters and pregnant wife by his side, watched the video recap of his 60-point effort in his final NBA game, then listened to the speeches. Lots of speeches.
He kept using the word "surreal" to describe the day. He'd been feted at City Hall before, but when the Lakers were celebrating championships. This was a celebration of him.
"It feels different because it is different," he said as he entered the garage and took an elevator up to the third floor.
When he had his turn at the microphone he conluded by saying:
August, 24, 2016
Aug 24
6:09
AM PT
Lakers training camp likely to be in Santa Barbara: The Los Angeles Lakers might not be staying home for training camp after all. After returning to Honolulu, Hawaii, last September, the Lakers are in the process of relocating Luke Walton's first training camp to Santa Barbara. While the move has not been finalized, it is in the works, Lakers spokesman John Black said. -- The Orange County Register
January, 6, 2016
Jan 6
1:51
PM PT
No. 8 or No. 24?
As the city of Los Angeles prepares to celebrate Kobe Bryant Day on, fittingly, Aug. 24, it's worth revisiting the question of the two numbers Bryant wore during his career.
The Los Angeles Lakers could head off any debate about which of the two numbers should hang in the rafters by retiring both, something GM Mitch Kupchak told season-ticket holders was a possibility in January.
But if it's only one, which one should it be? The question of No. 8 versus No. 24 is a fascinating one because of the way it splits Bryant's 20 NBA seasons in half.
So, with the help of advanced statistics, let's consider the tale of the tape on Kobe No. 8 and Kobe No. 24.
August, 23, 2016
Aug 23
2:51
PM PT
By One Nacion
ESPNLosAngeles.com
Archive
With great social media power, comes great responsibility, and Kobe Bryant's ten million plus followers on Twitter certainly equal a powerful block. Bryant's own achievements as a basketball star call attention to his moves even in retirement from the sport. The world at large reacted when Bryant announced he was launching a new venture capital firm.
Announced @BryantStibel investment platform to the world today with my partner @Stibel and our team on the @NYSE pic.twitter.com/Yy2yF34INH

— Kobe Bryant (@kobebryant) August 22, 2016
Yet of all the jokes and comments on social media about the news, Bryant only retweeted one. It compared certain basketball terms (games usually end with a winner after four quarters, to "carry" a ball is against the rules, pivoting means keeping one foot planted) to similar terms in venture capital (four quarters divide the financial year, getting future profits is described as "earn carry" and pivoting means to change a company's course completely).
Hahaha will keep this in mind as we work on building @BryantStibel https://t.co/FkVt9cY5BO

— Kobe Bryant (@kobebryant) August 22, 2016
However, it turns out the joke that was apparently thought of as clever by Bryant was pasted instead of retweeted from the person who originally posted it, namely Ashley Mayer. When alerted to the situation, Bryant, the father of two daughters (and currently expecting another with his Mexican-American wife, Vanessa), was happy to give Mayer the credit for her joke.
Ahh!! No prob! #alert #twitterthief https://t.co/My38wqNrvc

— Kobe Bryant (@kobebryant) August 22, 2016
Click here to keep up on all the latest Los Angeles Lakers news.