August, 24, 2016
Aug 24
1:03
PM PT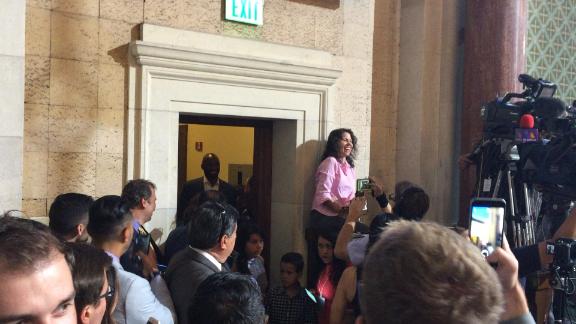 LOS ANGELES -- Even as the Los Angeles City Council paused to honor Kobe Bryant and reflect on everything he has done since he arrived in the city 20 years ago it was evident that Bryant's mind was elsewhere, looking ahead, consumed with what comes next.
Wednesday was "Kobe Bryant Day" in L.A., by official proclamation. And after some awkward bits of democracy -- when citizens used the open microphone to decry city expenditures, say "Go Lakers!" and hurl expletives and racial slurs -- the council got down to honoring Bryant's basketball accomplishments and civic contributions in his two-decade career with the Los Angeles Lakers as purple-and-gold clad fans filled council chambers chanting "Ko-be" and "M-V-P."
"When Kobe Bryant and the Lakers were playing well we were all Angelenos, united and watching greatness," council member Jose Huizar said.
"The unforgettable moments at the buzzer inspired us to work harder on the things in our lives," Mayor Eric Garcetti said.
Speaking in Spanish at the conclusion of his remarks, Garcetti said Bryant represents the spirit of Los Angeles and the heart of Los Angeles.
Bryant, with his daughters and pregnant wife by his side, watched the video recap of his 60-point effort in his final NBA game, then listened to the speeches. Lots of speeches.
He kept using the word "surreal" to describe the day. He'd been feted at City Hall before, but when the Lakers were celebrating championships. This was a celebration of him.
"It feels different because it is different," he said as he entered the garage and took an elevator up to the third floor.
When he had his turn at the microphone he conluded by saying:
August, 24, 2016
Aug 24
6:09
AM PT
Lakers training camp likely to be in Santa Barbara: The Los Angeles Lakers might not be staying home for training camp after all. After returning to Honolulu, Hawaii, last September, the Lakers are in the process of relocating Luke Walton's first training camp to Santa Barbara. While the move has not been finalized, it is in the works, Lakers spokesman John Black said. -- The Orange County Register
January, 6, 2016
Jan 6
1:51
PM PT
No. 8 or No. 24?
As the city of Los Angeles prepares to celebrate Kobe Bryant Day on, fittingly, Aug. 24, it's worth revisiting the question of the two numbers Bryant wore during his career.
The Los Angeles Lakers could head off any debate about which of the two numbers should hang in the rafters by retiring both, something GM Mitch Kupchak told season-ticket holders was a possibility in January.
But if it's only one, which one should it be? The question of No. 8 versus No. 24 is a fascinating one because of the way it splits Bryant's 20 NBA seasons in half.
So, with the help of advanced statistics, let's consider the tale of the tape on Kobe No. 8 and Kobe No. 24.
August, 23, 2016
Aug 23
2:51
PM PT
By One Nacion
ESPNLosAngeles.com
Archive
With great social media power, comes great responsibility, and Kobe Bryant's ten million plus followers on Twitter certainly equal a powerful block. Bryant's own achievements as a basketball star call attention to his moves even in retirement from the sport. The world at large reacted when Bryant announced he was launching a new venture capital firm.
Announced @BryantStibel investment platform to the world today with my partner @Stibel and our team on the @NYSE pic.twitter.com/Yy2yF34INH

— Kobe Bryant (@kobebryant) August 22, 2016
Yet of all the jokes and comments on social media about the news, Bryant only retweeted one. It compared certain basketball terms (games usually end with a winner after four quarters, to "carry" a ball is against the rules, pivoting means keeping one foot planted) to similar terms in venture capital (four quarters divide the financial year, getting future profits is described as "earn carry" and pivoting means to change a company's course completely).
Hahaha will keep this in mind as we work on building @BryantStibel https://t.co/FkVt9cY5BO

— Kobe Bryant (@kobebryant) August 22, 2016
However, it turns out the joke that was apparently thought of as clever by Bryant was pasted instead of retweeted from the person who originally posted it, namely Ashley Mayer. When alerted to the situation, Bryant, the father of two daughters (and currently expecting another with his Mexican-American wife, Vanessa), was happy to give Mayer the credit for her joke.
Ahh!! No prob! #alert #twitterthief https://t.co/My38wqNrvc

— Kobe Bryant (@kobebryant) August 22, 2016
Click here to keep up on all the latest Los Angeles Lakers news.
August, 22, 2016
Aug 22
5:50
PM PT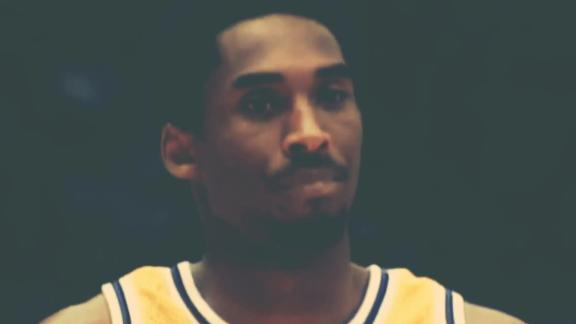 Los Angeles city leaders have declared this Wednesday as "Kobe Bryant Day," honoring the Los Angeles Lakers icon who played 20 seasons in purple and gold before retiring in April.
The honor, which was announced in a statement Monday, falls on a day that commemorates the two jersey numbers that Bryant wore during his Lakers career: 8 and 24.
Bryant, who won five championships among numerous other accolades, also will be honored for philanthropy work.
"Among his astonishing list of accomplishments, Kobe Bryant's 20-year career with the Los Angeles Lakers ranks him No. 1 all-time for NBA players who played for a single franchise, and 'Kobe Bryant Day' is the City of Los Angeles' way of thanking him for his single-minded dedication to excellence, the fans and the entire City and region of Los Angeles," L.A. City Councilman José Huizar said in a statement.
"For 20 years, we were all the beneficiaries of Kobe's incredible talent and legendary work ethic, and on 8-24 we'll gather to say, 'Thank you, Mamba.'"
Bryant will be honored at Los Angeles City Hall.
August, 22, 2016
Aug 22
6:56
AM PT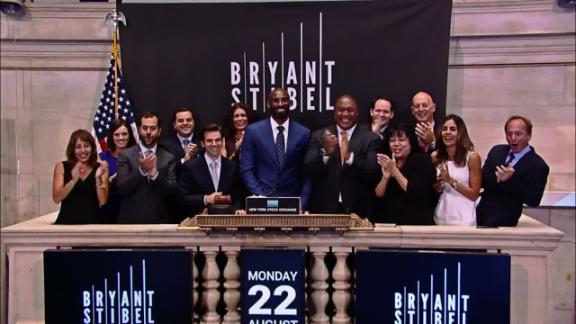 Kobe Bryant announced Monday that he was starting a $100 million media, technology and data fund.
Bryant will partner with investor Jeff Stibel, the vice chairman of Dun & Bradstreet, chairman of brain implant system BrainGate and former president of Web.com. Bryant has been privately investing with Stibel.
The venture, which is not open to outside investors, has already invested in 13 companies, according to The Wall Street Journal, including The Players' Tribune, video game designer Scopely, LegalZoom, apparel T-shirt company Represent, Chinese e-commerce company Alibaba and VIPKid, a company that provides a North American school experience to children in China.
"This is one of my passions," Bryant said on CNBC after he rang the opening bell Monday on the New York Stock Exchange. "We are one gear, 100 percent laser-focused, and here we go."
The fund does not include Bryant's personal investments that he makes through Kobe Inc., a company he started in 2014. His first investment was in sports drink company BodyArmor, which partnered with the Los Angeles Lakers for his final game merchandise. The $1.2 million in merchandise sold at the Staples Center on April 14 set an industry record for merchandise sales at a stadium and arena in a single day.
That didn't include apparel sold just by Kobe Inc., which offered T-shirts with the words "Mamba Out," the last words Bryant said before walking off the court for the final time after he scored 60 points in his career finale. His company recently filed to trademark that phrase, though it will be second in line behind two men who filed a trademark a couple days after Bryant said it.
Other NBA players have made a dent in the investing world, including former Lakers great Magic Johnson. His personal business, Magic Johnson Enterprises, made investments in urban-area real estate, and he has had several real estate funds, with Canyon Capital, Yucaipa and JLC Loop Capital, that raised more than $3 billion.
Former San Antonio Spurs