December, 2, 2016
Dec 2
9:57
PM PT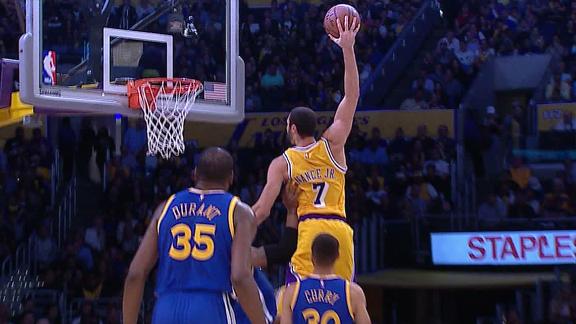 The youthful Lakers raced up the court, chasing a fast-break bucket against the Golden State Warriors. But Larry Nance Jr. remained near the rear of the pack, pacing himself, surveying everything before him, calculating space and angles, searching, most of all, for an open runway.
Throughout a game, the 23-year-old Lakers forward hopes for these moments, almost hunting them but not quite. He's learned that if he hunts too much, rarely do they unfold just the way he wants: culminating in a powerful, sky-scraping, momentum-shifting slam that blazes across social media and sends fans screaming out of their seats.
Above all, Nance, one of the NBA's highest and most exciting flyers, has learned patience. Most of the time, he doesn't have to seek these moments as they will often find him. He just needs to be in the right place at the right time and ready. When a shot goes up, for instance, Nance tracks its arc, then tries to position himself carefully among the rim's tall timbers so that he can snatch the ball if it ricochets. "Seven, eight times out of 10, I'm very certain of where it's coming off," he said.
Sometimes an opponent will try to box him out, then turn to look at Nance and notice that Nance doesn't seem to be going anywhere. If the opponent falls for this ruse, they will turn away and go chase the rebound. "And that's when you crash right on top of them," Nance says. Thus, the simple but effective formula for his signature putback dunks: lure prey into a false sense of security, then strike.
December, 2, 2016
Dec 2
10:34
PM PT
The Los Angeles Lakers playing on Christmas has almost become as synonymous as Kobe Bryant playing for the Lakers. But now that the Black Mamba has retired, he won't be taking the court Dec. 25 as the Lakers participate in their 16th consecutive Christmas game.
That hasn't stopped Bryant, who played in an NBA-record 16 Christmas contests, from reveling in the holiday spirit.
On Friday, the future Hall of Famer unveiled an "ugly holiday sweater" that he is promoting to benefit the Kobe & Vanessa Bryant Family Foundation, which provides financial resources and programming to strengthen communities through educational and cultural enrichment opportunities.
Available in purple or black, the sweater features a rendering of Bryant in a Santa Claus costume holding a bag with a basketball under the heading "Merry Swish-mas." Candy canes, Christmas trees and additional basketballs dot the background of the design.
There is also an option to toggle between 8 and 24 in regard to Bryant's number on the $40 sweater, which is only available for purchase until Wednesday, Dec. 7.
Bryant scored a total of 395 points on Christmas, an NBA record.
-- Nick Ostiller
December, 2, 2016
Dec 2
7:00
PM PT
Associated Press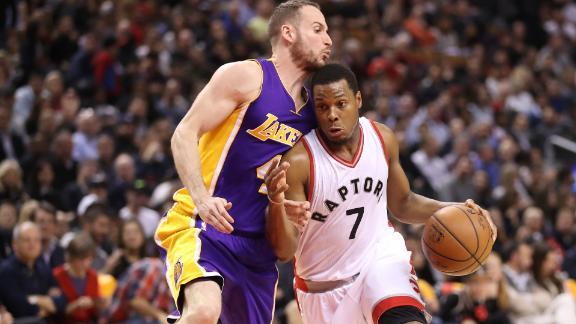 TORONTO -- Kyle Lowry had 24 points and seven assists and the Toronto Raptors rolled past the Los Angeles Lakers 113-80 on Friday night for their fifth straight victory.
The Toronto point guard tied his season high for 3-pointers, going 6 of 9 from beyond the arc as the Raptors beat the Lakers for the fourth straight time with their biggest win of the season. The 33-point victory surpassed the 27-point win over Philadelphia on Oct. 28.
DeMar DeRozan and Norman Powell both added 16 points for Toronto.
Brandon Ingram had 17 points for the Lakers, while their bench, the top scoring unit in the NBA, chipped in with Jordan Clarkson's 14 and former Raptor Lou Williams' 13.
Buoyed by the 22-point lead they carried into the fourth quarter, the Raptors could afford to empty their bench, with 11 of 12 players seeing action in the victory, with little-used Bruno Caboclo scoring his first points of the season on a 3-pointer with 1:17 to go.
December, 1, 2016
Dec 1
6:40
PM PT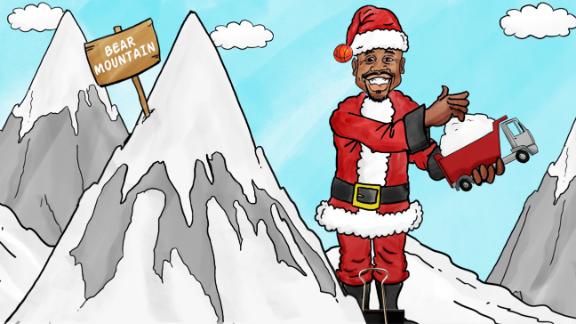 In the summer of 1996, Shaquille O'Neal left the Magic to sign a $120 million Lakers contract, and bought a house in the opulent hills overlooking Beverly Hills. A few months later he and his uncle Mike hopped in the car for a drive across L.A., to Watts.
It's about an hour drive, but feels so far from the winding tree-lined hills of Mulholland Drive.
Shaq had thoughtfully chosen a community center there to reprise his role as Shaq-a-Claus. He told uncle Mike it was his favorite day of the year, and it was full of taking holiday orders from delighted kids. One by one, they eagerly revealed their wishes: a bicycle, the top-selling Mario video game, a Tickle Me Elmo, the new Cabbage Patch dolls which were selling out as soon as they hit the shelves.
He said yes to them all and promised Shaq-a-Claus would deliver the gifts two days before Christmas. Mission accomplished. Except ... as he turned to go, Shaq noticed one little boy who hadn't come forward.
Concerned that his large stature had frightened the child, Shaq bent down on one knee, placed his massive hand on his tiny shoulder and asked, "What do you want, little man?"
"I don't think you can help me,'' he answered softly.
"I bet I can,'' Shaq persisted. "You know, I'm pretty good friends with Santa.''
"What I really want," said the boy, "is for it to snow." He was quiet for a moment before explaining that he shared his Christmas wish with his mother. She sighed, hugged him close to her, and then told him, "I'm sorry, baby. It doesn't snow in Los Angeles, and we're stuck here.''
As Shaq and his uncle drove back toward the manicured lawns and the palm trees in his exclusive neighborhood, O'Neal was mostly silent. In fact, he didn't say anything until they turned into his driveway and he blurted out suddenly, "They ski in California, right?" Shaq-a-Claus had an idea.
December, 2, 2016
Dec 2
7:21
AM PT
Lakers' Brandon Ingram thankful for Jerry Stackhouse's influence: Brandon Ingram was in fourth grade when he met Jerry Stackhouse. A two-time All-Star who spent 18 seasons in the NBA, Stackhouse returned to Kinston, N.C., nearly every offseason to work with the youth in his hometown. Ingram developed an early bond with Stackhouse and joined his Atlanta-based AAU-program several years later. He learned a variety of skills through pick-up games and film study, watching hours of footage of his mentor. -- The Orange County Register
Some Lakers already touting Lou Williams for NBA's Sixth Man of the Year: The Lakers are inspired by his leadership, appreciate his consistency and admire his ability to draws fouls when it matters most. Those are some of the attributes Lou Williams' teammates point to when they talk about how he could win this season's NBA's Sixth Man of the Year award. -- The Orange County Register
Lakers' Lou Williams has a knack for getting to the line: During his rookie year, Lakers point guard D'Angelo Russell took note of veteran guard Lou Williams' most infuriating and reliable skill. That ability to get to the free-throw line, that skill that amused his teammates and frustrated opponents. So Russell studied film of Williams drawing fouls, then he asked for suggestions. -- Los Angeles Times
December, 1, 2016
Dec 1
11:24
PM PT
December, 1, 2016
Dec 1
7:21
AM PT
Depleted Lakers grind through 96-90 win over Bulls: The Lakers could not rely on D'Angelo Russell having ice in his veins. Nor could they depend on Nick Young stealing the ball from a teammate to take the game-winning shot. Injuries having cost them their starting backcourt, the Lakers relied on other things to secure a gritty 96-90 victory over the Chicago Bulls on Wednesday and climb back to the .500 mark (10-10). The Lakers followed through on Coach Luke Walton's season-long message about focusing on defense. -- The Orange County Register
Lakers' Nick Young frustrated, relieved about calf injury sidelining him for 2-4 weeks: The worst nightmare played out in Nick Young's mind the moment his right leg landed awkwardly on the floor. The Lakers guard remembered feeling a "sharp pain." He sensed "something pulled" from his right foot. And then three of his teammates helped him off the court only a few minutes into Tuesday's loss in New Orleans. "I panicked," Young said. "I thought the worst." But after the Lakers initially diagnosed him with a strain in his right Achilles tendon, an MRI taken on Wednesday revealed a strained calf muscle in his right leg. -- The Orange County Register
Julius Randle helps lift Lakers back to .500 in 96-90 victory over the Bulls: Julius Randle's performance Wednesday night against the Chicago Bulls was no accident. The Lakers' third-year forward wanted the matchup that eluded him last time. He wanted his team to feed off his energy on a night they were missing two starters and playing on the second night of a back-to-back. -- Los Angeles Times
No rushing Russell: The Lakers probably will be without their two starting guards for a few games. Point guard D'Angelo Russell is expected to miss at least another week with an injury to his left knee. He had a platelet-rich plasma injection a week ago, which has helped. Russell has been doing pool cardio work, which reduces the impact on the joints. -- Los Angeles Times
November, 30, 2016
Nov 30
8:01
PM PT
Associated Press
CHICAGO -- Julius Randle made a strong move against Nikola Mirotic for a tiebreaking layup with 45.1 seconds left, and the Los Angeles Lakers held off the Chicago Bulls for a gritty 96-90 victory on Wednesday night.
Randle had 13 points and matched a career high with 20 rebounds as Los Angeles bounced back from an ugly 105-88 loss at New Orleans on Tuesday night. Lou Williams and Jordan Clarkson scored 18 points apiece, and Larry Nance Jr. finished with 12 points and 11 boards.
Randle's drive and layup gave Los Angeles a 92-90 lead. After Jimmy Butler missed on the other side for Chicago, Williams went 1 for 2 at the line with 20 seconds to go.
Butler then missed another 3 and Randle and Nance combined for three foul shots to help Los Angeles hold on.