October, 26, 2016
Oct 26
8:38
PM PT
October, 25, 2016
Oct 25
8:39
AM PT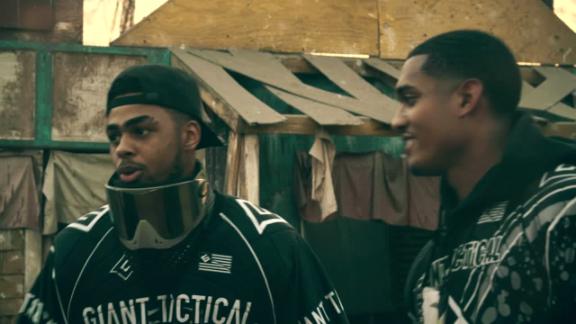 This story appears in ESPN The Magazine's November 14 Playing Through Pain Issue. Subscribe today!
Jordan Clarkson's brow furrows. "Let's get after it," he says. "You hear me?" "Yup, it's over," D'Angelo Russell replies, his eyes narrowing. "I'm gonna light his ass up." The "it" they're getting after? Uh, that's me.
It's a balmy evening at a paintball course in Bellflower, California, and the heirs of a Lakers backcourt relinquished by Kobe Bryant are armed to the teeth and feeling good. They've fine-tuned their craft over the past 12 months in regular games with teammates at Hollywood Sports Park, this world-class paintball facility 18 miles south of Staples Center. It's like a team-building exercise with high-velocity projectiles. And they're about to inflict their team-building all over me.
I owe all of this to former Laker Roy Hibbert, who introduced paintball outings to the team when he signed with LA in the summer of 2015. Now it's Russell and Clarkson, 20 and 24, respectively, who serve as torchbearers of the team's top pastime, which they believe will play a role in building chemistry on a remodeled roster of recent draft picks and league transients, among them free agent signees Luol Deng and Timofey Mozgov.
"It gets us talking, trying to get to the same goal of beating the other team, so it all transfers over," Clarkson says. But mostly "it's us bonding, something where we can get away from the basketball stuff and have fun."
FUN HAS BEEN at a premium for the once-mighty Lakers, now division doormats coming off a franchise-worst 17-65 season. Further jangling their nerves last season: former head coach Byron Scott's tough-love brand of tutelage, which often led to pine time for a young core that included 2014 lottery pick Julius Randle.
October, 26, 2016
Oct 26
8:08
AM PT
Will the Lakers' young core develop into stars who value team success?: The four young men looked into the camera all sporting warm smiles. Brandon Ingram wrapped his arm around D'Angelo Russell, while he held onto a basketball. Jordan Clarkson and Julius Randle jumped into the air, both to show off their athleticism and enthusiasm. The message behind their pose during a recent photo shoot with GQ Magazine went beyond the four players showing off their fashion sense as they donned crisp sweaters. For the first time in 20 years, the face of the Lakers is not Kobe Bryant. And unlike last season when the Lakers finished with the worst record in franchise history, Russell, Ingram, Randle and Clarkson all offer hope to an organization eager to relive the familiar feeling of star power fueling championship parades. -- The Orange County Register
Rockets coach Mike D'Antoni looks back on 'turbulent times' as Lakers coach: Mike D'Antoni knew he still wanted to coach. What he didn't know was if there was anyone left who would hire him to do it. "When I left L.A., I was very real that I might not work again," D'Antoni said this summer. "And I was fine with that. I'm old enough to go do other things and be fine with it." -- The Orange County Register
As regular season begins, Lakers keep the focus on progress and teaching: When Lakers Coach Luke Walton walks onto the court where he once played for the start of the regular season, it won't feel for him like just another game. "The nerves will be running," Walton said. "But that's a good thing. I think that's a good thing. I imagine walking out there tomorrow night at Staples for Game 1 of the regular season will be pretty emotional." -- Los Angeles Times
Lakers' Luke Walton "shocked" Thomas Robinson has not stayed long with a team: Of all the things that initially consumed himself with his first head-coaching job, Luke Walton did not think for one second about Thomas Robinson. Walton had other things to worry about, in no particular order. How can he adjust as an assistant coach to a head coach? How will he implement Golden State's culture with the Lakers given the talent and experience disparity between the two franchises? How much can Walton elevate D'Angelo Russell, Brandon Ingram, Julius Randle, Jordan Clarkson and Larry Nance Jr? How much can Walton revamp the Lakers' poorly-ranked defense? -- Los Angeles Daily News
October, 25, 2016
Oct 25
3:32
PM PT
The NBA is back. The Cleveland Cavaliers -- yes, it really happened, Cleveland -- are defending NBA champions. Kevin Durant -- yes, it really happened, everybody -- is on the Golden State Warriors.
It's time to ask:
Our 28 experts made their predictions, and only three of them picked against the Warriors: two votes for the Cavaliers and one for the Los Angeles Clippers. The San Antonio Spurs won 67 games last season, and according to our East and West summer forecasts, San Antonio is the only team other than Cleveland and Golden State that is predicted to win more than 52 games.
You probably don't need a refresher, but just in case: In last season's NBA Finals, the Cavs came back from 3-1 down to claim the first title in franchise history.
October, 25, 2016
Oct 25
12:21
PM PT
By Andrea Canales
ESPNLosAngeles.com
Archive
Kirby Lee/USA TODAY Sports
For Los Angeles Lakers guard Jose Calderon, a life in basketball came naturally, even though the culture around him was focused on another sport.
"When I was little, everyone else was playing soccer at that time," Calderon explained. "My dad played basketball and that's why I always had a basketball at home. I tried to start following him, going with him to practice and to games -- that's how I got interested."
Calderon grew up in the small Spanish town of Villanueva de la Serena, where his father played for the local basketball squad. Soon young Jose was also challenging some of the best players. "I was always playing with older guys," he said, "because I was good enough to play with them."
While Calderon never faced the question of whether to leave college early for a pro career, he took an early opportunity to advance his career as a teenager.
"When I was 13 years old, Vitoria called," Calderon said, explaining how he joined a team based in Vitoria-Gasteiz, in the Basque region of the country. "That's the first time I left the house to play basketball."
The leap to the NBA was the next major transition in his life, and it came after around a decade's worth of experience in the Spanish league.
"At some point, everyone who is playing, their dream is to be in the NBA, because that's where all the best players are," Calderon told ESPN's One Nacion. "I was 23 and I was a free agent and I made the decision to just give it a try."
Glenn James/NBAE/Getty ImagesJose Calderon spent the past two NBA seasons with the New York Knicks.
He started with the Toronto Raptors in 2005, and has played in the league since then, moving on to the Detroit Pistons, Dallas Mavericks and New York Knicks before joining the Lakers this season.
Calderon, 35, still looks back on his first year in the NBA as the most difficult, as language difficulties hampered his adjustment.
"Trying to speak English, to learn what my teammates were saying, to learn what I wanted to say," he recalled. "Basketball, you have to learn the way to play here and get used to your teammates, but for me the toughest part was communication."
He was determined to meet the challenge.
"I went to work with a tutor and took classes, watching TV, doing everything in English, working to get better and better," he said. "When I arrived for my second year, everything was better."
Calderon is watching the next generation of Spanish players to the league -- such as the Hernangomez brothers, Willy and Juan -- make the transition to the NBA game.
El Monte Rushmore de la ŃBA: de Fernando Martín a 'Lobezno' y los Hernangómez https://t.co/Hs3LEQ6R3k pic.twitter.com/31x4P0TIez

— MARCA Baloncesto (@MarcaBasket) October 25, 2016
"Right now, it's easier," Calderon said, mentioning the higher numbers overall of Spanish players in the league. "You just have to do all you can to get better every day. Work as hard as you can. That's all you can do."
There's a camaraderie in the league among the players who can speak Spanish.
"When you know someone is from any culture that speaks Spanish, you can talk to them," Calderon said. "Even if you don't know them, there's always going to be some kind of connection. Maybe they've played in Europe somewhere or in Spain or something like that, or you know them from the international game."
In his decade in the NBA, Calderon has seen interest in the game grow around the world.
"The NBA is getting bigger," he said. "Basketball is getting better around the world. There are more players. There are better coaches around it, so that's why there are more international players, not only Hispanic players, but from everywhere. I think that's the key."
Players from Spain and Argentina, in particular, have been successful not only in the NBA, but in international play. Spain is a four-time Olympic medalist in the men's game. Argentina has medaled twice at the Olympics. While some might credit vision and passing learned from early soccer skills, Calderon sees a more direct influence of a core group on the teams.
"We just play the right way, as a team. We also adapt to whatever our coaches want, and after all these years, we know how to play together. That's why we've been successful for so long." Calderon said. "That's what Argentina has in common with a team like ours."
A new generation of developing Spanish players, including Calderon's son, now faces the conundrum of which sport to choose. "My oldest is doing both. He plays basketball, he plays soccer," Calderon said. "Hopefully he chooses basketball, but whatever my kids decide, it'll be fine."
Despite his enjoyment in working with younger players and passing on veteran wisdom, Calderon cited family as the reason that he will likely not pursue a coaching career when he eventually retires from the pro game.
"I've missed too much of my family life," Calderon stated. "I want to spend more time with my wife and kids."
Uno con deberes,el otro en karate
One with homework, the other one in karate#larutinadelunes#mondayrutine
#pic.twitter.com/uScl66AggT

— jose manuel calderon (@JmCalderon) October 24, 2016
Modern life has made league play easier for foreign players, in terms of finding food and other cultural elements in the U.S., but some things are irreplaceable.
"You can find everything from everywhere in the world," Calderon said. "It's just missing home, friends and family."
Still, Calderon isn't ready to retire yet, especially since he sees a bright future for the youthful Lakers squad he's a part of now.
"We have good players in these young guys," Calderon said of a roster that features Brandon Ingram, D'Angelo Russell, Julius Randle and Jordan Clarkson. "They can have a successful career here."
Having arrived about two months ago, Calderon is still adjusting to life in Los Angeles and getting to know the community.
"It's not enough time to really go around," Calderon noted. "I can feel that there is a lot of love from the Spanish-speaking community. It's part of the life here. It's going to be great. When we go into season, I'll get to know that a little bit more."
The player who once held his own against those much older than himself doesn't have any problem taking orders now from Lakers coach Luke Walton, 36, a former NBA forward only a year older than Calderon.
"It's good so far," Calderon said. "We can relate to what he's saying, because he's been out of the league just a few years."
Calderon's career has been successful for a long time by sticking to a simple formula.
"I just like to help however I can," Calderon said.
October, 23, 2016
Oct 23
6:40
PM PT
ESPN.com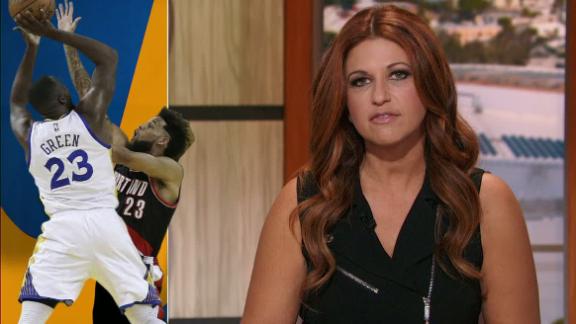 Who will win the Pacific Division? Our NBA writers make their predictions:
Predictions:
October, 25, 2016
Oct 25
7:28
AM PT
Lakers make final cuts but keep forwards Metta World Peace and Thomas Robinson: As the Lakers wrapped up practice Monday, veteran forwards Metta World Peace and Thomas Robinson stood next to each other on the sideline. While 10 of their teammates scrimmaged, World Peace tapped Robinson on the shoulder and directed his eyes away from the action. Robinson nodded for a second, as if it were a teaching moment. Then they each broke out in laughter, and were left smiling as a late-game scenario played out in front of them. -- Los Angeles Times
Lakers also depending on veteran players to mold young core: Fatigue was setting in as the Lakers labored through a training camp practice when Lou Williams concluded a team huddle by imploring his teammates to stay motivated no matter the circumstances. The Lakers sounded annoyed as officials called fouls on several possessions during a recent pick-up scrimmage. Then, Jose Calderon interrupted the arguments about calls and stressed the need to stay calm during adversity. -- The Orange County Register
Lakers keep Metta World Peace, Thomas Robinson because of their work ethic, toughness: The two players stood at opposite ends of the Lakers' practice court. Their presence partly explained how they survived various roster cuts. After practice ended, Thomas Robinson worked on free throws and post-up moves. His hustle and efficiency left Lakers coach Luke Walton "shocked" the former No. 5 draft pick lasted briefly in Sacramento (2012-13), Houston (2012-13), Portland (2013-15), Philadelphia (2014-15) and Brooklyn (2015-16). -- The Orange County Register
Metta World Peace attributes longevity to lifestyle habits: The talent seemed too good to pass up. Ron Artest locked down scorers, bulldozed defenders and made opponents fear his mere presence. But then concerns emerged about his anger, his partying and his focus. The talent seemed too diminished. Metta World Peace struggled to score, defend and run as efficiently as he once did. But then encouraging signs emerged with his unyielding work ethic, strong conditioning and valuable wisdom to teammates. -- Los Angeles Daily News