March, 24, 2017
Mar 24
11:51
PM PT
LOS ANGELES -- Bronze is permanent, beef is temporary.
We received this lesson in temporal qualities (in addition to an unexpected history of statues) at the unveiling of Shaquille O'Neal's dunking likeness at Staples Center on Friday, an affair that had Shaq and Kobe Bryant sharing the stage and exchanging compliments, a ceremony that officially fused the once-wayward center to the Los Angeles Lakers.
As dominant as Shaq's run in Lakerland was -- with three championships, three NBA Finals Most Valuable Player awards and the lone regular-season MVP of his career -- this honor seemed far from inevitable after the Great Laker Breakup of 2004. The Shaq-and-Kobe feud had reach irreconcilable status, with Phil Jackson offering behind-the-scenes details in his book, leading the Lakers to trade Shaq to the Miami Heat and dispatch Jackson. O'Neal spent the next couple of years in Miami mocking the Lakers and owner Jerry Buss at every opportunity as they floundered while he won another championship.
But the reconstruction began the day he retired, in June 2011, with Buss offering a congratulatory phone call that caught Shaq off guard. He emerged from a room in his house in disbelief, his agent recalled Friday. Shaq was at his home in Florida. But he was on his way back into the heart of Lakerland.
Shaq was more comfortable in his giant skin than any other NBA big man, but the flip side of that was he wanted to be liked. He would joke, but he wasn't happy unless he got the immediate feedback of hearing people laugh at his jokes. He'd keep mental notes at who was standing around his locker and who would leave to head over to Kobe's. And he wanted his jersey retired in L.A. It was something he talked about since his arrival in L.A. and something he found himself still wondering about during a conversation in the Staples Center visitor's locker room while he was playing for the Phoenix Suns
March, 24, 2017
Mar 24
10:32
PM PT
Associated Press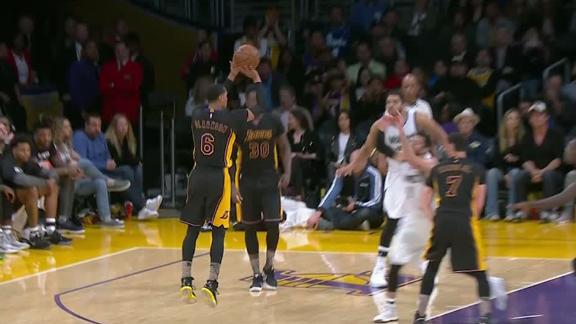 LOS ANGELES -- Jordan Clarkson had career highs of 35 points and eight 3-pointers, and the Los Angeles Lakers rallied to beat the Minnesota Timberwolves 130-119 in overtime Friday night to snap a six-game skid.
Julius Randle added 23 points and 12 rebounds for the Lakers, who earned just their second victory since the All-Star break. They had lost 15 of 16 coming into the matchup of last-place teams in their respective divisions.
Andrew Wiggins scored 36 points before fouling out with 1:17 left in OT and Karl-Anthony Towns added 25 points and 13 rebounds for Minnesota, which dropped its fifth in a row.
The Wolves blew a 15-point lead in the third.
The Lakers dominated the extra session, when Clarkson had seven points. They scored the first eight points to take a 117-109 lead before Wiggins hit a 3-pointer.
March, 24, 2017
Mar 24
6:24
PM PT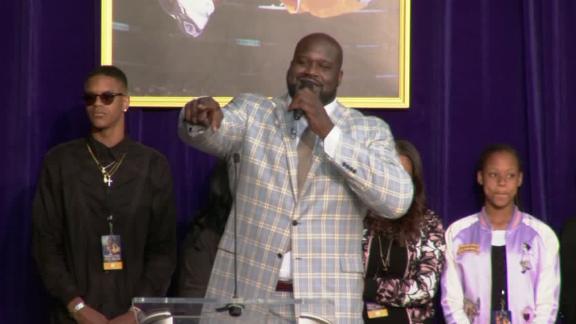 LOS ANGELES -- On stage, Shaquille O'Neal and Kobe Bryant sat side by side, wearing suits and smiles, whispering in each other's ears and laughing. They praised each other, embraced multiple times and spoke so fondly of championships won just a decade and a half ago.
In all, they looked like old friends, not like former teammates whose bitter feud split apart one of the most dominant NBA duos in history.
The Los Angeles Lakers icons reunited Friday as a 1,500-pound bronze statue depicting O'Neal dunking was unveiled at Star Plaza outside Staples Center, where O'Neal and Bryant won three consecutive titles together in the early 2000s.
"Some people thought the odds of Kobe Bryant showing up today were the same as Shaq sinking a free throw," Lakers legend Kareem Abdul-Jabbar said.
O'Neal said afterward that it "meant a lot" that Bryant attended the event, which featured many Lakers icons, including their ex-Lakers coach, Phil Jackson, former Lakers player and executive Jerry West, guard Elgin Baylor, Abdul-Jabbar and many of O'Neal's former teammates.
"Definitely couldn't have done it without him," O'Neal said, speaking of Bryant. "We will always go down in history as the most enigmatic, controversial, dominant one-two punch ever created."
The two were teammates on the Lakers from 1996 to 2004 and won titles in 2000, 2001 and 2002. They also reached the NBA Finals together in 2004, when they lost to the Detroit Pistons
March, 24, 2017
Mar 24
3:15
PM PT