June, 22, 2017
Jun 22
11:24
PM PT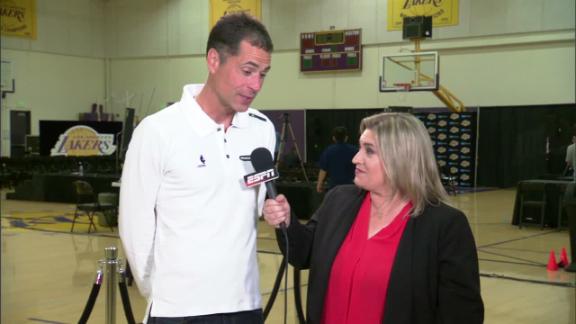 EL SEGUNDO, Calif. -- Los Angeles Lakers general manager Rob Pelinka on Thursday explained the team's logic for pulling off its draft-week trade with the Brooklyn Nets, which included shipping out promising point guard D'Angelo Russell in what amounted to a salary dump. The trade was made official Thursday.
Russell, the No. 2 overall pick in the 2015 draft, was dealt to Brooklyn along with center Timofey Mozgov, who is entering the second year of a four-year, $64 million contract. In return, the Lakers received Nets center Brook Lopez and the 27th pick in Thursday's draft.
Pelinka was first asked if Russell was traded in part because the Lakers were so confident in the abilities of point guard Lonzo Ball, whom the Lakers drafted No. 2 overall Thursday.
"I think D'Angelo is a special player and definitely wouldn't want to attach the name 'expendable' next to him, because he's an extraordinary talent," Pelinka said. "We just looked at that trade as really doing three things that were really positive for us.
"One is we got an All-Star caliber [center] that can spread the floor and open things up. Brook Lopez really transformed his game last year and became a guy that was making 3s."
Lopez, 29, averaged 20.5 points, 5.4 rebounds, 2.3 assists and 1.7 blocks for the Nets last season. He also attempted 387 shots from 3-point range and made 34.6 percent of them.
Lopez enters 2017-18 in the final season of his contract that will pay him $22.64 million. His expiring contract and clearing Mozgov off their books will give the Lakers close to $60 million in significant cap room next summer.
"Then of course, we were able to get amazing salary-cap relief and space, so in July of 2018 we have the ability to add hopefully two max-salary players to our franchise," Pelinka said. "And that really fit into our long-term play.
"And then three, it gave us the ability to have four picks in the draft [Thursday]. So we accomplished so much in one trade. It was really the perfect storm for us and we felt like it's going to have a big impact."