October, 27, 2016
Oct 27
8:08
AM PT
Walton's young Lakers show a lot of energy in opening victory: After his first official win as a head coach in his first game leading the Lakers, Luke Walton hesitated when asked if the win felt good. "Ummm," Walton began after the 120-114 victory over the Houston Rockets at Staples Center, his mind already racing to the things he wanted to see corrected. Then he conceded. "It feels good," Walton said. "It feels really good. The guys really fought tonight. -- Los Angeles Times
Life after Kobe: Opening night victory marks a hopeful new era for the Lakers: Life after Kobe Bryant began Wednesday for the Lakers, and surprise, surprise: It might not be so bleak after all. No longer trapped with one foot in the past and a vague vision of their future, the Lakers introduced a young, energetic team that captured the attention and imagination of the Staples Center crowd in the season opener. The first shot of Brandon Ingram's NBA career — a successful corner three — drew roars. -- Los Angeles Times
Lakers begin post-Kobe Bryant era with a 120-114 win over Rockets: The Lakers rang in the post-Kobe Bryant era with a 120-114 win over the Houston Rockets on Wednesday night. In front of a capacity crowd at the Staples Center, Jordan Clarkson led the Lakers with 25 points in 24 minutes off the bench. -- Los Angeles Times
Lakers report: Nick Young is a starter on opening night: If you ask Nick Young, "resurrection" wouldn't be too strong of a word to describe where he is now after his journey this off-season. "I was like the hand out the grave," Young said. "I'm still here. I'm just going to keep fighting, keep going." On Wednesday, Young opened the season as the Lakers' starting shooting guard. And while it's possible Coach Luke Walton alters the lineup, it represents a remarkable turnaround for Young. As recently as six weeks ago, many expected that the Lakers would release Young if they couldn't trade him. -- Los Angeles Times
Lakers begin Luke Walton era with 120-114 victory over Rockets: Hollywood celebrities Jack Nicholson and Denzel Washington greeted him as royalty. Legions of Lakers fans shouted his name. So did his supportive father as he sat several sections across from the bench donning a Lakers T-shirt. The Lakers did not just open another season that attracted a sell-out crowd, including NBA commissioner Adam Silver. It also marked the beginning of Luke Walton's tenure as the Lakers' coach. -- The Orange County Register
Lakers a work in progress, but they're fun again: And that's why you hire Luke Walton. The Lakers were facing another season of rampant losing, this time without Kobe Bryant. At last, their obsessive fan base had a reason to take up bowling on game nights. Then Walton showed up with a way of playing that should come equipped with a tree of lights and a Funny Car. If the opener against Houston means anything, it means the 2016-17 Lakers will be taking a 200 mph joyride. Even if it crumples up against the guardrail every now and then, it will be a trip. -- The Orange County Register
Fans disapprove of Mike D'Antoni's return, but Luke Walton approves of his offense: The roar of disapproval erupted at the mention of his name. The reason for the reaction runs deeper than Lakers fans simply booing an opposing team's coach. Much of the heckling directed toward Rockets coach Mike D'Antoni stemmed from his tumultuous two seasons with the Lakers, which featured frustrating injuries and mixed support for his fast-paced system. D'Antoni joked "I try not to" reflect on his two seasons with the Lakers (2012-14), which ended with a combined 67-87 record. -- The Orange County Register
Luke Walton plans to give Brandon Ingram more point guard duties: The nerves struck Brandon Ingram as he sat by his locker and processed the reality he was about to play his first NBA regular-season game. The excitement built when he stepped to the scorer's table to check in midway through the first quarter. Ingram fed off the energy when the crowd buzzed and cheered as he spent his first defensive possession guarding Rockets guard James Harden successfully by forcing a contested 3-pointer. But once the Lakers finished with a 120-114 victory over the Houston Rockets on Wednesday at Staples Center, Ingram reflected on it all and pinpointed a more significant moment that helped his anxieties disappear. -- The Orange County Register
October, 26, 2016
Oct 26
10:20
PM PT
Associated Press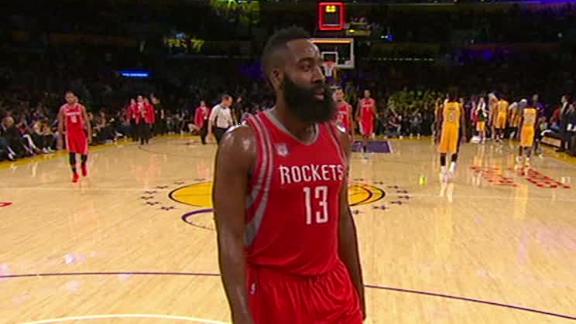 LOS ANGELES -- Jordan Clarkson scored 12 of his 25 points in the fourth quarter, and the Los Angeles Lakers won coach Luke Walton's debut, holding off the Houston Rockets 120-114 on Wednesday night.
D'Angelo Russell scored 20 points and Julius Randle added 18 points, seven rebounds and six assists for the young Lakers, who got off to an exciting start in the franchise's first season without Kobe Bryant since 1995.
With a revamped roster coming off the worst season in the 16-time champion team's history, Los Angeles surged in the fourth quarter of an auspicious opener under Walton, the 36-year-old former Lakers forward.
James Harden had 34 points, a career-high 17 assists and eight rebounds for the Rockets, who lost in former Lakers coach Mike D'Antoni's debut on the Houston bench.
October, 26, 2016
Oct 26
9:37
PM PT

By Baxter Holmes
ESPNLosAngeles.com
Archive
LOS ANGELES -- Jack Nicholson looked on from his usual courtside seat beside music legend Lou Adler, each donning sunglasses, as always. NBA commissioner Adam Silver stood along the baseline, a hand over his heart. Fans packed the Staples Center stands around them, leaving few empty seats. And as a young woman, aglow in a spotlight, began belting out the national anthem, one of those fans shouted down into the darkness, "We love you, Kobe!"
But for the first time in two decades' worth of season openers for the NBA's glamour franchise, Kobe Bryant wasn't anywhere to be found. The Los Angeles Lakers icon retired in April after 20 seasons in purple and gold, having won five NBA championships. On Wednesday against the Houston Rockets, the Lakers played their first regular-season game since then without him and won 120-114.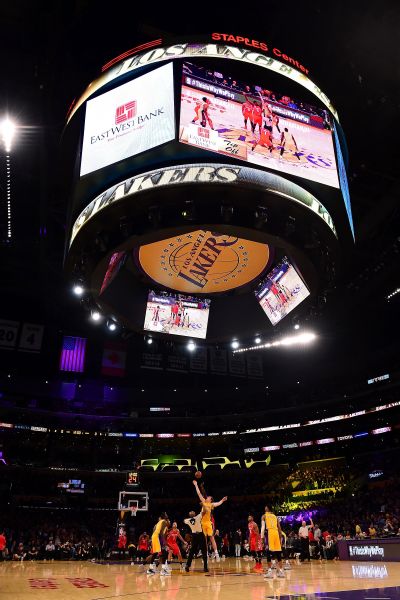 Harry How/Getty ImagesInstead of with the focus being firmly on Kobe Bryant, the Lakers tipped off their new season with broader view.
Instead of focusing on Bryant, as the Lakers had all last season during a whirlwind farewell tour capped by an unforgettable 60-point finale, the team highlighted its promising youth during a pregame video tribute. "The time is now!" it touted between highlight clips. And when first-year coach Luke Walton was introduced, the crowd roared its approval, with many fans howling "Luuuuuke" as they had during his eight-and-a-half years (and two titles) as a Lakers player.
Those same young players lived up to the pregame hype, electrifying a crowd that turned delirious in the final minutes after several key plays helped the Lakers seal an impressive win –- no small feat for a team that notched only 17 wins last season. Third-year shooting guard Jordan Clarkson carried the Lakers home with 25 points off the bench –- including several late buckets –- and second-year point guard D'Angelo Russell scored 20.
"The guys really fought," Walton said. "A big part of what we are trying to do here is develop this identity, this culture. We keep using [that] word and learning how to win games is part of figuring out who we are and it's a skill at this level."
Walton, who at 36 is the NBA's youngest head coach, had several family members on hand for his head-coaching debut with the Lakers, including his three brothers, mother Susie and father and NBA legend Bill Walton, who sat in on his son's pregame media session, wearing a purple and gold Lakers shirt in the back of the room, beaming from ear to ear.
While Bill looked on with pride, Luke, who spent the past two seasons as an assistant coach with the mighty Golden State Warriors, discussed taking over a rebuilding team that posted a franchise-worst 17-65 record last season and has missed the playoffs for three straight seasons, a franchise-long drought.
"Fans are smart," Luke Walton said. "They know that it takes time. After every dynasty ends, there's always that rebuilding process -- maybe not with the Spurs and Patriots, but with every other team that's ever played."




He added, "It's not like we're rebuilding from the first step right now. [The Lakers have] put in some pain already."
Indeed, the Lakers' historic slide has netted them three consecutive lottery picks: forward Julius Randle, the seventh overall pick in 2014; point guard D'Angelo Russell, the second overall pick in 2015; and Brandon Ingram, the second overall pick in 2016. The Lakers consider these players, along with forward Larry Nance Jr. and Clarkson, the cornerstones of their future.
"We're building toward being great again," Luke Walton said, "and I think we have pieces here that can make that happen."
Bryant, speaking Tuesday during a Facebook Live discussion hosted by the Wall Street Journal and concerning Silicon Valley and his post-career ambitions, was asked if he would be checking NBA scores now that the season had begun.
"I have no championship on the line," Bryant said. "I have absolutely no reason to check the scores."
But even if Bryant has moved on, his presence was still felt Wednesday. Russell told ESPN's crew before the game that he spoke with Bryant on Tuesday and told him he was ready.
"He told me I looked ready," Russell said. "Coming from him, that was great to hear going into opening night."
After the game, Luke Walton admitted being pleased with his first win as Lakers coach, but he then praised his players' effort and placed the game in context.
"Tonight is a baby step," he said. "It's just one game. But it's a step in the right direction of what we are trying to do."
Said Randle: "It's just one game. It's not the dang Super Bowl."
It was just one game, but it offered signs of hope. One such sign: After watching Bryant dominate the ball throughout his farewell tour, the young Lakers played freely Wednesday, especially in the new selfless culture that Walton is trying to build.
"There are a few teams in the league that play selfless and it doesn't matter whose night it could be or what's going on: guys still seem to play for their teammates," Russell said. "I feel like the better we can do, including myself, on playing for each other, the better it will be for us."
The Lakers couldn't have scripted a better start to the post-Kobe Bryant era. Wednesday provided not only an inspired win, but it turned the page to the next chapter in the franchise's history in exciting fashion, giving fans hope that maybe this rebuilding season might be fun, surprising and worth watching closely.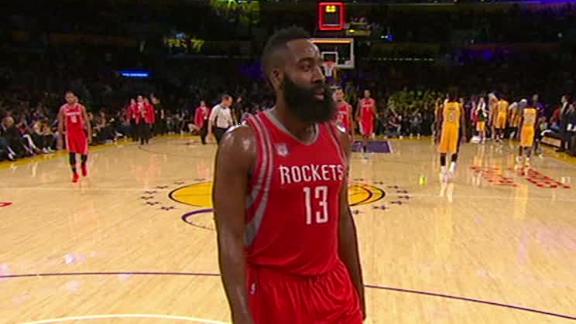 October, 26, 2016
Oct 26
8:38
PM PT
October, 25, 2016
Oct 25
8:39
AM PT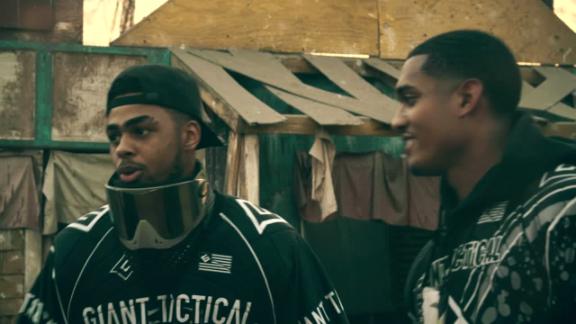 This story appears in ESPN The Magazine's November 14 Playing Through Pain Issue. Subscribe today!
Jordan Clarkson's brow furrows. "Let's get after it," he says. "You hear me?" "Yup, it's over," D'Angelo Russell replies, his eyes narrowing. "I'm gonna light his ass up." The "it" they're getting after? Uh, that's me.
It's a balmy evening at a paintball course in Bellflower, California, and the heirs of a Lakers backcourt relinquished by Kobe Bryant are armed to the teeth and feeling good. They've fine-tuned their craft over the past 12 months in regular games with teammates at Hollywood Sports Park, this world-class paintball facility 18 miles south of Staples Center. It's like a team-building exercise with high-velocity projectiles. And they're about to inflict their team-building all over me.
I owe all of this to former Laker Roy Hibbert, who introduced paintball outings to the team when he signed with LA in the summer of 2015. Now it's Russell and Clarkson, 20 and 24, respectively, who serve as torchbearers of the team's top pastime, which they believe will play a role in building chemistry on a remodeled roster of recent draft picks and league transients, among them free agent signees Luol Deng and Timofey Mozgov.
"It gets us talking, trying to get to the same goal of beating the other team, so it all transfers over," Clarkson says. But mostly "it's us bonding, something where we can get away from the basketball stuff and have fun."
FUN HAS BEEN at a premium for the once-mighty Lakers, now division doormats coming off a franchise-worst 17-65 season. Further jangling their nerves last season: former head coach Byron Scott's tough-love brand of tutelage, which often led to pine time for a young core that included 2014 lottery pick Julius Randle.
October, 26, 2016
Oct 26
8:08
AM PT
Will the Lakers' young core develop into stars who value team success?: The four young men looked into the camera all sporting warm smiles. Brandon Ingram wrapped his arm around D'Angelo Russell, while he held onto a basketball. Jordan Clarkson and Julius Randle jumped into the air, both to show off their athleticism and enthusiasm. The message behind their pose during a recent photo shoot with GQ Magazine went beyond the four players showing off their fashion sense as they donned crisp sweaters. For the first time in 20 years, the face of the Lakers is not Kobe Bryant. And unlike last season when the Lakers finished with the worst record in franchise history, Russell, Ingram, Randle and Clarkson all offer hope to an organization eager to relive the familiar feeling of star power fueling championship parades. -- The Orange County Register
Rockets coach Mike D'Antoni looks back on 'turbulent times' as Lakers coach: Mike D'Antoni knew he still wanted to coach. What he didn't know was if there was anyone left who would hire him to do it. "When I left L.A., I was very real that I might not work again," D'Antoni said this summer. "And I was fine with that. I'm old enough to go do other things and be fine with it." -- The Orange County Register
As regular season begins, Lakers keep the focus on progress and teaching: When Lakers Coach Luke Walton walks onto the court where he once played for the start of the regular season, it won't feel for him like just another game. "The nerves will be running," Walton said. "But that's a good thing. I think that's a good thing. I imagine walking out there tomorrow night at Staples for Game 1 of the regular season will be pretty emotional." -- Los Angeles Times
Lakers' Luke Walton "shocked" Thomas Robinson has not stayed long with a team: Of all the things that initially consumed himself with his first head-coaching job, Luke Walton did not think for one second about Thomas Robinson. Walton had other things to worry about, in no particular order. How can he adjust as an assistant coach to a head coach? How will he implement Golden State's culture with the Lakers given the talent and experience disparity between the two franchises? How much can Walton elevate D'Angelo Russell, Brandon Ingram, Julius Randle, Jordan Clarkson and Larry Nance Jr? How much can Walton revamp the Lakers' poorly-ranked defense? -- Los Angeles Daily News