March, 24, 2017
Mar 24
10:12
AM PT
By ESPN.com
ESPNLosAngeles.com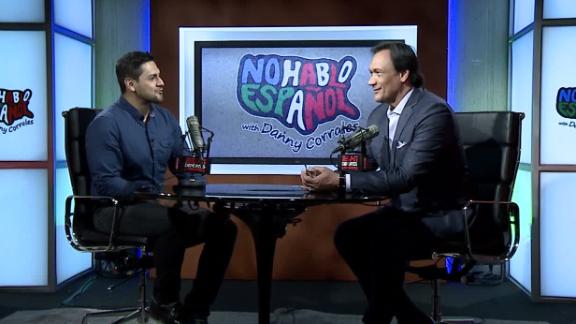 It's almost a Hollywood truth, everything is better with Jimmy Smits in it. And this holds true for "No Hablo Español."
The Emmy and Golden Globe-winning actor and star of of TV institutions like "L.A. Law," "NYPD Blue," "The West Wing," "Dexter," and "Sons of Anarchy" is now starring in "24: Legacy" on FOX. Sports has always been part of the Puerto Rican's life and upbringing in Brooklyn, N.Y. The L.A. resident can frequently be seeing at Staples Center.
Smits dropped by ESPN's Los Angeles studio to sit down with host Danny Corrales and weigh in on topics such as his new show, the iconic nature of "24" and the need for anti-inflammatory medication after running around on a day of filming. Most important of all, the two discuss the crucial nature of the proper pronunciation of the Spanish "R" sound, as explained via a memorable SNL sketch Smits took part in years ago.
The acting star also recounted to Corrales how it was his time spent feeling like an outsider in Puerto Rico which helped him go into his profession. Though Smits and his family had often visited the island in his childhood, it was only when they moved there for two years when Smits was around ten that he had to make a major cultural adjustment. The lifestyle of the island compared to the United States, where he had lived previously, was in sharp contrast.
"After a lot of therapy," joked Smits about the situation, he found that experience useful to draw on for a wide variety of roles.
Corrales also confessed watching Smits in one of his key roles, of Matt Santos on "The West Wing" had an impact on him. On the show, the character ascended to POTUS. On Corrales' show, Smits ascends to the status of one of the most affable guests on "No Hablo Español."
---
Be sure to also check out the extended "No Hablo Español" podcasts.