July, 20, 2017
Jul 20
8:30
AM PT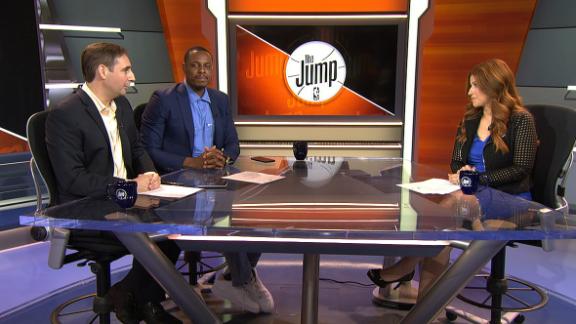 Free-agent point guard Derrick Rose is in serious talks with the Cleveland Cavaliers to join the defending Eastern Conference champions on a one-year contract, sources told ESPN on Thursday.
While those talks continue, Rose also met with the Los Angeles Lakers on Thursday, sources told ESPN's Chris Haynes and Ramona Shelburne. Sources told Haynes the meeting with the Lakers lasted three hours.
The former No. 1 draft pick has met with several teams over the past three weeks, including the Milwaukee Bucks and LA Clippers, but he has gained momentum on a deal with the Cavs in the past several days, sources said.
Playing on a contender is important to Rose. If he agrees to a deal in Cleveland, it would also allow him to be closer to family in Chicago.
The Cavs are believed to be offering Rose a minimum contract for $2.1 million for the upcoming season to play with Kyrie Irving in the team's backcourt. Adding Rose in this manner would add $6.4 million to the team's luxury tax bill for next season, which would be a projected $78.2 million.
The Lakers are trying to entice Rose to sign with them, suggesting they can offer more playing time and money in a better environment after Rose's tumultuous 2016-17 season with the New York Knicks, sources said.
The Lakers think Rose can help the development of rookie point guard Lonzo Ball.
Rose has been working out at the Lakers' practice facility lately.
In 2011, Rose became the youngest player in NBA history to win the MVP award as a member of the Chicago Bulls