July, 18, 2017
Jul 18
5:55
PM PT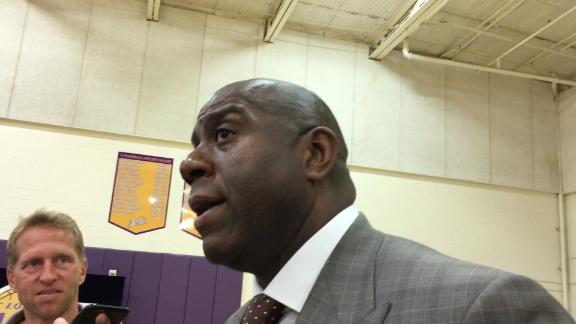 EL SEGUNDO, Calif. -- Magic Johnson believes Lonzo Ball's triple-doubles in summer league were just a preview of more to come.
"You can see that. If he's getting triple-doubles in the summer league, he is going to get triple-doubles in the regular season," Johnson said. "Just like me, when I got here, there was pressure. I was the No. 1 pick [in 1979]. I didn't care about that. I am going to play my game. Lonzo is going to play his game. The great ones do."
Johnson, the Los Angeles Lakers' president of basketball operations, spoke Tuesday after the team introduced free-agent acquisition Kentavious Caldwell-Pope.
Johnson praised the way Ball impacts the game and his teammates as a point guard. Johnson, a Hall of Fame point guard, said he sees some similarities between Ball and himself in how they play.
"Lonzo is special, no question about it, because he makes everyone better," Johnson said. "He does something you can't teach. He gives you a scoring pass. Very few point guards in this league can do that. I am talking about giving you a pass that leads to the score, not just passing it to you.
"I like him because he also is now a great teammate. He has a special effect on people."
"I think it is the same in terms of the basketball IQ," Johnson added, about what he and Ball have in common. "What is lacking in our game is a guy that can create a shot for somebody else. That is why Golden State