October, 26, 2016
Oct 26
9:37
PM PT

By Baxter Holmes
ESPNLosAngeles.com
Archive
LOS ANGELES -- Jack Nicholson looked on from his usual courtside seat beside music legend Lou Adler, each donning sunglasses, as always. NBA commissioner Adam Silver stood along the baseline, a hand over his heart. Fans packed the Staples Center stands around them, leaving few empty seats. And as a young woman, aglow in a spotlight, began belting out the national anthem, one of those fans shouted down into the darkness, "We love you Kobe!"
But for the first time in two decades' worth of season openers for the NBA's glamour franchise, Kobe Bryant wasn't anywhere to be found. The Los Angeles Lakers icon retired in April after 20 seasons in purple and gold, having won five NBA championships. On Wednesday against the Houston Rockets, the Lakers played their first regular-season game since then without him.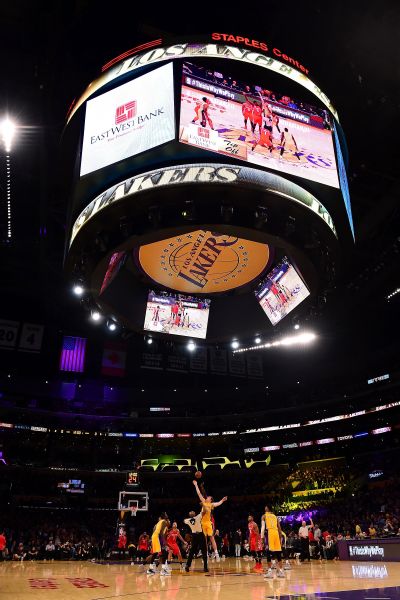 Harry How/Getty ImagesInstead of with the focus being firmly on Kobe Bryant, the Lakers tipped off their new season with broader view.
Instead of focusing on Bryant, as the Lakers had all last season during a whirlwind farewell tour capped by an unforgettable 60-point finale, the team highlighted its promising youth during a pregame video tribute. "The time is now!" it touted between highlight clips. And when first-year coach Luke Walton was introduced, the crowd roared its approval, with many fans howling "Luuuuuke" as they had during his eight-and-a-half years (and two titles) as a Lakers player.
Walton, who at 36 is the NBA's youngest head coach, had several family members on hand for his coaching debut with the Lakers, including his three brothers, mother Susie and father and NBA legend Bill Walton, who sat in on his son's pregame media session, wearing a purple and gold Lakers shirt in the back of the room, beaming from ear to ear.
While Bill looked on his pride, Luke, who spent the past two seasons as an assistant coach with the mighty Golden State Warriors, discussed taking over a rebuilding team that posted a franchise-worst 17-65 record last season and has missed the playoffs for three straight seasons, a franchise-long drought.
"Fans are smart," Luke Walton said. "They know that it takes time. After every dynasty ends, there's always that rebuilding process -- maybe not with the Spurs and Patriots, but with every other team that's ever played." He added, "It's not like we're rebuilding from the first step right now. [The Lakers have] put in some pain already."
Indeed, the Lakers' historic slide has netted them three consecutive lottery picks -- forward Julius Randle (seventh overall pick in 2014), point guard D'Angelo Russell (second overall pick in 2015) and Brandon Ingram (second overall pick in 2016). The Lakers consider these players, along with forward Larry Nance Jr. and guard Jordan Clarkson, the cornerstone of their future.
"We're building towards being great again," Luke Walton said, "and I think we have pieces here that can make that happen."
Bryant, speaking Tuesday during a Facebook Live discussion hosted by the Wall Street Journal and concerning Silicon Valley and his post-career ambitions, was asked if he would be checking NBA scores now that the season had begun.
"I have no championship on the line," Bryant said. "I have absolutely no reason to check the scores."
But even if Bryant has moved on, his presence was still felt Wednesday. Russell told ESPN's crew before the game that he spoke with the Lakers icon Tuesday and told him he was ready.
"He told me I looked ready," Russell said. "Coming from him, that was great to hear going into opening night."