December, 10, 2016
Dec 10
4:17
PM PT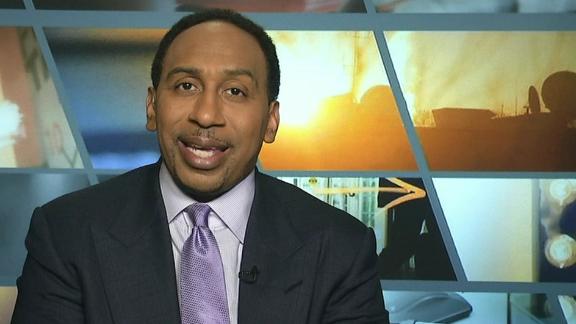 LOS ANGELES -- Carmelo Anthony said he has had "countless conversations" with former Lakers great Kobe Bryant about the best ways of dealing with how Phil Jackson criticizes the Knicks star through the media.
Bryant, after all, certainly has dealt with the 11-time NBA champion coach.
"Me and Kobe have countless conversations about that," Anthony said Saturday after the Knicks practiced in Los Angeles ahead of Sunday's game against the Lakers.
In an interview with CBS Sports, Jackson recently said Anthony can play the "role that Michael Jordan and Kobe Bryant played" in their teams' triangle offenses, but Jackson said Anthony sometimes breaks a team rule by holding on to the ball too long.
Anthony said he had a short meeting with Jackson on Saturday about the recent dust-up, but added that he's moved past the situation and is determined "not to read too much into it."
"That's something I've learned over the years, especially with Phil," Anthony said, referring to the advice Bryant gave him. "[Jackson's] going to talk. Nobody can stop that. So try not to read into it too much."
Anthony declined to share what Jackson said to him Saturday, but characterized it as "short" and that it would probably come out publicly soon anyway.
"I'm pretty sure I might be in a book," Anthony said jokingly. "Maybe a couple of books."
One issue that came up in the meeting, according to Anthony, was the idea that Jackson seems to bring up Anthony in many of his interviews.
December, 9, 2016
Dec 9
11:34
PM PT

By Baxter Holmes
ESPNLosAngeles.com
Archive
LOS ANGELES -- Lou Williams has really been torching the nets lately. On Friday, the Los Angeles Lakers guard scored a game-high 35 points in a 119-115 loss to the Phoenix Suns at Staples Center.
Williams has scored 30 or more points three times this season, all of them coming in the past four games, one of which was a 40-point performance.
Most impressive of all: According to the Elias Sports Bureau research, Williams' 137 points over the past four games are the most off the bench in a four-game span by any player since starts were first recorded in 1970-71.
"He's had an unbelievable week," Lakers forward Larry Nance Jr. said.
Suns coach Earl Watson certainly was impressed with Friday's performance from Williams.
"He's a dynamic scorer," Watson said. "He's one of the best scorers in our league. He's a big addition to any roster. I respect him a lot. A lot of our scout was about him. We knew we had to find a way to make him earn his points. You're not ever going to stop him. You just want him to not be as efficient."
Williams sank 10 of 19 shots against the Suns, including 6-of-12 from 3-point range and 9-of-11 from the free throw line. It was just another night at the office for Williams, who has shouldered a heavier load of the offense with starting point guard D'Angelo Russell (sore left knee) and starting guard Nick Young (strained right calf) both sidelined.
Still, Williams, who has led the Lakers in scoring a team-high 15 times this season, said he's more concerned with the fact that the Lakers have lost five straight than with his scoring barrage.
"It feels the same as not scoring a bunch of points and losing," Williams said. "Losing is losing. We're not in the business of moral victories. For me, it's trying to do everything I can in my position to try to help us win games, and it's still not enough."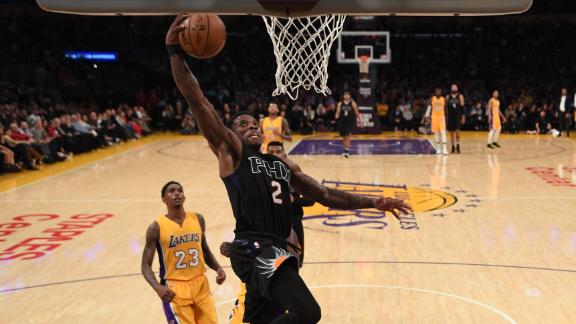 December, 9, 2016
Dec 9
10:16
PM PT
Associated Press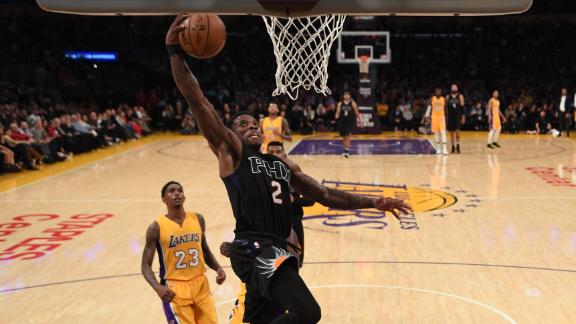 LOS ANGELES -- Eric Bledsoe had 30 points and nine assists, Leandro Barbosa added 21 points and the Phoenix Suns snapped their three-game losing streak with a 119-115 victory over the slumping Los Angeles Lakers on Friday night.
Devin Booker had 15 points before fouling out for the Suns, who hit a season-high 13 3-pointers and withstood a late rally by the short-handed Lakers.
Lou Williams hit six 3-pointers and scored 35 points in another monster game for the Lakers, who have lost five straight after a promising start to their first post season since Kobe Bryant retired.
Los Angeles has faltered during a busy portion of its December schedule while playing without four injured regulars: D'Angelo Russell, Nick Young, Tarik Black and Jose Calderon.
December, 9, 2016
Dec 9
6:37
PM PT
Associated Press
LOS ANGELES -- A Los Angeles judge on Friday finalized former NBA player Lamar Odom and Khloe Kardashian's divorce, more than three years after Kardashian first sought to end their marriage.
Kardashian filed for divorce in December 2013 after the pair had been married for four years, but she rescinded the filing after Odom was found unconscious at a Nevada brothel last year. She cited Odom's medical condition as one reason to withdraw the divorce.
She refiled for divorce, citing irreconcilable differences, in May. They have no children together.
The couple started a company called Khlomar, the nickname bestowed on their relationship after they started dating in 2009. The company will dissolve now that the divorce is complete, court documents state.
Neither Kardashian nor Odom will receive spousal support, the judgment states. While the judge signed off on it Friday, the pair won't be officially single until Dec. 17.
Odom last played for the Los Angeles Clippers during the 2012-13 season, averaging a career-low 4.0 points and 5.9 rebounds per game. He signed a contract with the New York Knicks in 2014 but was cut by the team before appearing in a game.
Kardashian's first divorce filing came days after Odom pleaded no contest to a misdemeanor drunken driving charge.
The 6-foot-10-inch power forward had his best years with the Los Angeles Lakers between 2004 and 2011. The team won NBA championships in 2010 and 2011, and Odom won the NBA's Sixth Man Award during that second championship run.
In addition to appearing on several reality series chronicling her family, Kardashian helps operate clothing stores and other businesses with her sisters, Kim and Kourtney Kardashian.
December, 9, 2016
Dec 9
7:20
AM PT
Lakers' D'Angelo Russell, Nick Young are getting closer to return: While the rest of their teammates went five on five against their coaches, D'Angelo Russell and Nick Young went through shooting drills on the other end of the Lakers' practice court. The team's starting backcourt is getting closer to its return, but neither player has returned to contact drills yet. They both participated in the non-contact portions of Thursday's practice. -- Los Angeles Times
Boredom nears end for Lakers' D'Angelo Russell with his return to practice: For more than two weeks, D'Angelo Russell's days consisted of light workouts and periodic tests. He attended some Development League games, and sat on the bench when the Lakers played at home. Mostly, though, he waited. Playing in the NBA is glamorous and offers daily excitement. Being injured, however, does not. "I feel like it's very boring," he said Wednesday. -- The Orange County Register
Lakers' D'Angelo Russell, Suns' Devin Booker motivate each other: Just as he started to fall asleep, any hopes D'Angelo Russell had of pleasant dreams quickly evaporated. Russell's close friend woke him up late at night with an urgent message. "Bro, you see this stuff?" Phoenix Suns guard Devin Booker asked Russell. Russell then learned a video he recorded on his phone leaked on social media. The video showed teammate Nick Young admitting to infidelities. -- The Orange County Register
December, 8, 2016
Dec 8
8:01
AM PT
Injury-plagued Lakers are routed by the Rockets, 134-95: The Houston Rockets' dazzling transition game never relented Wednesday night, even as they led by more than 30 points late in the fourth quarter. Early and late, the Rockets' flashy game did in the injury-riddled Lakers, who were routed, 134-95, at Toyota Center. It was the Lakers' fourth consecutive loss and their third loss of the season by 30 or more points. -- Los Angeles Times
Lakers' Nick Young says his right calf strain is feeling better: While Nick Young was initially going to stay home during the Lakers' one-game jaunt to Houston, he made the trip to rehabilitate on the road. "Feeling better," the Lakers starting shooting guard said. -- Los Angeles Times
Luke Walton upset Lakers 'weren't ready to fight' in 134-95 loss to Rockets: The irritated tone in Coach Luke Walton's voice sounded louder with each word he spoke. The Lakers lost to the Houston Rockets, 134-95, on Wednesday night at Toyota Center, one of their worst defensive performances of the season resulting in their fourth consecutive loss. -- The Orange County Register
Luke Walton searching for right combinations to spark Lakers' short-handed roster: When Lakers coach Luke Walton and his staff meet before every game to finalize offensive sets and defensive schemes, they often tackle another question. Who do we start? Finding themselves without D'Angelo Russell (left knee), Nick Young (right leg) and Jose Calderon (right hamstring) in recent weeks, those conversations have become more difficult. -- The Orange County Register
Lakers' Nick Young relied on Mike D'Antoni's support during tough times: Through shooting slumps, diminished roles and public criticisms the previous two years, Lakers guard Nick Young relied on a key person for comfort. After clashing with former Lakers coach Byron Scott and annoying Kobe Bryant, Young turned to someone Scott and Bryant had criticized. -- The Orange County Register