May, 25, 2017
May 25
10:22
AM PT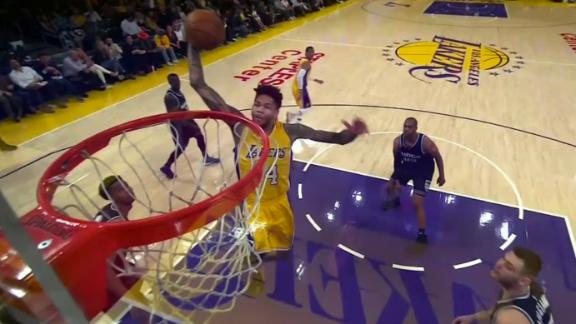 As the Los Angeles Lakers' new management eyes dramatic change to revive an illustrious franchise that has fallen to historic lows, there's only one player on the roster that Earvin "Magic" Johnson considers untouchable: forward Brandon Ingram.
"I would say probably the only player that we would say, hey, we would probably not move is Brandon Ingram," Johnson, the Lakers president of basketball operations said Thursday in a radio interview with ESPN Los Angeles.
"I think that we're excited about Brandon, his length, his size, his agility, his athleticism. And then when you think about, you know, he was a baby coming in, in his first year last season and we see that he really has a high ceiling and we're excited about what he can possibly turn into."
The 6-foot-9, 190-pound Ingram, a former Duke standout, was the No. 2 overall pick in the 2016 NBA draft.
In his first season with the Lakers, Ingram averaged 9.4 points, 4.0 rebounds, 2.1 assists and 28.8 minutes over 79 games.
Ingram is just one of several young players composing a core the Lakers hope will take key strides forward in coming seasons. The team also has the No. 2 pick in the 2017 draft and is widely expected to add UCLA star point guard Lonzo Ball to their roster if he is not taken by the Boston Celtics with the first overall pick.
May, 23, 2017
May 23
9:25
AM PT
May, 23, 2017
May 23
6:39
AM PT
May, 18, 2017
May 18
3:20
PM PT
When it comes to passing a class, there isn't anything much more stressful than having to take a final exam at the end of the semester.
That's why one young student recently sought help from someone who made a living off succeeding in high-leverage situations -- former Los Angeles Lakers star Kobe Bryant.
Prior to the test, a high school senior in Indiana named William Pate took to Twitter with a long-shot request. A pair of photos that accompanied the tweet showed Pate's teacher shaking on the deal.
With 11.5 million Twitter followers, Bryant receives hundreds of mentions each day -- many of which probably never get read by the future Hall of Famer.
But Thursday was different. The Black Mamba seemingly slithered up out of nowhere and responded to Pate with a retweet and message.
Although Bryant was never known for passing, he really came through with a nice assist on this one.
-- Nick Ostiller