October, 20, 2016
Oct 20
7:04
AM PT
By
William Weinbaum
and
Steve Delsohn
| ESPN.com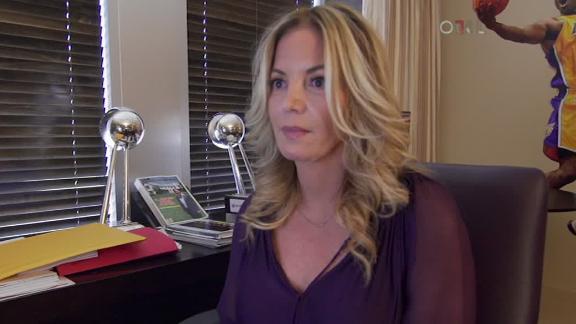 EL SEGUNDO, Calif. -- As the Los Angeles Lakers embark on the post-Kobe Bryant era, their most notable newcomer is one of his former teammates, first-year head coach Luke Walton.
The 36-year-old Walton, a player on back-to-back Lakers championship teams in 2009 and 2010, is tasked with changing the culture and ultimately restoring luster to the franchise.
"I think he is our best free-agent signing in a few years," Lakers president Jeanie Buss said.
But that isn't as impressive as it sounds, given that every marquee free agent the Lakers have pursued in recent years has spurned them.
And while Buss, the team's top official, and her brother Jim, executive VP of basketball operations, apparently see eye-to-eye on Walton, the state of the siblings' relationship adds Hollywood drama to the Lakers' unprecedented struggles on the court.
Jeanie, 55, and Jim, 56, attained their positions at the behest of their late father, Jerry, who won 10 NBA championships in 34 years as owner of the storied franchise. By the time he died in 2013 after battling cancer, the Lakers' slide had begun.
The club has since endured its three worst seasons ever, posting successive records of 27-55, 21-61 and 17-65.
Last season's debacle led to Jim and general manager Mitch Kupchak firing coach Byron Scott in April, a move that Jeanie says she did not know was coming. She told Outside the Lines it would "probably make me more comfortable" to be consulted on important basketball decisions, but "I have to defer to them, because I've empowered them to run the basketball operation."
Official job titles notwithstanding, the Scott episode "says that her brother is in charge of basketball operations and she has absolutely no say-so," said John Salley, who played 11 seasons in the NBA and won the last of his four NBA championships as a member of the Lakers.