July, 28, 2017
Jul 28
12:50
PM PT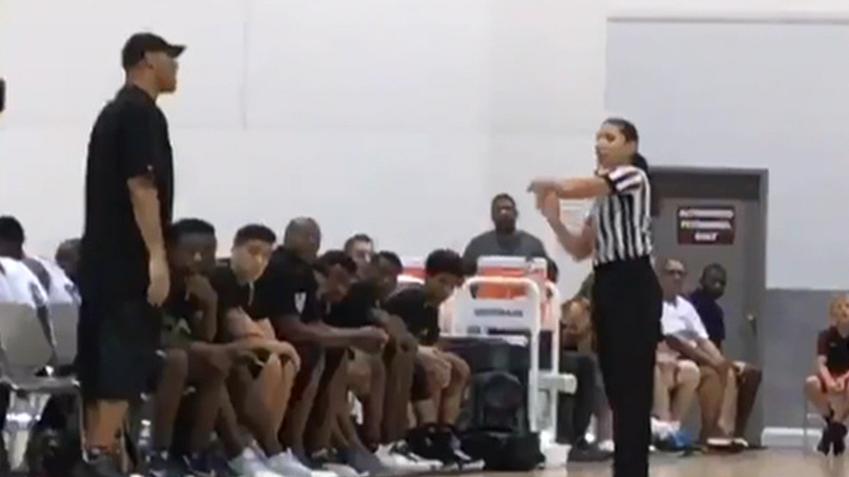 Before a female referee was replaced on Friday, officials with Adidas had pressured referees at their Summer Championships event in Las Vegas to avoid calling technical fouls against LaVar Ball because of his drawing power and their potential courtship of Los Angeles Lakers rookie Lonzo Ball, a source told ESPN.
The source said event officals, supplied by ex-NBA ref Ed Rush's Court Club Elite group, were told to "put three officials on the game who will keep him in the building" whenever LaVar's Big Baller Brand team played this week.
Ball was given a technical by the referee working Friday's game and, after Ball threatened to pull his team off the court -- as he had done in a different tournament last week -- she was removed from the game.
Adidas representatives said it was their decision to replace the referee, who is a Division I women's basketball official, though neither she nor Adidas would provide her name.
"There was some miscommunication," said Chris Rivers, Adidas director of global basketball sports marketing. "The NBA don't put certain people with certain guys, either. If there's a history or miscommunication, that happens."
During Big Baller Brand's win over Play Hard Play Smart on Thursday, Ball told a referee "You're the worst f---ing ref who ever lived," per the source. But the referee did not call a technical foul on Ball because of the strong suggestions from Adidas.
July, 27, 2017
Jul 27
9:37
AM PT
By
ESPN.com news services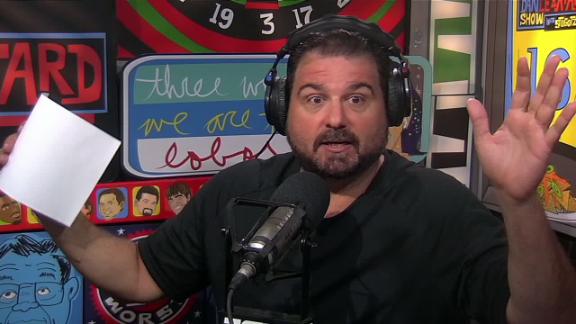 Former NBA player Lamar Odom's tangle with hard drugs nearly killed him, but it didn't rob him of his ability to talk about a dangerous dance with his demons.
He's sober now, he wrote in a revealing story for The Players' Tribune, but says it's "an everyday struggle" to stay that way.
Odom lost nearly everything in a very public way because of his addiction -- his NBA career and marriage to Khloe Kardashian, chief among them -- after being found comatose in October 2015 in a Las Vegas-area brothel. Odom detailed what led him to the hospital, where he had 12 strokes and two heart attacks.
"At some point, the main doctor came in and told me what had happened," Odom wrote. "He said, 'Mr. Odom, you've been in a coma for the last four days. Do you understand?' I couldn't talk. So I just nodded. He said, 'It's a miracle that you're here. We didn't think you were going to make it.'"
Odom says he was in shock and felt helpless for the first time in his life, but that it was no wonder he ended up there.
"At that point in my life, I was doing coke every day. Pretty much every second of free time that I had, I was doing coke. I couldn't control it," Odom wrote.
He has taken the blame for it all and says he's still battling his demons. He and Kardashian, who had filed for divorce in 2013, reunited after the incident, but they split again in 2016 after images surfaced of Odom drinking.
In the article, Odom used a popular "Chappelle's Show" quote uttered by musician Rick James -- "Cocaine is a hell of a drug" -- saying it made him do things he'd never imagined himself doing. But mostly, he kept wondering how he got there, he wrote, and those he'd lost.
July, 27, 2017
Jul 27
9:45
AM PT
By ESPN.com
ESPNLosAngeles.com

Layne Murdoch/NBAE via Getty ImagesLakers forward Julius Randle has spent the offseason working out to drop weight and reduce his body fat.
Julius Randle will be playing in his fourth year in the NBA, and the Los Angeles Lakers forward is hoping the conditioning program he's working through right now will pay off with a strong 2017-18 season.
Randle says he now weighs 243 pounds with 6 percent body fat, according to the Los Angeles Daily News. During the 2016-17 season, Randle played at 258 pounds and a 13 percent body fat count. Randle's improved conditioning should allow him to perform better when he's on the floor.
"I'll be able to move and not have to think about it," Randle said. "It will be effortless."
Randle is eligible to sign an extension up to Oct. 16, but the Lakers will likely hold back offering him a new deal so the team can maintain salary-cap flexibility next summer when they may be able to land Paul George and possibly LeBron James as free agents. Randle is aware of all the speculation about what might happen next year, which could impact his future with the Lakers, but he's not thinking about it too much.
"That stuff is not in my control," Randle said. "What happened and what didn't, I don't know. But at the end of the day, all I can control is just me working on my game and get prepared for the next season."
In 74 appearances during the 2016-17 season, Randle averaged 13.2 points, 8.6 rebounds and 3.6 assists.
-- Nick Silva
July, 25, 2017
Jul 25
1:42
PM PT
ESPN.com news services
The Los Angeles Lakers have agreed to a one-year minimum contract with point guard Tyler Ennis, with the team holding an option for 2018-19, a league source tells ESPN's Ramona Shelburne.
Ennis, entering his fourth year, averaged 4.3 points and 1.6 assists this past season for the Lakers, who acquired him at the trade deadline from the Houston Rockets for Marcelo Huertas.
The Lakers also made a strong push for free agent Derrick Rose before he committed to Cleveland.
July, 25, 2017
Jul 25
6:09
AM PT
Who will be the top NBA free agents available next July?
While this year's free agency is still wrapping up, teams have already started to plan ahead for the summer of 2018. In the case of the Los Angeles Lakers, who expect to be active in pursuing star talent, that process started before this year's draft with the trade sending D'Angelo Russell and high-salaried center Timofey Mozgov to the Brooklyn Nets to clear additional 2018 cap space.
So who will the Lakers and everyone else be pursuing? Here are my top 30 2018 free agents, including players who are eligible for extensions this summer that could take them out of free agency.
July, 23, 2017
Jul 23
5:05
PM PT
ESPN.com news services
MINNEAPOLIS -- Before Phil Jackson and Pat Riley, before Gregg Popovich and Larry Brown, even before Red Auerbach, there was John Kundla.
Kundla, the Hall of Fame coach who led the Minneapolis Lakers to five NBA championships, died Sunday. He was 101.
Son Tom Kundla said his father died at an assisted living facility in Northeast Minneapolis that he called home for years.
With George Mikan in the middle and Kundla the calm, steady hand directing the team, the Lakers won the 1949 championship in the BAA, the league that preceded the NBA, and NBA titles in 1950 and 1952-54, cementing the franchise's place as the league's first true dynasty. The Lakers also won an NBL title in 1948, but NBL marks are not included in the NBA's records.
Jeanie Buss, Lakers team president and co-owner, honored Kundla on Sunday night as someone who "played an important role in the history of the Lakers organization."
"Not only was he a Hall of Fame coach, he was our first head coach and led the organization to five NBA championships," Buss said in a statement. "In addition to his numerous contributions to the Lakers and our legacy, John was a wonderful man and will be remembered fondly. Our deepest condolences, thoughts and prayers go out to the Kundla family."
The Lakers also tweeted a tribute to Kundla earlier Sunday.
Kundla was the oldest living Hall of Famer in any of the four major pro sports.
Kundla was inducted into the Hall of Fame in 1995. A year later, he was named one of the league's 10 greatest coaches as part of the league's "NBA at 50" celebration.
He was hired at 31 and resigned at 42 with a career record of 423-302, happy to cede the attention and the accolades to his players over himself. He was known for his understated sideline demeanor, which was unique compared to the fiery drill sergeants of the era.
July, 23, 2017
Jul 23
4:07
PM PT
It's always fun when you come across things that you wrote when you were a kid.
On Saturday, Larry Nance Jr. was reminded of a string of letters he wrote to a U.S. soldier when he was just 10 years old. The letter exchange was part of a pen pal program that matched students with soldiers overseas.
In her tweet, U.S. soldier Bianca Snow told Nance, now 24, that his letters had always meant a lot to her and that she is glad "his dreams came true."
Not only did the young Nance make his interest in basketball clear in his letters, but he also specifically noted that he liked the Los Angeles Lakers, the team that drafted him No. 27 overall in the 2015 NBA draft. In one letter, Nance wrote (typos included):
Dear U.S. Soldier.
Is the war almost over? Where is Saddam? How are you? I'm fine. Thank you for writing back. Where are you?
Are you good at basketball? I like the Lakers too they are wining there series with the Timberwolves. Who is your favorite player? Mine is Shaq. Who do you want to get LeBron James? I want the Cavs to get LeBron, that is because my dad played for the Cavs. His number is retired in the Gund Arena.
And Again Thank you!!
from,
Larry Nance
Surprised by the fact that Snow had saved the letters all these years, Nance was quick to reciprocate his appreciation.
Hopefully, the two old friends can meet for the first time face to face this upcoming NBA season.
--Meaghan Latella
July, 22, 2017
Jul 22
10:38
PM PT
ESPN.com news services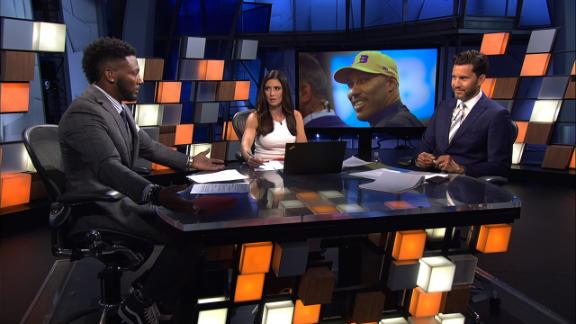 LaVar Ball pulled his Big Ballers AAU team off the court during a game Saturday after he was whistled for a technical foul for arguing a foul call and uttering a profanity toward a referee.
The incident occurred during a playoff game at the Double Pump Best of Summer Tournament in Anaheim, California. The game was ruled a forfeit, giving the victory to the opposing team.
Ball's team, which includes his youngest son, LaMelo, was winning 69-60 at the time of the forfeit, according to USA Today Sports.
The father of Los Angeles Lakers rookie Lonzo Ball disputed a foul that was called as one of his players went for a steal along the sideline. Immediately after the whistle, Ball repeated, "That's not a foul. That's not a foul. That's not a foul."
Then, in an apparent reference to an official who Ball felt was out of position, he said, "He came way over here to call that bulls---."
After being issued a technical, Ball motioned toward his players on the court and bench and said, "Let's go." Ball and his players proceeded to grab their gear and leave the court.
In a video posted by Overtime, Ball can be heard saying outside the gym afterward, "It's not about the referee. I'm not gonna have my guys playing hard, and they're cheating. I don't play that s---."
Ball has been no stranger to controversy this year. He recently got into a war of words with Philadelphia 76ers center Joel Embiid, who was fined $10,000 by the NBA for directing an obscenity at Ball on social media. Ball quickly fired back at Embiid, saying, "You gotta use cuss words when you don't have no intellect."
July, 21, 2017
Jul 21
12:56
PM PT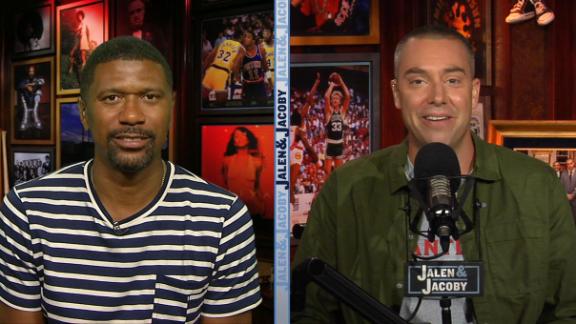 The latest Lonzo Ball-related news happened quietly. That might be news in itself for a guy whose mere choice in footwear generates headlines.
The Los Angeles Lakers sold out the remaining 5 percent of their season-ticket inventory this week. All gone. The Lakers had 95 percent renewal from their season-ticket holders before the draft, but now that Lonzo Ball is a Laker -- and fresh off his tantalizing summer league run -- they hit capacity. After a seat-viewing open house at Staples Center, fans bought up the 600 available seats. (Last year's event yielded about 175 ticket sales).
Big crowds have already become a signature of the new Lonzo Lakers. They go hand in hand with big expectations. And big expectations, in turn, are the norm in Lakerland. It's a fan base conditioned to things working toward the best-case scenario.
That hasn't been the situation for much of this decade. The Lakers' trade for Chris Paul was rescinded by David Stern, and the trades for Steve Nash and Dwight Howard didn't produce a single playoff victory. The Lakers have been missing out on A-list free agents. Their unfamiliar run of high lottery picks has not yielded a first-team member of the All-Rookie squad (although Jordan Clarkson, a second-round pick acquired from the Washington Wizards, did grab a spot in 2015).
Ball isn't guaranteed to be All-Rookie himself among a crowded crop of guards in this draft class. His game doesn't necessarily lend itself to putting up big numbers on a nightly basis. But he does have the "It" factor. In this case, style might actually matter more than substance. The way he moves the ball -- and the way that leads teammates to pass as well -- will make an impact on the Lakers even if he isn't always the statistical beneficiary.
And people will watch. The five largest television audiences for the NBA summer league were games involving the Lakers, topping out at 1.1 million for Ball vs. No. 1 overall pick Markelle Fultz