March, 23, 2017
Mar 23
7:16
AM PT
Luke Walton uses benching to provide Brandon Ingram with a lesson in leadership: Brandon Ingram wasn't among the players who lacked energy and effort at the beginning of the Lakers' 133-109 loss to the Clippers on Tuesday night. But he was part of a starting lineup that did as a whole. Coach Luke Walton wasn't interested in singling out anyone, so the whole group had to pay for their overall lethargy. -- Los Angeles Times
Lakers' Luke Walton pushing Brandon Ingram to be more of a vocal leader: Once the Lakers gathered in the locker room, Coach Luke Walton did not just express his displeasure with his team's play. He became so disgusted with the Lakers' 30-point halftime deficit to the Clippers on Tuesday that he informed his starters they would begin the second half on the bench. Walton then turned to rookie forward Brandon Ingram. -- The Orange County Register
March, 22, 2017
Mar 22
6:33
PM PT

By Baxter Holmes
ESPNLosAngeles.com
Archive
For 32 seasons, from the 1980s Showtime era through Shaquille O'Neal and the beginning and end of Kobe Bryant, Gary Vitti tended to the Los Angeles Lakers, a fixture on their sideline in a career spanning 13 head coaches, eight championships, numerous Hall of Famers and enough stories to fill a library.
When Bryant ruptured his Achilles in 2013, Vitti was there. "Just tape it up," Bryant famously told him. And when Magic Johnson stunned the world by testing positive for HIV in the fall of 1991, Vitti was there. "When God gave me this disease, he gave it to the right person," Johnson told an emotional Vitti. "I'm going to do something good with this."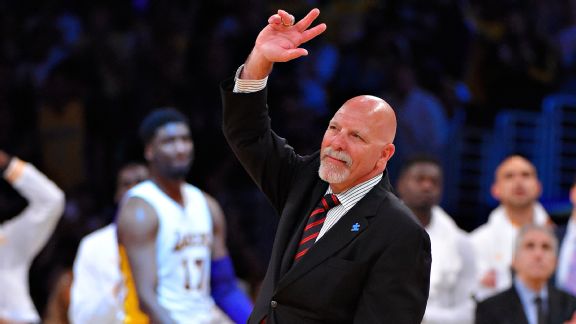 AP Photo/Mark J. TerrillTrainer Gary Vitti retired at the end of last season after spending 32 years with the Lakers.
Last April, Vitti retired from his full-time post as the NBA's longest-tenured head athletic trainer, but he signed on to remain a consultant for two more seasons, in part to continue researching new technologies that might help not just heal injuries but hopefully prevent them altogether.
Though he no longer sat on the team's bench, Vitti was still a presence in the stands at Staples Center, where he'd often sit with his wife, Martha, and walk around the arena's lower bowl to shake hands and chat with friends and Lakers employees.
And Vitti still kept a small office down a hallway at the team's practice facility in El Segundo, California, where he could be found on most weekdays, calling software engineers and analytics firms, meeting with vendors about wearable sensors and sneaker microchips, examining SportVU data and the latest trends in sports medicine and nutrition.
Toward the end of practices, when media was allowed onto the practice court before interviews, it wasn't unusual to see Vitti chatting with Lakers head coach Luke Walton or individual players.
But since the team's dramatic front-office overhaul Feb. 21, when Lakers governor Jeanie Buss fired her brother, Jim, and general manager Mitch Kupchak, and promoted Johnson to president of basketball operations, Vitti has been noticeably absent.
According to sources close to the franchise, before Feb. 21, Vitti had been seen at every home game save for one and at the facility about four days a week when the team wasn't on the road -- but since the regime change, those sources say, Vitti hasn't been seen at any games, practices, anything.
In response to questions about Vitti's status, Lakers spokesperson Alison Bogli clarified that Vitti previously reported directly to the general manager and that with the regime change, their new GM -- Rob Pelinka -- is assessing what is needed going forward. No decisions have yet been made about what projects Vitti will continue to work on as a consultant for the Lakers, Bogli noted, adding that Vitti was certainly welcome to attend games whenever he liked.
"We love Gary and look forward to honoring his contract," she said.
Vitti issued the following comment to ESPN regarding his status with the Lakers:
"I worked more than half of my life for the Lakers, and I can honestly look at myself in the mirror and say I gave every ounce that I had every day. I will forever be grateful to [the late Lakers owner and patriarch] Dr. [Jerry] Buss, a man I believe exemplified what I believe to be the trifecta of the most important human values: honesty, kindness and loyalty. Going forward, it's not my team so Jeanie can do what she thinks is best."
Vitti declined to comment when asked about the status of his contract or if he would attend games or work with the team moving forward.
It remains unclear what will happen regarding the efforts Vitti made to connect the Lakers with various cutting-edge entities in the spirit of injury prevention.
Almost a year ago, the Lakers honored Vitti during a game against the rival Boston Celtics. A tribute video played. Fans and players gave him a standing ovation. He was presented with a framed Lakers jersey that had a purple-and-gold medical cross instead of a number. And the Lakers also gave Vitti two first-class tickets to Italy, where he keeps an offseason home about 60 miles outside Rome that he has visited every offseason since 1984, save for one.
"I'm a Laker," Vitti said in the video that played on the scoreboard that night. "That's what I am. It doesn't get any better than that."
March, 22, 2017
Mar 22
1:45
PM PT
March, 22, 2017
Mar 22
7:34
AM PT
Clippers crush Lakers as teams stay on opposite paths, 133-109: With the LA Clippers desperate to pile up wins and the Lakers eager to improve their odds in the NBA draft lottery, both sides achieved the necessary result at Staples Center, with the playoff-bound Clippers trouncing the Lakers, 133-109. The Lakers, fittingly, never led. -- The Orange County Register
Luke Walton wants Jordan Clarkson to find other ways to contribute on poor shooting nights: In theory, the latest lineup switch should have invigorated Jordan Clarkson. After all, the third-year guard appears most comfortable whenever he has the ball in his hands. In the Lakers' 133-109 loss to the Clippers on Tuesday at Staples Center, though, Clarkson experienced a painful lesson. -- The Orange County Register
Luke Walton doesn't want Julius Randle, Larry Nance Jr. to rely on 3-point shots: Like Julius Randle, Lakers forward Larry Nance Jr. has spent time working on his 3-point shot in an effort to expand his game after hearing constant feedback in his past two seasons. But how much does Walton expect Randle and Nance to use that as a weapon without diluting their skills as bruising playmakers? -- The Orange County Register
Clippers take advantage of Lakers' bad start and never look back in 133-109 win: Fans received twinkling purple necklaces as they entered Staples Center for Tuesday night's Lakers home game against the Clippers. The lights kept blinking, but the other team in town quickly sapped the rest of the energy out of the building. -- Los Angeles Times
Fight in name only: Luol Deng's experience with playground fighting goes back to his childhood. He remembers fights in schools as part of daily life when he was a refugee in Egypt. "Whether it was because we're Christians or we're black," Deng said. "It was literally every day in school. Almost every day you have to deal with something." Deng had backup in the form of his brothers. -- Los Angeles Times
March, 21, 2017
Mar 21
10:18
PM PT
Associated Press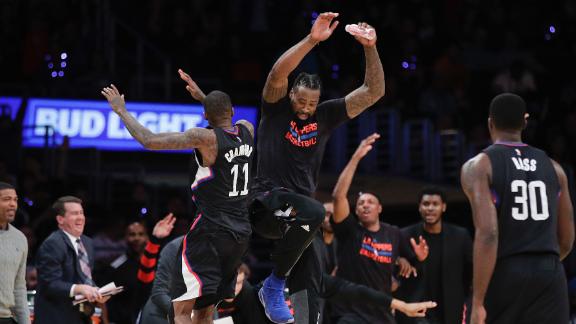 LOS ANGELES -- Chris Paul scored 27 points before watching the end of a blowout with his young son on the bench, and the Clippers beat the Lakers 133-109 on Tuesday night for yet another win in the battle of Los Angeles.
The Clippers have won 17 of the last 19 meetings against the Lakers. They cruised in this one, and the younger Chris Paul got to sit on his dad's lap on the bench during the fourth quarter.
Eight Clippers scored in double figures, including J.J. Redick with 24 points and Austin Rivers with 17.
The Clippers hit 15 of 33 3-pointers, and their starters sat out the entire fourth quarter for the second consecutive game.
Brandon Ingram led the Lakers with 21 points.
March, 21, 2017
Mar 21
3:56
PM PT
ESPN.com news services
EL SEGUNDO, Calif. -- The Los Angeles Lakers have signed David Nwaba to a multiyear deal after the rookie guard impressed them on a pair of 10-day contracts.
Lakers general manager Rob Pelinka announced the move on Tuesday, after Nwaba's second 10-day contract expired.
Nwaba was promoted from the Lakers' D-League affiliate on Feb. 28, and he immediately caught on with standout defense and steady play. He is averaging 3.6 points and 2.0 rebounds in 10 games for the Lakers, including two starts.
He had a particularly strong game on Sunday against the Cleveland Cavaliers, scoring seven points and making a highlight-reel block of Kyrie Irving's shot.
"He gives us a toughness that we definitely need," Lakers coach Luke Walton said. "He gives us a defensive mindset that we definitely need. It's nice to be able to preach something all day, every day, in practice and in games, and then have a young guy that's hungry -- and whether he plays at all in the first three quarters [or not], when he steps on the court, he's ready to compete. He's ready to get after it on defense."
Pelinka said the Lakers also like Nwaba's work ethic in practice.
Nwaba is a product of Los Angeles' University High, Santa Monica College and Cal Poly-San Luis Obispo.
Information from ESPN's Baxter Holmes and The Associated Press was used in this report.
March, 21, 2017
Mar 21
7:41
AM PT
By
ESPN.com staff
| ESPN.com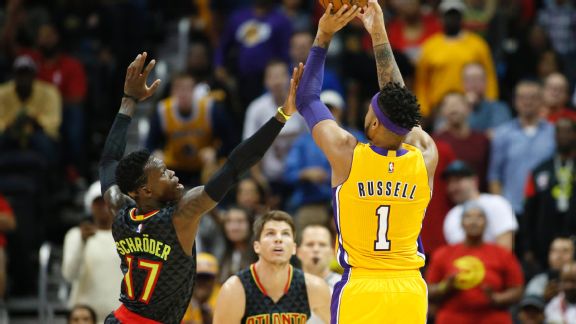 Jason Getz-USA TODAY SportsDennis Schroder and D'Angelo Russell are young point guards with promising futures. Who is the better keeper?
Every Tuesday, Wednesday and Thursday, we pose a question to a rotating panel of ESPN fantasy basketball experts to gauge their thoughts on a hot topic. Today's contributors are ESPN Fantasy's Joe Kaiser, Jim McCormick and Kyle Soppe.

---
Since the All-Star break, we've seen D'Angelo Russell average 19.4 points, 2.8 3-pointers, 4.8 assists and 1.9 steals per game while shooting 45 percent from the field and 63.3 from the foul line. Dennis Schroder has averaged 18.5 PPG, 1.3 3PPG, 6.2 APG, 43.3 FG%, 90.2 FT% during that span. Which player do you like better as a keeper for next season and beyond?
Joe Kaiser: Russell has the star potential and the higher ceiling, but to me Schroder is the safer option because he has a defined role and two more years of experience in the league. In Los Angeles, coach Luke Walton and the Lakers are still trying to figure out if Russell is better as a point guard or playing off the ball as more of a shooting guard. There are also questions in Laker Land as to whether Walton and/or Russell are going to be in Los Angeles for the long-term, and it's possible either or both of them could be in different situations next season.
Schroder isn't the pure scorer, 3-point shooter or steals threat that Russell is, but he is averaging 17.7 PPG as a 23-year-old and is more of a distributor (6.2 APG). That will be especially true if Russell moves off the ball in more of a permanent role next season. Schroder is also a much more efficient option, helping you in percentage categories (45.3 FG% and 84.4 FT%) rather than hurting you like Russell (40.8 FG and 74.5 FT). All these factors have me leaning toward Schroder over Russell.
Kyle Soppe: I'd be happy to keep either player, as I believe both are only scratching the surface when it comes to fulfilling their potential. That said, I'm rolling with Russell here, as I think his ceiling is slightly higher. The Lakers have plenty of young talent, and while I am encouraged by some of them, the youthfulness will allow Russell to expand his role as much as he is capable. While Schroder is very good, what chance does he stand to expand his role moving forward, given the Hawks