June, 21, 2017
Jun 21
4:15
PM PT
ESPN.com news services
Kirby Lee-USA TODAY SportsNick Young will be an unrestricted free agent this summer after declining his $5.6 million contract option for next season with the Los Angeles Lakers.
Lakers guard Nick Young will decline his $5.6 million player option for next season with Los Angeles to become an unrestricted free agent.
The Lakers announced Young's decision on Wednesday.
Young, 32, faced a deadline of June 21 to make a decision on his option. The 10-year veteran guard, who averaged 13.2 points in 60 games last season, will hit the open market July 1.
In four tumultuous seasons with the Lakers, Young started 71 of the 220 games he appeared in, averaging 24.5 minutes and 13.1 points per game.
The Los Angeles native realized a childhood dream by joining the Lakers, but Young's tenure has coincided with the worst four-year stretch in the history of the 16-time NBA champions.
After struggling on the court during the 2015-16 season and enduring upheaval in his personal life due to an infamous video scandal with then-rookie D'Angelo Russell, Young enjoyed a career revival last season under new coach Luke Walton.
Young also has had stints with the Washington Wizards, LA Clippers and Philadelphia 76ers throughout his career.
June, 21, 2017
Jun 21
2:32
PM PT
NEW YORK -- After seeing the Los Angeles Lakers trade D'Angelo Russell on Tuesday, Lonzo Ball says he believes Magic Johnson has "a plan."
Whether that includes drafting Ball with the second overall pick in the NBA draft on Thursday night, Ball said he is making no assumptions despite the fact that most believe he will be a Laker.
"You know, the Lakers have a plan," Ball said when asked whether he thought the Russell trade was to make room for him to play point guard. "So whatever that is, we will see whatever that is in the future."
Speaking at media availability for draft prospects, Ball deftly handled every question that came his way with straightforward answers, in stark contrast to his father, LaVar, who has made headlines with many of his eye-catching comments.
Despite the fact that he said he has met with only the Lakers during the pre-draft process, the UCLA point guard stuck to the script that he does not know whether Johnson will make his dream come true of becoming a Los Angeles Laker.
"It will mean a lot to play for my hometown [team] and learn from the best point guard ever," Ball said of Johnson, the team's president of basketball operations. "Yeah that's crazy to me [if it happens]. Magic Johnson is the best point guard ever. ... Words [couldn't] describe that."
Ball said the Lakers told him that they would embrace his outspoken father as well if they pick him.
"They were open-armed and said they loved my dad," Ball said when asked whether the Lakers had any concerns about LaVar Ball. "So I left it at that."
On Tuesday, the Lakers agreed to trade Russell, their second overall pick from the 2015 draft, and Timofey Mozgov
June, 21, 2017
Jun 21
2:08
PM PT
The NBA draft is fast approaching, which means several big decisions loom for teams regarding prospects as well as current players.
Reports involving big names such as Paul George and Jimmy Butler have been circulating the past several days, and these All-Stars could be on the move in the near future.
Meanwhile, there has already been a swap of top-three picks in the draft as lottery teams position themselves to select the best college talent in what has been touted as a very deep class.
As the storylines continue to unfold, here's your chance to weigh in on five burning questions related to the madness. Vote below!
Coverage of the NBA draft is scheduled to begin Thursday at 7 p.m. ET on ESPN/WatchESPN.
-- Nick Ostiller
June, 20, 2017
Jun 20
3:17
PM PT
ESPN.com news services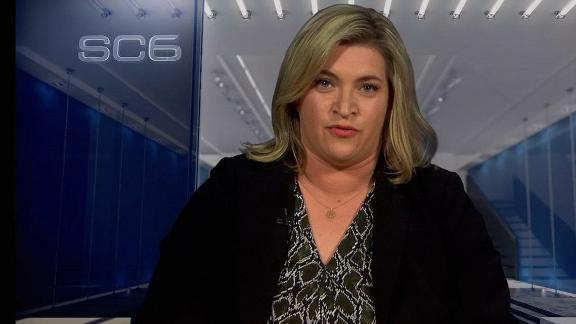 The Los Angeles Lakers are trading D'Angelo Russell and Timofey Mozgov to the Brooklyn Nets for Brook Lopez and the 27th overall pick in Thursday's NBA draft, sources told ESPN's Ramona Shelburne.
The cap-clearing deal for Los Angeles, which sets the team up for a run at at least one max free agent next summer, was first reported by The Vertical.
New Lakers president of basketball operations Magic Johnson decided to let go of the 21-year-old Russell, the second overall pick in the 2015 draft who averaged 15.6 points and 4.8 assists this past season. The Lakers have the No. 2 pick in Thursday's draft and are in line to take former UCLA point guard Lonzo Ball, which would give second-year coach Luke Walton a leader for his up-tempo offense.
Russell is set to earn $5.6 million next season.
Mozgov is entering the second year of a four-year, $64 million contract. He and forward Luol Deng got exorbitant free-agent deals from general manager Mitch Kupchak and decision-maker Jim Buss last July. Both were dismissed in February by owner Jeanie Buss, who hired Johnson and general manager Rob Pelinka to return the 16-time champions to contention.
Although Mozgov performed reasonably well when given the chance last season, averaging 7.4 points and 4.9 rebounds, the 7-foot-1 Russian didn't appear to fit into Walton's Golden State-influenced schemes.
Lopez, 29, was a standout for the Nets in 2016-17 as he averaged 20.5 points, 5.4 rebounds, 2.3 assists and 1.7 blocks. He also became a threat from 3-point range as he attempted 387 shots from behind the line and made 34.6 percent of them.
He enters 2017-18 in the final season of his contract, signed in July 2015, which will pay him $22.64 million next season.
Lopez's expiring contract and Mozgov's move to Brooklyn give the Lakers close to $60 million in significant cap room next summer.
June, 20, 2017
Jun 20
3:16
PM PT
June, 20, 2017
Jun 20
12:57
PM PT
What should the Los Angeles Lakers be willing to give up in a trade for Indiana Pacers All-Star Paul George?
Answering that question is complicated by the possibility that the Lakers will be able to sign George outright next summer, when he can become an unrestricted free agent. However, if the Lakers don't trade for George, another team almost certainly will make a deal with the Pacers, and the Lakers will then risk George's new team persuading him to re-sign with the promise of an extra year and slightly larger raises.
So, taking that all into account, what picks or players from their current roster should the Lakers be willing to offer?
To continue reading this article you must be an Insider