March, 27, 2017
Mar 27
6:56
AM PT
Lakers one step closer to the NBA draft's top pick: With this loss to the Portland Trail Blazers, the Lakers fell to 21-52, half a game worse than the Phoenix Suns. The team with the worst record in the NBA will have a 64.1% chance of having a lottery pick in the top three. -- Los Angeles Times
Trail Blazers go deep to defeat Lakers and sweep season series: When less than five minutes remained in the third quarter Sunday night, the Portland Trail Blazers began to drown the Lakers in three-pointers. Suddenly an eight-point lead became 21 points, and the Lakers never recovered. Portland beat them, 97-81, at Staples Center to sweep the four-game season series. -- Los Angeles Times
Lakers collapse in third quarter against Portland, keep hold on NBA's second-worst record: Early in the first quarter, the Staples Center scoreboard flipped the teams' scores and gave the Lakers a five-point edge over Portland. A valiant attempt, indeed, but not one that will fly at NBA headquarters. Before long, the numerals returned to their rightful places and so did the Lakers, who missed shots throughout the game and played increasingly poor defense. Portland also struggled early but still had enough for a 97-81 victory over the Lakers on Sunday night. -- The Orange County Register
Draft lottery could be heads-or-tails situation for Lakers if they tie Suns: What if a coin flip costs the Lakers their prized high first-round draft pick? It's unlikely, but it's statistically possible. It's been fairly well-chronicled that if the Lakers finish with the NBA's second-worst record, they enter the draft lottery with a 55.8-percent chance to land a top-three pick, and thus avoid having to send it to Philadelphia. Finish with the third-worst record, and the Lakers' retention chance drops to 46.9 percent. -- The Orange County Register
March, 26, 2017
Mar 26
9:08
PM PT
Associated Press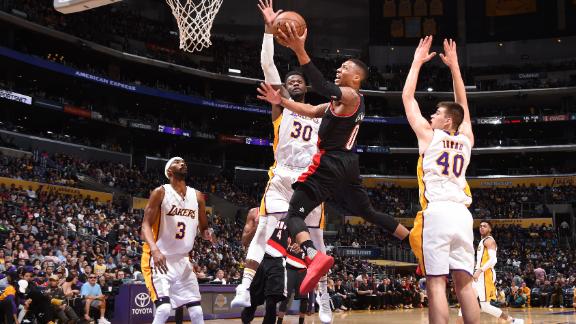 LOS ANGELES -- Damian Lillard scored 22 points and the Portland Trail Blazers beat the Los Angeles Lakers 97-81 on Sunday night to pull even with Denver in the race for the final playoff spot in the Western Conference.
Both the Blazers and Nuggets are 35-38 with nine games left in the regular season. They play each other Tuesday in Portland.
Denver lost at home to the New Orleans Pelicans earlier Sunday night.
Portland took control by outscoring the Lakers 37-24 in the third quarter and led by as many as 26 points. Los Angeles shot 39 percent from the field and was outrebounded 61-42.
Allen Crabbe added 18 points off the bench for the Blazers, and Noah Vonleh grabbed 14 rebounds.
D'Angelo Russell led the Lakers with 22 points, and Tyler Ennis scored 14 off the bench.
March, 24, 2017
Mar 24
11:51
PM PT
LOS ANGELES -- Bronze is permanent, beef is temporary.
We received this lesson in temporal qualities (in addition to an unexpected history of statues) at the unveiling of Shaquille O'Neal's dunking likeness at Staples Center on Friday, an affair that had Shaq and Kobe Bryant sharing the stage and exchanging compliments, a ceremony that officially fused the once-wayward center to the Los Angeles Lakers.
As dominant as Shaq's run in Lakerland was -- with three championships, three NBA Finals Most Valuable Player awards and the lone regular-season MVP of his career -- this honor seemed far from inevitable after the Great Laker Breakup of 2004. The Shaq-and-Kobe feud had reach irreconcilable status, with Phil Jackson offering behind-the-scenes details in his book, leading the Lakers to trade Shaq to the Miami Heat and dispatch Jackson. O'Neal spent the next couple of years in Miami mocking the Lakers and owner Jerry Buss at every opportunity as they floundered while he won another championship.
But the reconstruction began the day he retired, in June 2011, with Buss offering a congratulatory phone call that caught Shaq off guard. He emerged from a room in his house in disbelief, his agent recalled Friday. Shaq was at his home in Florida. But he was on his way back into the heart of Lakerland.
Shaq was more comfortable in his giant skin than any other NBA big man, but the flip side of that was he wanted to be liked. He would joke, but he wasn't happy unless he got the immediate feedback of hearing people laugh at his jokes. He'd keep mental notes at who was standing around his locker and who would leave to head over to Kobe's. And he wanted his jersey retired in L.A. It was something he talked about since his arrival in L.A. and something he found himself still wondering about during a conversation in the Staples Center visitor's locker room while he was playing for the Phoenix Suns
March, 24, 2017
Mar 24
10:32
PM PT
Associated Press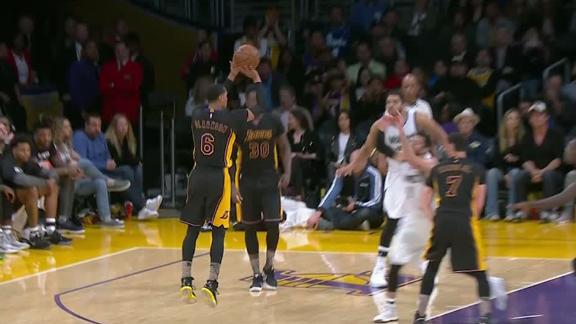 LOS ANGELES -- Jordan Clarkson had career highs of 35 points and eight 3-pointers, and the Los Angeles Lakers rallied to beat the Minnesota Timberwolves 130-119 in overtime Friday night to snap a six-game skid.
Julius Randle added 23 points and 12 rebounds for the Lakers, who earned just their second victory since the All-Star break. They had lost 15 of 16 coming into the matchup of last-place teams in their respective divisions.
Andrew Wiggins scored 36 points before fouling out with 1:17 left in OT and Karl-Anthony Towns added 25 points and 13 rebounds for Minnesota, which dropped its fifth in a row.
The Wolves blew a 15-point lead in the third.
The Lakers dominated the extra session, when Clarkson had seven points. They scored the first eight points to take a 117-109 lead before Wiggins hit a 3-pointer.