August, 24, 2016
Aug 24
1:03
PM PT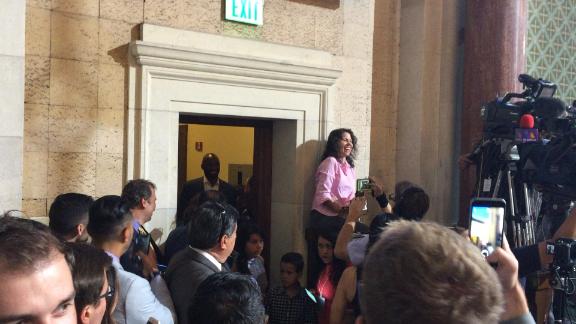 LOS ANGELES -- Even as the Los Angeles City Council paused to honor Kobe Bryant and reflect on everything he has done since he arrived in the city 20 years ago it was evident that Bryant's mind was elsewhere, looking ahead, consumed with what comes next.
Wednesday was "Kobe Bryant Day" in L.A., by official proclamation. And after some awkward bits of democracy -- when citizens used the open microphone to decry city expenditures, say "Go Lakers!" and hurl expletives and racial slurs -- the council got down to honoring Bryant's basketball accomplishments and civic contributions in his two-decade career with the Los Angeles Lakers as purple-and-gold clad fans filled council chambers chanting "Ko-be" and "M-V-P."
"When Kobe Bryant and the Lakers were playing well we were all Angelenos, united and watching greatness," council member Jose Huizar said.
"The unforgettable moments at the buzzer inspired us to work harder on the things in our lives," Mayor Eric Garcetti said.
Speaking in Spanish at the conclusion of his remarks, Garcetti said Bryant represents the spirit of Los Angeles and the heart of Los Angeles.
Bryant, with his daughters and pregnant wife by his side, watched the video recap of his 60-point effort in his final NBA game, then listened to the speeches. Lots of speeches.
He kept using the word "surreal" to describe the day. He'd been feted at City Hall before, but when the Lakers were celebrating championships. This was a celebration of him.
"It feels different because it is different," he said as he entered the garage and took an elevator up to the third floor.
When he had his turn at the microphone he conluded by saying: