March, 24, 2017
Mar 24
6:24
PM PT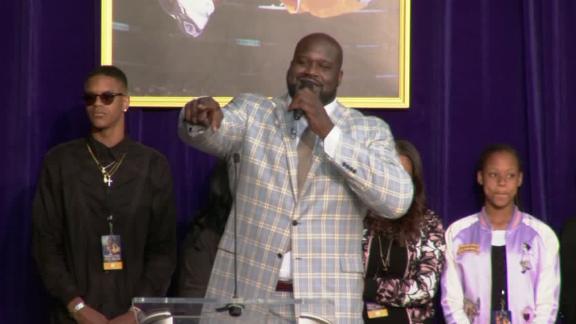 LOS ANGELES -- On stage, Shaquille O'Neal and Kobe Bryant sat side by side, wearing suits and smiles, whispering in each other's ears and laughing. They praised each other, embraced multiple times and spoke so fondly of championships won just a decade and a half ago.
In all, they looked like old friends, not like former teammates whose bitter feud split apart one of the most dominant NBA duos in history.
The Los Angeles Lakers icons reunited Friday as a 1,500-pound bronze statue depicting O'Neal dunking was unveiled at Star Plaza outside Staples Center, where O'Neal and Bryant won three consecutive titles together in the early 2000s.
"Some people thought the odds of Kobe Bryant showing up today were the same as Shaq sinking a free throw," Lakers legend Kareem Abdul-Jabbar said.
O'Neal said afterward that it "meant a lot" that Bryant attended the event, which featured many Lakers icons, including their ex-Lakers coach, Phil Jackson, former Lakers player and executive Jerry West, guard Elgin Baylor, Abdul-Jabbar and many of O'Neal's former teammates.
"Definitely couldn't have done it without him," O'Neal said, speaking of Bryant. "We will always go down in history as the most enigmatic, controversial, dominant one-two punch ever created."