January, 23, 2017
Jan 23
5:48
AM PT
Lakers' Brandon Ingram appears off his game against Mavericks: Eight minutes into the worst loss in franchise history, Lakers forward Brandon Ingram had already missed a reverse layup, airballed a three-pointer, thrown a bad pass for a turnover and had a short floating jumper swatted out of bounds by Mavericks reserve center Salah Mejri. -- Los Angeles Times
Lakers' season takes another turn in Dallas, this time for worst loss in franchise history: Nobody would have blamed the Lakers on Sunday if they had walked off the American Airlines Center court at halftime, made a beeline for the team bus and bolted to the airport for a flight home. They were well on their way to the most lopsided loss in franchise history, a 122-73 pasting at the hands of the lowly Dallas Mavericks in which they trailed by 34 points at the break and were playing some of their ugliest basketball of an often unsightly season. -- Los Angeles Times
Lakers' issues in 122-73 loss to Dallas go beyond D'Angelo Russell's absence: None of the possible reasons seemed plausible. The Lakers' two-hour flight delay to arrive here the night before due to weather concerns could not have fully explained the team's sluggishness. D'Angelo Russell's absence from a right knee injury could not fully account for the team's stagnant offense. Neither could the Lakers' season-long learning curve. -- The Orange County Register
Lakers lacking definitive leader on young roster: Through sluggish play, the Lakers often could rely on one man to take over a game and take over the locker room. But Kobe Bryant isn't walking through that door ever again. To a lesser extent, Lakers second-year guard D'Angelo Russell isn't either for the next one or two weeks while nursing a right knee injury. -- The Orange County Register
January, 22, 2017
Jan 22
4:38
PM PT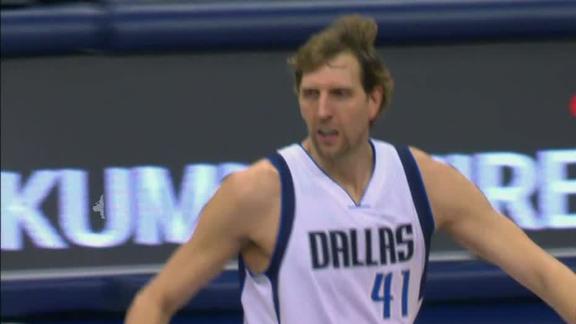 DALLAS -- The Los Angeles Lakers' rebuilding project reached a new low Sunday afternoon with the most lopsided loss in franchise history, a 122-73 rout at the hands of the Dallas Mavericks.
"We didn't show up to play, honestly, which is frustrating," first-year Lakers coach Luke Walton said after the 49-point drubbing. "Honestly, it's embarrassing for us as a team and for us as an organization, for our Laker fans that are so good to us.
"Again, at this point it is not about every night going out and winning. It is playing a certain style that allows you a chance to win while we are trying to build this thing. It's about getting better and building on games like our last game, and not being satisfied with it. ...
"The effort just wasn't there tonight, which I don't understand. I love our group of guys and I know we are going to bring it next game, but that's not who we are. It was frustrating tonight."
The previous worst margin of defeat in Lakers history was 48, which occurred in a 123-75 loss at Utah last March. This was the most lopsided game in the NBA this season.
The loss came on the 11-year anniversary of Kobe Bryant's historic 81-point performance against the Raptors, the second-most points scored by a single player in a game in NBA history.
The Mavericks (15-29) extended their winning streak in the series to 13 games, blowing the game open by outscoring the Lakers 38-11 in the second quarter. Los Angeles had more turnovers (five) than field goals (four on 17 attempts) during the quarter.
"Tough game. That's it," said guard Jordan Clarkson, one of only two Lakers to score in double figures during the loss. "A loss is a loss."
January, 22, 2017
Jan 22
2:59
PM PT
Associated Press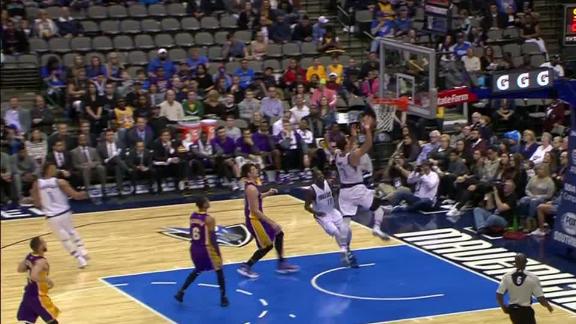 DALLAS -- Justin Anderson scored 19 points and Dirk Nowitzki added 13 to help the Dallas Mavericks rout the Los Angeles Lakers 122-73 on Sunday.
It was the Mavericks' 13th straight win over the Lakers, who have lost six of their last seven games this season.
The game was close for 10 minutes, with Dallas leading 23-22 before the Mavericks scored the next 15 straight to blow the game open. Nowitzki had seven during the run.
The Mavericks led 67-33 at the half and never looked back.
Lou Williams led the Lakers with 15.
January, 22, 2017
Jan 22
10:46
AM PT

By Baxter Holmes
ESPNLosAngeles.com
Archive
The Los Angeles D-Fenders -- the Los Angeles Lakers' NBA D-League affiliate -- will change their name to the South Bay Lakers at the end of their 2016-17 season, the team announced Sunday.
The change is partly a nod to the team's location in El Segundo, California, its headquarters since 2006. The team plays and practices in the Lakers' practice facility and will move into the new nearby facility when it opens in the summer of 2017.
The team will also have new colors -- the Lakers' traditional purple and gold but also "South Bay Blue," a nod to the nearby Pacific Ocean.
"I am excited to announce the South Bay Lakers rebrand," team president and CEO Joey Buss said in a statement. "This is an opportunity to leverage the iconic Lakers brand, celebrate our amazing community and emphasize the accomplishments that our franchise has achieved over the last 10 years while we continue to compete for an NBA D-League championship."
January, 20, 2017
Jan 20
10:01
PM PT
Associated Press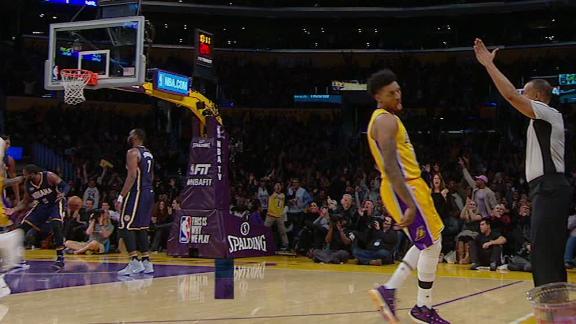 LOS ANGELES -- Lou Williams scored 27 points, Nick Young hit five 3-pointers and the Los Angeles Lakers snapped their five-game losing streak with a 108-96 victory over the Indiana Pacers on Friday night.
Julius Randle scored 16 points while Young and rookie Brandon Ingram added 15 apiece as the Lakers made a prolonged second-half surge to win for just the sixth time in 27 games since November.
The Lakers even did it without D'Angelo Russell, who left after slipping on their second possession of the game, mildly spraining a ligament in his right knee and straining his right calf.
Paul George scored 21 points and Al Jefferson added 20 for the Pacers, who had a dismal second half in just their second loss in nine games.
January, 20, 2017
Jan 20
8:14
PM PT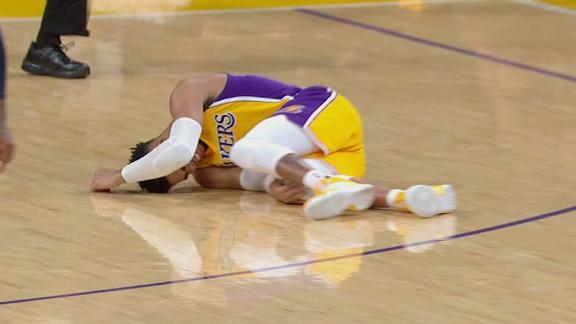 LOS ANGELES -- Lakers starting point guard D'Angelo Russell will miss one to two weeks with a mild right MCL sprain and a right calf strain, the team announced Saturday night.
Russell underwent an MRI on Saturday that confirmed the injuries. He will be re-evaluated in one week.
The No. 2 overall pick in the 2015 draft, Russell went down awkwardly after apparently stepping on teammate Julius Randle's foot early in the first quarter of Friday's 108-96 win over the Indiana Pacers.
Russell remained down, clutching his right knee, while being surrounded by teammates and the Lakers' head athletic trainer. He left the game with 10:48 remaining in the first quarter and walked to the bench under his own power. He then went to the Lakers' locker room, where he received further examination.
Russell said afterward that he experienced "just a little pain" and that he felt he would be all right.
"I don't think it's as bad as I initially thought," coach Luke Walton said after Friday's game. "I saw him go down and I was pretty worried for him, but he said he feels all right when I checked on him at halftime. I'll get more of an update tonight and then even more so tomorrow."
Russell is averaging 14.3 points, 4.4 assists and 3.7 rebounds per game but had recorded only a turnover when he exited against the Pacers.
In late November and part of December, Russell missed 12 games -- including 11 straight -- with what the Lakers said was a sore left knee.