August, 24, 2016
Aug 24
6:09
AM PT
Lakers training camp likely to be in Santa Barbara: The Los Angeles Lakers might not be staying home for training camp after all. After returning to Honolulu, Hawaii, last September, the Lakers are in the process of relocating Luke Walton's first training camp to Santa Barbara. While the move has not been finalized, it is in the works, Lakers spokesman John Black said. -- The Orange County Register
January, 6, 2016
Jan 6
1:51
PM PT
No. 8 or No. 24?
As the city of Los Angeles prepares to celebrate Kobe Bryant Day on, fittingly, Aug. 24, it's worth revisiting the question of the two numbers Bryant wore during his career.
The Los Angeles Lakers could head off any debate about which of the two numbers should hang in the rafters by retiring both, something GM Mitch Kupchak told season-ticket holders was a possibility in January.
But if it's only one, which one should it be? The question of No. 8 vs. No. 24 is a fascinating one because of the way it splits Kobe's 20 NBA seasons in half.
So, with the help of advanced statistics, let's consider the tale of the tape on Kobe No. 8 and Kobe No. 24.
August, 23, 2016
Aug 23
2:51
PM PT
By One Nacion
ESPNLosAngeles.com
Archive
With great social media power, comes great responsibility, and Kobe Bryant's ten million plus followers on Twitter certainly equal a powerful block. Bryant's own achievements as a basketball star call attention to his moves even in retirement from the sport. The world at large reacted when Bryant announced he was launching a new venture capital firm.
Announced @BryantStibel investment platform to the world today with my partner @Stibel and our team on the @NYSE pic.twitter.com/Yy2yF34INH

— Kobe Bryant (@kobebryant) August 22, 2016
Yet of all the jokes and comments on social media about the news, Bryant only retweeted one. It compared certain basketball terms (games usually end with a winner after four quarters, to "carry" a ball is against the rules, pivoting means keeping one foot planted) to similar terms in venture capital (four quarters divide the financial year, getting future profits is described as "earn carry" and pivoting means to change a company's course completely).
Hahaha will keep this in mind as we work on building @BryantStibel https://t.co/FkVt9cY5BO

— Kobe Bryant (@kobebryant) August 22, 2016
However, it turns out the joke that was apparently thought of as clever by Bryant was pasted instead of retweeted from the person who originally posted it, namely Ashley Mayer. When alerted to the situation, Bryant, the father of two daughters (and currently expecting another with his Mexican-American wife, Vanessa), was happy to give Mayer the credit for her joke.
Ahh!! No prob! #alert #twitterthief https://t.co/My38wqNrvc

— Kobe Bryant (@kobebryant) August 22, 2016
Click here to keep up on all the latest Los Angeles Lakers news.
August, 22, 2016
Aug 22
5:50
PM PT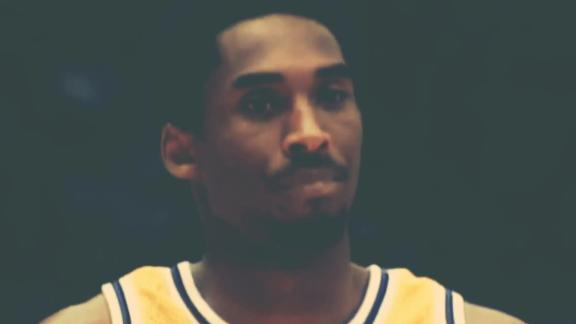 Los Angeles city leaders have declared this Wednesday as "Kobe Bryant Day," honoring the Los Angeles Lakers icon who played 20 seasons in purple and gold before retiring in April.
The honor, which was announced in a statement Monday, falls on a day that commemorates the two jersey numbers that Bryant wore during his Lakers career: 8 and 24.
Bryant, who won five championships among numerous other accolades, also will be honored for philanthropy work.
"Among his astonishing list of accomplishments, Kobe Bryant's 20-year career with the Los Angeles Lakers ranks him No. 1 all-time for NBA players who played for a single franchise, and 'Kobe Bryant Day' is the City of Los Angeles' way of thanking him for his single-minded dedication to excellence, the fans and the entire City and region of Los Angeles," L.A. City Councilman José Huizar said in a statement.
"For 20 years, we were all the beneficiaries of Kobe's incredible talent and legendary work ethic, and on 8-24 we'll gather to say, 'Thank you, Mamba.'"
Bryant will be honored at Los Angeles City Hall.
August, 22, 2016
Aug 22
6:56
AM PT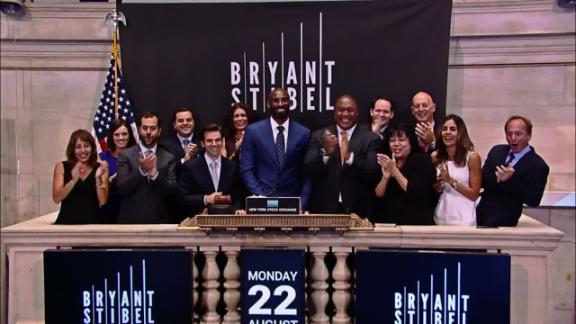 Kobe Bryant announced Monday that he was starting a $100 million media, technology and data fund.
Bryant will partner with investor Jeff Stibel, the vice chairman of Dun & Bradstreet, chairman of brain implant system BrainGate and former president of Web.com. Bryant has been privately investing with Stibel.
The venture, which is not open to outside investors, has already invested in 13 companies, according to The Wall Street Journal, including The Players' Tribune, video game designer Scopely, LegalZoom, apparel T-shirt company Represent, Chinese e-commerce company Alibaba and VIPKid, a company that provides a North American school experience to children in China.
"This is one of my passions," Bryant said on CNBC after he rang the opening bell Monday on the New York Stock Exchange. "We are one gear, 100 percent laser-focused, and here we go."
The fund does not include Bryant's personal investments that he makes through Kobe Inc., a company he started in 2014. His first investment was in sports drink company BodyArmor, which partnered with the Los Angeles Lakers for his final game merchandise. The $1.2 million in merchandise sold at the Staples Center on April 14 set an industry record for merchandise sales at a stadium and arena in a single day.
That didn't include apparel sold just by Kobe Inc., which offered T-shirts with the words "Mamba Out," the last words Bryant said before walking off the court for the final time after he scored 60 points in his career finale. His company recently filed to trademark that phrase, though it will be second in line behind two men who filed a trademark a couple days after Bryant said it.
Other NBA players have made a dent in the investing world, including former Lakers great Magic Johnson. His personal business, Magic Johnson Enterprises, made investments in urban-area real estate, and he has had several real estate funds, with Canyon Capital, Yucaipa and JLC Loop Capital, that raised more than $3 billion.
Former San Antonio Spurs
August, 18, 2016
Aug 18
5:20
PM PT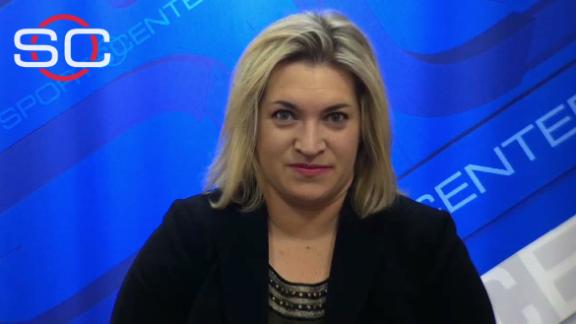 Yi Jianlian returned to China in 2012 after a lackluster five-year stint in the NBA, but he has kept in touch with his longtime mentor and veteran NBA coach Del Harris. Yi and Harris first met 12 years ago while Harris was coaching the Chinese national team.
On Tuesday, Yi agreed to a one-year deal with the Los Angeles Lakers. With Yi's impending return to the league, Harris, who led the Chinese team to an eighth-place finish at the 2004 Olympics as China's first-ever foreign-born head coach, is optimistic of Yi's future as a Laker under new head coach Luke Walton.
"I think that is the right team for him," said Harris, who also coached former Houston Rockets star Yao Ming back in 2004. "He should be able to play for them and will really fit the style Luke employed so well last year [with the Warriors]."
On the 2004 Chinese Olympic team, Yi -- just 17 at the time -- made an immediate impression on Harris, with his raw athleticism, ability to hit jump shots and stretch the floor. Even after Harris left China and returned to coaching in the NBA, he remained close with Yi, who was the No. 6 overall pick in the 2007 draft.
Yi's 272 NBA games with four teams featured short bursts of high-scoring performances, but were cut short by frequent injuries. His lack of consistency and physicality was part of the reason he averaged just 7.9 points and 4.9 rebounds per game.
A shortage of trust and tailored coaching around him hurt too, according to Harris.
"I can tell you he plays better when he feels the coach and the team believes in him," Harris said. "He has needed that confidence."
As evidence, Harris pointed to Yi's average of nearly 15 points and seven rebounds per game in January 2010 with the New Jersey Nets when Harris was the team's assistant coach.
In the two games Yi played in 2012 under Harris at the Texas Legends -- the NBA Development League team of the Dallas Mavericks
August, 18, 2016
Aug 18
4:05
AM PT
Chad Ford and Kevin Pelton are back with their series on NBA draft prospects, rookies and sophomores -- this time ranking their top 10 sophs for 2016-17.
---
Ford: We tackled our favorites for Rookie of the Year already. While there's lots of excitement generated by the ROY race, the truth is that only a small handful of rookies make any real impact in the win-loss column for teams.
But by their sophomore year, we can start to expect to see a bigger impact, and we have a stellar group of sophomores.
Let's rank them from 1 to 10 in terms of what we should expect this season.
To continue reading this article you must be an Insider
August, 17, 2016
Aug 17
10:21
PM PT

By Jovan Buha
ESPNLosAngeles.com
Archive
LOS ANGELES -- Larry Nance Jr. sits in an infusion center room at Cedars-Sinai Medical Center, intravenous medicine flowing into his right arm while a blood-pressure cuff is fixed to his left.
His blood pressure at the moment suggests that he's nervous, but Nance begs to differ.
"I've been doing it for so long that it's whatever," the second-year Los Angeles Lakers forward says. "The pin and needle sticks and all that don't get to me anymore."
Nance was diagnosed with Crohn's disease at 16, and ever since, he has received infusions of Remicade, which he now takes every 7½ weeks. Nance even once thought of quitting basketball before those infusions turned his life around.
"The Remicade is what keeps me healthy, and when that starts to dwindle a little bit, I feel it," Nance says of the medication. "I wouldn't say it affects me too much -- I'm pretty good at fighting through it -- but it's definitely something that when it gets to that time, I start taking more naps and stuff like that."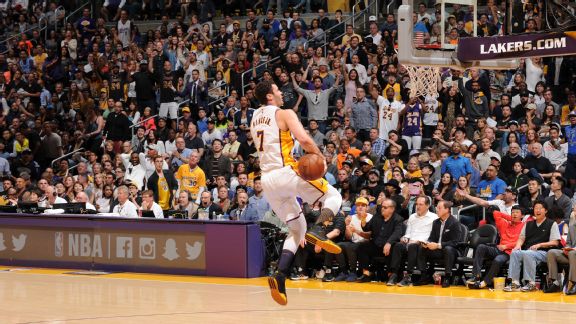 Andrew D. Bernstein/Getty ImagesLarry Nance Jr. was diagnosed with Crohn's disease at 16, but the treatment he has received kept him in basketball and now the NBA. He uses the time he spends in the hospital every couple of months to inspire others with similar afflictions.
Beside Nance is a plate of chocolate-chip cookies and sliced melon, but no berries, because those contain seeds, which can upset his stomach. His diet is relatively flexible, but there are some restrictions: no nuts, seeds, popcorn and, occasionally, dairy.
Surrounding Nance are seven fans, three of them children who either have Crohn's disease or another inflammatory bowel disease (IBD). Nance and Cedars-Sinai have teamed up to host patients suffering from IBD, giving them a chance to speak one-on-one with Nance as he receives his bimonthly treatment.
As each patient nervously approaches him for an autograph and a picture, Nance flashes a giant smile and asks how long they've been suffering from their illness.
"I was very nervous and excited at the same time to meet him," says David Lasky, a 10-year-old given a diagnosis of Crohn's disease just over a year and a half ago. "He's such an amazing guy. ... He makes sure you're always comfortable and don't feel rushed or nervous. He's very understanding and wants to listen to you."
After listening to a patient's story, Nance lightens the mood, cracking jokes and asking patients to name their favorite NBA team.
If they mention the Lakers, he asks them to identify their favorite player; most say Kobe Bryant. Nance then brings up Bryant's 60-point finale and gushes about Bryant's intelligence.
If they mention another team -- a couple of patients dare to say they're Clippers fans -- he jokingly asks one of the doctors waiting outside of the room to usher the patient out. Then he interrogates them, asking them how they could not root for the Lakers in Los Angeles, regardless of the franchise's recent struggles.
One patient says he's a Golden State Warriors fan. Nance shoots him a dirty look. The patient's dad laughs and says, "That's almost as bad as being a Clippers fan."
Nance wryly quips back, "No, it's not."
He then adds: "We're going to be better this season and next. I can promise you that. We're on the way up."
Overall, Nance speaks with roughly 60 people of various ages (ranging from 7 to 50) and backgrounds (patients came from areas as far north as Calabasas and as far south as Orange County) during a two-hour period.
His prevailing message -- to not let Crohn's disease dictate your life or prevent you from pursuing your dreams -- is meant to inspire.
When Lasky was diagnosed with the disease last year, he felt as though his aspirations of playing professional basketball had ended. To cheer him up, his mom looked up athletes who have the illness, and found Nance, who played for Lasky's favorite team, the Lakers.