December, 1, 2016
Dec 1
6:40
PM PT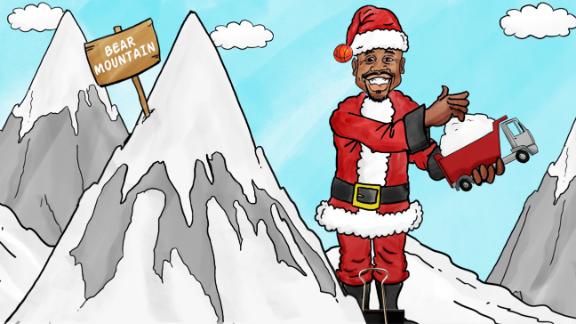 In the summer of 1996, Shaquille O'Neal left the Magic to sign a $120 million Lakers contract, and bought a house in the opulent hills overlooking Beverly Hills. A few months later he and his uncle Mike hopped in the car for a drive across L.A., to Watts.
It's about an hour drive, but feels so far from the winding tree-lined hills of Mulholland Drive.
Shaq had thoughtfully chosen a community center there to reprise his role as Shaq-a-Claus. He told uncle Mike it was his favorite day of the year, and it was full of taking holiday orders from delighted kids. One by one, they eagerly revealed their wishes: a bicycle, the top-selling Mario video game, a Tickle Me Elmo, the new Cabbage Patch dolls which were selling out as soon as they hit the shelves.
He said yes to them all and promised Shaq-a-Claus would deliver the gifts two days before Christmas. Mission accomplished. Except ... as he turned to go, Shaq noticed one little boy who hadn't come forward.
Concerned that his large stature had frightened the child, Shaq bent down on one knee, placed his massive hand on his tiny shoulder and asked, "What do you want, little man?"
"I don't think you can help me,'' he answered softly.
"I bet I can,'' Shaq persisted. "You know, I'm pretty good friends with Santa.''
"What I really want," said the boy, "is for it to snow." He was quiet for a moment before explaining that he shared his Christmas wish with his mother. She sighed, hugged him close to her, and then told him, "I'm sorry, baby. It doesn't snow in Los Angeles, and we're stuck here.''
As Shaq and his uncle drove back toward the manicured lawns and the palm trees in his exclusive neighborhood, O'Neal was mostly silent. In fact, he didn't say anything until they turned into his driveway and he blurted out suddenly, "They ski in California, right?" Shaq-a-Claus had an idea.
December, 2, 2016
Dec 2
7:21
AM PT
Lakers' Brandon Ingram thankful for Jerry Stackhouse's influence: Brandon Ingram was in fourth grade when he met Jerry Stackhouse. A two-time All-Star who spent 18 seasons in the NBA, Stackhouse returned to Kinston, N.C., nearly every offseason to work with the youth in his hometown. Ingram developed an early bond with Stackhouse and joined his Atlanta-based AAU-program several years later. He learned a variety of skills through pick-up games and film study, watching hours of footage of his mentor. -- The Orange County Register
Some Lakers already touting Lou Williams for NBA's Sixth Man of the Year: The Lakers are inspired by his leadership, appreciate his consistency and admire his ability to draws fouls when it matters most. Those are some of the attributes Lou Williams' teammates point to when they talk about how he could win this season's NBA's Sixth Man of the Year award. -- The Orange County Register
Lakers' Lou Williams has a knack for getting to the line: During his rookie year, Lakers point guard D'Angelo Russell took note of veteran guard Lou Williams' most infuriating and reliable skill. That ability to get to the free-throw line, that skill that amused his teammates and frustrated opponents. So Russell studied film of Williams drawing fouls, then he asked for suggestions. -- Los Angeles Times
December, 1, 2016
Dec 1
11:24
PM PT
December, 1, 2016
Dec 1
7:21
AM PT
Depleted Lakers grind through 96-90 win over Bulls: The Lakers could not rely on D'Angelo Russell having ice in his veins. Nor could they depend on Nick Young stealing the ball from a teammate to take the game-winning shot. Injuries having cost them their starting backcourt, the Lakers relied on other things to secure a gritty 96-90 victory over the Chicago Bulls on Wednesday and climb back to the .500 mark (10-10). The Lakers followed through on Coach Luke Walton's season-long message about focusing on defense. -- The Orange County Register
Lakers' Nick Young frustrated, relieved about calf injury sidelining him for 2-4 weeks: The worst nightmare played out in Nick Young's mind the moment his right leg landed awkwardly on the floor. The Lakers guard remembered feeling a "sharp pain." He sensed "something pulled" from his right foot. And then three of his teammates helped him off the court only a few minutes into Tuesday's loss in New Orleans. "I panicked," Young said. "I thought the worst." But after the Lakers initially diagnosed him with a strain in his right Achilles tendon, an MRI taken on Wednesday revealed a strained calf muscle in his right leg. -- The Orange County Register
Julius Randle helps lift Lakers back to .500 in 96-90 victory over the Bulls: Julius Randle's performance Wednesday night against the Chicago Bulls was no accident. The Lakers' third-year forward wanted the matchup that eluded him last time. He wanted his team to feed off his energy on a night they were missing two starters and playing on the second night of a back-to-back. -- Los Angeles Times
No rushing Russell: The Lakers probably will be without their two starting guards for a few games. Point guard D'Angelo Russell is expected to miss at least another week with an injury to his left knee. He had a platelet-rich plasma injection a week ago, which has helped. Russell has been doing pool cardio work, which reduces the impact on the joints. -- Los Angeles Times
November, 30, 2016
Nov 30
8:01
PM PT
Associated Press
CHICAGO -- Julius Randle made a strong move against Nikola Mirotic for a tiebreaking layup with 45.1 seconds left, and the Los Angeles Lakers held off the Chicago Bulls for a gritty 96-90 victory on Wednesday night.
Randle had 13 points and matched a career high with 20 rebounds as Los Angeles bounced back from an ugly 105-88 loss at New Orleans on Tuesday night. Lou Williams and Jordan Clarkson scored 18 points apiece, and Larry Nance Jr. finished with 12 points and 11 boards.
Randle's drive and layup gave Los Angeles a 92-90 lead. After Jimmy Butler missed on the other side for Chicago, Williams went 1 for 2 at the line with 20 seconds to go.
Butler then missed another 3 and Randle and Nance combined for three foul shots to help Los Angeles hold on.
November, 30, 2016
Nov 30
1:23
PM PT
Harry How/Getty ImagesThe Los Angeles Lakers, led by young point guard D'Angelo Russell, boast a lot of undervalued fantasy assets.
The 2015-16 edition of your Los Angeles Lakers were crafted upon three principles:
1. Must not land out of the top three in the NBA draft lottery. Anything lower than No. 3 overall gets sent to Philadelphia . . . which would mean a whole season of tanking will be in vain.
2. Kobe Bryant gets to do whatever he wants.
3. Byron Scott rides shotgun.
In reality-based NBA terms? These three principles produced their desired synergistic effect: Brandon Ingram.
In fantasy-based NBA terms? The 2015-16 Lakers were a numerical sinkhole.
They placed 29th out of 30 teams in Offensive Rating (101.6 points per 100 possessions), 30th in effective field goal percentage (.460), 30th in true shooting percentage (.509), 18th in pace (95.6), 30th in assists, 22nd in 3-pointers, 23rd in steals and 24th in blocks.
Bad teams can equal fantasy upside. They can combine promising young players with the copious minutes required for growth.
In this case...that wasn't the case.
This team-wide implosion was evidenced with a pronounced lack of Player Rater production.
November, 30, 2016
Nov 30
1:06
PM PT
Associated Press
NEW YORK -- Sports Illustrated magazine has chosen Kareem Abdul-Jabbar, Jim Brown and Bill Russell to receive its Muhammad Ali Legacy Award for their athletic careers and social activism.
The Hall-of-Fame trio led notable African-American athletes in support of the late heavyweight great and Louisville native at the so-called "Ali Summit" in Cleveland in 1967. Ali fought induction into the U.S. Army as a conscientious objector to the Vietnam War.
Abdul-Jabbar and Brown were among celebrities and dignitaries at Ali's memorial service following his death in June at age 74.
The men will be honored Dec. 12 in New York. Abdul-Jabbar said Wednesday in a release the award "means I am honoring his legacy as a man who defied conventions and courageously risked life and career to making America a land of freedom, equal opportunity and social justice."
The award, given since 2008, recognizes sportsmanship, leadership, philanthropy and social justice efforts. It was renamed for Ali last year.
November, 30, 2016
Nov 30
12:07
PM PT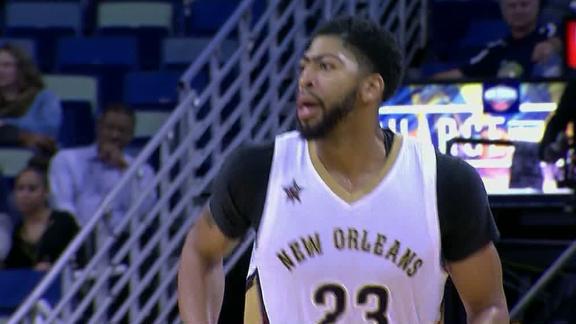 Young, 31, suffered the injury during the loss Tuesday to the New Orleans Pelicans when he tried to defend a fast-break layup by Tim Frazier. He underwent an MRI on Wednesday in Chicago.
"Can't catch a break, especially with the run we're on, it's a crucial time for us," Young said. "We've been going up and down, trying to stay in the playoff race, and do all the things we want to do. It's tough."
There was some concern that Young had a more serious Achilles injury, but the MRI revealed the calf issue.
"That's what I feel more better about, that it ain't the worst, and it's something I can come back from quicker than sitting out a whole year," Young said.
Young is averaging 13.3 points for the Lakers and has been one of the team's biggest surprises after two tumultuous seasons under ex-Lakers head coach Byron Scott.
Young recently told ESPN that he believed only a few months ago that the Lakers were intent on parting ways with him. But Young emerged in training camp as one of the team's best perimeter defenders and a reliable scorer, and Lakers coach Luke Walton started him on opening night.
November, 30, 2016
Nov 30
7:33
AM PT
Pelicans throttle the short-handed Lakers, 105-88: Less than two minutes into the first game of the Lakers' latest trip, they lost energetic shooting guard Nick Young to a strained right Achilles' tendon. On whether that explained their lackluster first half or not, there was some dissent, but it undoubtedly complicated matters. -- Los Angeles Times
Lakers' Nick Young strains Achilles' tendon against Pelicans, will have MRI exam Wednesday: ck Young walked around the Lakers' locker room after Tuesday night's game against the New Orleans Pelicans, unaided, and joked with teammates as he normally would. He declined to speak with reporters until he knew more about the right Achilles' tendon injury that he suffered within the first two minutes of the game. -- Los Angeles Times
Nick Young upbeat despite straining Achilles tendon in Lakers' 105-88 loss to Pelicans: The pain looked overwhelming as Nick Young stayed on the floor. So did the frustration as two teammates helped him off the court. The Lakers determined Young has a strain in his right Achilles tendon, an injury that preceded the team's listless play in a 105-88 loss to the New Orleans Pelicans on Tuesday night at Smoothie King Center. -- The Orange County Register
Pelicans' Anthony Brown maintains 'no hard feelings' for Lakers cutting him: The lifelong dream to play for his hometown team changed quickly from a reality to a memory. Anthony Brown became the last casualty of the Lakers' roster cuts entering the 2016-17 season, leaving the former Ocean View High standout with only a nondescript rookie season wearing his favorite purple and gold uniform. When Lakers coach Luke Walton explained his "really hard decision," Brown accepted his feedback with grace. He then landed with the Erie Bayhawks of the NBA Development League and subsequently the New Orleans Pelicans. -- The Orange County Register
November, 29, 2016
Nov 29
7:25
PM PT
Associated Press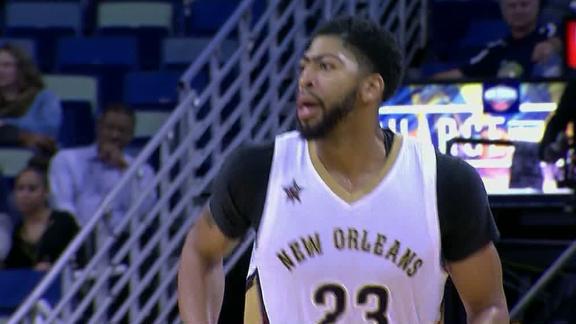 NEW ORLEANS -- Anthony Davis had 41 points and 16 rebounds, helping the New Orleans Pelicans dominate the short-handed Los Angeles Lakers 105-88 on Tuesday night.
Jrue Holiday scored 22 points in his first start this season and Omer Asik had 10 points and 11 assists while New Orleans snapped a two-game skid.
The Lakers expected to be healthier with forward Julius Randle returning to the lineup following a three-game absence because of a hip injury, but about two minutes into the game, starting shooting guard Nick Young was carried off with a strained right Achilles tendon.
Lou Williams scored 16 points for the Lakers and Randle finished with 12, but Los Angeles was in a 20-point hole by the second quarter.