June, 22, 2017
Jun 22
6:34
PM PT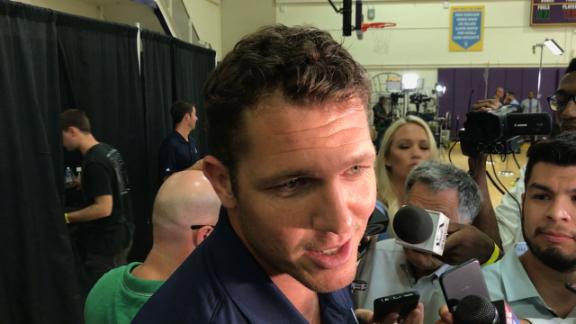 EL SEGUNDO, Calif. -- Moments after the Los Angeles Lakers selected UCLA guard Lonzo Ball with the No. 2 overall pick in Thursday night's NBA draft, Ball's outspoken father, LaVar, made a bold proclamation on national television.
"Lonzo Ball is going to take the Lakers to the playoffs in his first year," LaVar told ESPN's Jeff Goodman.
The Lakers have missed the playoffs for four straight seasons -- the longest postseason drought in franchise history -- and posted the league's third-worst record last season at 26-56.
"That's the goal. You don't play to lose. That's definitely the goal. That's the plan," Ball said when asked about his father's comments.
With his son making the interview rounds in the tunnels of Barclays Center, the passionate and outspoken LaVar excitedly talked about how he had called his son going to the Lakers for a long time.
"Yes! Yes!" the elder Ball told ESPN not far from where other families and draft picks sat by the stage. "I told you I would speak it into existence. And everybody kept saying what if? What if? I don't live on what if's. If I live on what if's, I will never get to where I am at.
"People always say LaVar, how come you are always right? I say because I never get left."
When asked about LaVar's playoffs prediction, Lakers coach Luke Walton smiled.
"I'm a very optimistic person, but I don't look that far into the future," Walton said at the team's practice facility, where a group of season-ticket holders and sponsors gathered for a draft party. "Right now, I'm hoping [Lonzo] leads us to a couple summer league victories, and we'll take it from there."
Walton said he expects LaVar's comments will, at least initially, apply pressure to Lonzo.
"I think it will make it more challenging, a little bit, but I think every top draft pick that comes in has a target on their back," Walton said. "The best players in this league want to set the tone with these young players early, to let them know what it's like here. I know when I was a young player, I had a target on my back from my own teammates because of things my dad [NBA great Bill Walton] said, but it ended up working out.
"What's incredible is that he's been, according to [Lonzo], his dad has been great. He's always been there. He's supported him. He obviously loves him and that's what you want out of a father, so I'm not overly concerned by it."