June, 28, 2017
Jun 28
6:31
PM PT
AP Photo/Chris PizzelloLakers GM Rob Pelinka emphasized at Wednesday's introductory news conference that acquiring center Brook Lopez in a trade with the Nets was not about clearing cap space to lure free agents next summer.
EL SEGUNDO, Calif. -- During his opening statement while introducing new center Brook Lopez on Wednesday, Los Angeles Lakers general manager Rob Pelinka made a comment that raised eyebrows.
"We don't see next year at all as a rebuilding year," Pelinka said at the team's practice facility. "We see it as a Lakers year. A lot of that is going to be centered around [Lopez] and what he stands for and what we know he'll give this organization."
On the surface, it was an incredibly bold statement for a team that posted a 26-56 record last season, the league's third-worst mark, and hasn't made the playoffs in four straight seasons.
It was even bolder considering that Lopez, whom the Lakers acquired in a trade with the Brooklyn Nets, will be asked to play a key leadership role on a team that features several key players in their early 20s who, while talented, are largely inexperienced.
June, 28, 2017
Jun 28
2:38
PM PT
Associated Press
EL SEGUNDO, Calif. -- The Los Angeles Lakers have exercised their $1.3 million contract option on guard David Nwaba for the upcoming season.
The Lakers announced the move Wednesday.
Nwaba earned a job with the Lakers after they called him up from their D-League affiliate on Feb. 28. The rookie averaged 6.0 points and 3.2 rebounds per game while impressing Luke Walton's coaching staff with his hustle and defensive play.
The Lakers signed him to a new contract with a multi-year component just three weeks after his NBA debut.
Nwaba is a local product, attending University High School in West Los Angeles and Santa Monica College before finishing his college career at Cal Poly.
June, 27, 2017
Jun 27
9:15
AM PT
The Ball family had the Staples Center crowd buzzing Monday night after their unforgettable appearance with The Miz on WWE Raw, the latest instance in a long and storied history of figures from the professional sports world dusting it up in the squared circle.
The intertwining of professional athletes and professional wrestling goes back decades. Muhammad Ali's bouts with Antonio Inoki and Gorilla Monsoon, as well as his guest-refereeing of the main event at the first WrestleMania, are still some of the most talked-about moments in pro wrestling history. One of Ali's most legendary adversaries, Joe Frazier, gave the striped shirt a try once, officiating one of Ric Flair and Dusty Rhodes' famous bouts.
From Lawrence Taylor headlining WrestleMania XI, to Mike Tyson delivering Stone Cold Steve Austin his first world title, to Rob Gronkowski's memorable charge into the ring at last April's WrestleMania 33, pro wrestling's colorful history is illuminated with memorable appearances from the pro sports world.
What's your favorite memory? Rank the best ones below:
Given LaVar's outsized, occasionally cartoonish persona, we're sure this won't be the last time we see the Ball family at a WWE event.
-- Brendan C. Hall
June, 26, 2017
Jun 26
3:30
PM PT
June, 20, 2017
Jun 20
2:18
PM PT
ESPN.com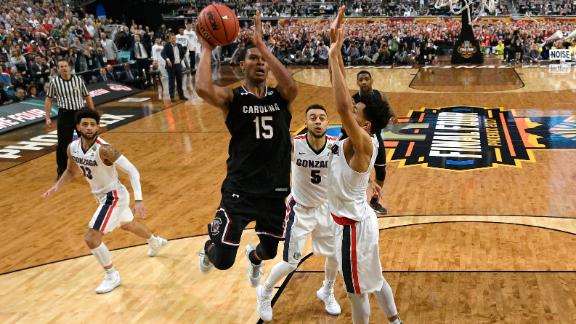 The Los Angeles Lakers have signed undrafted South Carolina guard P.J. Dozier, who helped lead the Gamecocks to the Final Four back in March.
Scouting report -- positives:
Athletic combo guard
Has elite size when he plays the point guard position
Can score from anywhere on the floor
Scouting report -- negatives:
Needs to add strength
Inconsistent 3-point shooter
Read the full scouting report (Insider)
ESPN Analytics projection (within his first five seasons):
Chances he'll be an All-Star: 0.11 percent
Chances he'll be an NBA starter: 6.72 percent
Chances he'll be a role player: 9.21 percent
June, 26, 2017
Jun 26
10:26
AM PT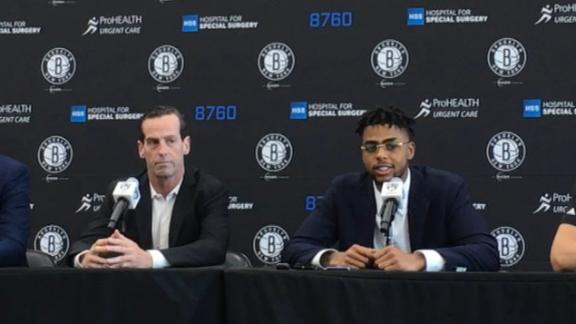 NEW YORK -- Ready to start fresh in Brooklyn, D'Angelo Russell said Magic Johnson's criticism of his leadership skills is "irrelevant."
"It is good to be here," Russell said at the Nets' practice facility in Brooklyn. "Can't really control that, what they say, I'm gone. So it's the past. I am here now. It's irrelevant, honestly."
During his introductory news conference with the Brooklyn Nets, Russell repeatedly tried to turn the page from the Los Angeles Lakers to his new home. But surely, Russell will hear about what Johnson said plenty more this coming season.
Last week, Johnson explained why the Lakers traded Russell and Timofey Mozgov to the Nets for Brook Lopez and the 27th overall pick.
"D'Angelo is an excellent player," the Lakers president of basketball operations said on Friday when the team introduced second overall pick Lonzo Ball. "He has the talent to be an All-Star. We want to thank him for what he did for us.
"But what I needed was a leader. I needed somebody also that can make the other players better and also that players want to play with."
Russell, 21, has certainly heard the knock on his maturity since being drafted second overall out of Ohio State in 2015. But Russell said he plans on being a leader for the young, rebuilding Nets.