May, 27, 2017
May 27
11:29
PM PT
ESPN.com news services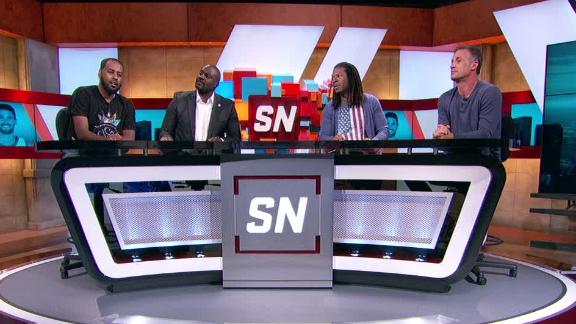 Former NBA commissioner David Stern, who infamously vetoed a proposed 2011 trade that would have sent All-Star point guard Chris Paul to the Los Angeles Lakers, said attempts to rework the deal at the time fell apart because then-Lakers general manager Mitch Kupchak "panicked."
Appearing on the "Nunyo & Company" podcast, which was released last week, Stern discussed the veto and how the three teams involved in the trade -- the Lakers, the league-owned New Orleans Hornets and the Houston Rockets -- attempted to renew talks.
Stern vetoed a trade that would have sent Paul to the Lakers, Pau Gasol to the Rockets, and Kevin Martin, Luis Scola, Lamar Odom, Goran Dragic and a 2012 first-round pick to the Hornets.
On the podcast, Stern said he felt the trade could have been reworked but said talks fell apart when Kupchak traded Odom days after the original deal was vetoed.
"In the course of the weekend, we thought we could redo the deal," Stern said. "We really thought that Houston would be ready to part with [Kyle] Lowry, and we had a trade lined up for Odom that would have gotten us a good first-round draft pick. Not we, but my basketball folks.
"But Mitch Kupchak at the time panicked and moved Odom to Dallas. So the piece wasn't even there for us to play with at the time. So that was it -- just about what was good for the then-New Orleans Hornets."
May, 26, 2017
May 26
5:56
PM PT
Former UCLA Bruins guard Lonzo Ball is widely expected to be a top-five pick in next month's NBA draft. It's also no secret that his outspoken father, LaVar, is seemingly steering the ship when it comes to Lonzo's brand and destination at the next level.
Ball's camp has already publicly expressed a desire for Lonzo to land with his hometown Los Angeles Lakers, owners of the No. 2 overall pick, and even declined a workout invitation from the Boston Celtics, who will be selecting first on June 22.
Despite LaVar's antics and controversial statements in recent months, the team that ultimately chooses Lonzo can take solace in the fact that LaVar apparently did not insert himself into basketball affairs during his son's lone season at UCLA.
When asked by the Los Angeles Times about LaVar's influence on the Bruins, head coach Steve Alford might have assuaged any potential doubts that NBA teams might have about separating father from son when it comes to basketball decisions.
Was LaVar Ball around the team much?
"Zero," Alford told the newspaper.
Was he ever at practice?
"Never at practice," Alford said. "Never at practice; never called me."
Did he ever try to meddle in your coaching?
"Never," Alford said.
May, 26, 2017
May 26
7:07
PM PT
By ESPN.com
ESPNLosAngeles.com

Jayne Kamin-Oncea/USA TODAY SportsThe Lakers have reportedly scheduled a meeting with Kareem Abdul-Jabbar regarding a possible role within the organization.
The revamped Los Angeles Lakers' front office reportedly is attempting a skyhook that it hopes will fall through the net.
According to the Orange County Register's Mark Medina, Lakers president of basketball operations Magic Johnson and controlling owner Jeanie Buss have asked NBA legend Kareem Abdul-Jabbar to meet regarding a possible role for the Hall of Famer within the organization.
While it's unclear what this potential job would entail, Abdul-Jabbar has spent time in the past working as a consultant and special assistant with the team. Last season, the Lakers brought in the NBA's all-time leading scorer and six-time champion to speak with the team's younger players.
"They can improve, but it takes hard work," Abdul-Jabbar told Medina. "They have to listen to the coaches. So many of them are so enamored with their own talent that they don't realize they still have things to learn."
Abdul-Jabbar specifically mentioned an interest in mentoring center Ivica Zubac, a promising second-year player working to develop a hook shot.
"He's equipped to use it well," said Abdul-Jabbar, who also offered focused tutelage to former Lakers center Andrew Bynum early in his career. "He has the length to begin with. If he can develop his shooting touch and agility, he'll use it well."
A meeting between the Lakers and Abdul-Jabbar would indicate the further repair of what appeared to be a broken relationship between the parties earlier this decade.
Los Angeles finished 14th in the Western Conference last season with a 26-56 record. The Lakers hold the No. 2 overall pick in the upcoming NBA draft.
-- Nick Ostiller
May, 25, 2017
May 25
10:22
AM PT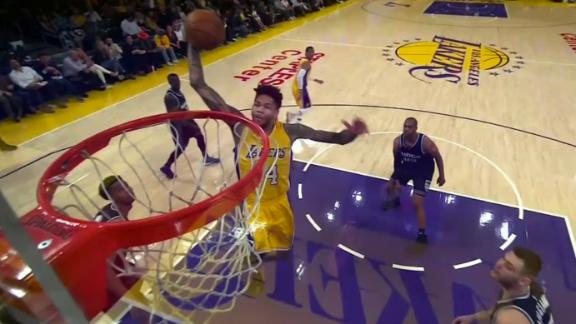 As the Los Angeles Lakers' new management eyes dramatic change to revive an illustrious franchise that has fallen to historic lows, there's only one player on the roster that Earvin "Magic" Johnson considers untouchable: forward Brandon Ingram.
"I would say probably the only player that we would say, hey, we would probably not move is Brandon Ingram," Johnson, the Lakers president of basketball operations said Thursday in a radio interview with ESPN Los Angeles.
"I think that we're excited about Brandon, his length, his size, his agility, his athleticism. And then when you think about, you know, he was a baby coming in, in his first year last season and we see that he really has a high ceiling and we're excited about what he can possibly turn into."
The 6-foot-9, 190-pound Ingram, a former Duke standout, was the No. 2 overall pick in the 2016 NBA draft.
In his first season with the Lakers, Ingram averaged 9.4 points, 4.0 rebounds, 2.1 assists and 28.8 minutes over 79 games.
Ingram is just one of several young players composing a core the Lakers hope will take key strides forward in coming seasons. The team also has the No. 2 pick in the 2017 draft and is widely expected to add UCLA star point guard Lonzo Ball to their roster if he is not taken by the Boston Celtics with the first overall pick.
May, 23, 2017
May 23
9:25
AM PT
May, 23, 2017
May 23
6:39
AM PT
May, 18, 2017
May 18
3:20
PM PT
When it comes to passing a class, there isn't anything much more stressful than having to take a final exam at the end of the semester.
That's why one young student recently sought help from someone who made a living off succeeding in high-leverage situations -- former Los Angeles Lakers star Kobe Bryant.
Prior to the test, a high school senior in Indiana named William Pate took to Twitter with a long-shot request. A pair of photos that accompanied the tweet showed Pate's teacher shaking on the deal.
With 11.5 million Twitter followers, Bryant receives hundreds of mentions each day -- many of which probably never get read by the future Hall of Famer.
But Thursday was different. The Black Mamba seemingly slithered up out of nowhere and responded to Pate with a retweet and message.
Although Bryant was never known for passing, he really came through with a nice assist on this one.
-- Nick Ostiller