February, 20, 2017
Feb 20
11:10
AM PT
By ESPN.com
ESPNLosAngeles.com

Patrick Smith/Getty ImagesThe Washington Wizards have made February deals the last few years and they may do the same in 2017.
The Toronto Raptors acquired forward Serge Ibaka on Feb. 14 and it signaled their intent to retake their spot as the No. 2 team in the Eastern Conference behind the Cleveland Cavaliers. Many followers of the NBA are wondering if the Boston Celtics and Washington Wizards now will make trades to upgrade their rosters to counter the Raptors' move. When asked, John Wall said he believes Wizards president Ernie Grunfeld will make a deal by Thursday's trade deadline.
"I think so," Wall tells CSN Mid-Atlantic. "We're looking at some options to help our bench out. Other than that I don't know. I haven't talked to him about it."
Grunfeld has been willing to make deals near the trade deadline in the past and last season acquired Markieff Morris on Feb. 11. In 2015, he landed Ramon Sessions from the Sacramento Kings and in 2014 Andre Miller was added as part of a three-team deal with Denver and Philadelphia.
The Wizards could use more firepower off the bench and they may call the Los Angeles Lakers regarding Lou Williams.
-- Nick Silva
February, 19, 2017
Feb 19
6:54
PM PT
February, 18, 2017
Feb 18
8:09
PM PT
NEW ORLEANS -- NBA commissioner Adam Silver put Texas and any other state considering legislation similar to North Carolina's controversial "bathroom bill" on "notice" while also making it clear that the recent travel ban has posed a "concern" and clashes with what the NBA represents.
Under the proposed Texas legislation, people would be required to use bathrooms that correspond to the sex on their birth certificate. Silver is monitoring the situation and said the NBA would keep its marquee events away from states with similar measures to North Carolina's HB2 law.
Silver and the NBA moved this year's All-Star Game from Charlotte to New Orleans due to the North Carolina law, which limits anti-discrimination protection for lesbian, gay, bisexual and transgender people.
"I mean, I'm not ready to stand here today and say that that is the bright line test for whether or not we will play All-Star Games in Texas," Silver said at his annual state of the NBA address at All-Star Weekend. "[But] it's something we're, of course, going to monitor very closely. What we've stated is that our values, our league-wide values in terms of equality and inclusion are paramount to this league and all the members of the NBA family, and I think those jurisdictions that are considering legislation similar to HB2 are on notice that that is an important factor for us. Those values are an important factor for us in deciding where we take a special event like an All-Star Game."
The NFL, which just held the Super Bowl in Houston, said recently that state laws that conflict with its commitment to be inclusive could factor into where it holds future Super Bowls.
Another political issue that could be problematic for the NBA is President Trump's recent executive order banning travel of citizens from seven Muslim-majority nations that was imposed on Jan. 27.
The U.S. Court of Appeals for the 9th Circuit rejected and maintained a freeze on the controversial immigration order. Homeland Security Sec. John Kelly said on Saturday that the Trump administration is considering a more "streamlined" version of the executive order banning travel for citizens of those seven Muslim-majority nations.
"I do have concern about travel bans," Silver said. "I don't have access to the same intelligence obviously or security information that people in the government do. But we are a business based on global mobility. Twenty-five percent of our players were born outside of the United States. We do a tremendous amount of business on a global basis, and if you think about what the NBA stands for, it's, in essence, the very best all coming together, the very best in the world all coming together to perform at the highest level.
"So government restrictions on travel, I am concerned about," Silver continued. "It goes against the fundamental values and the fundamental ingredients of what make for a great NBA, and that is the very best in the world coming here."
Silver noted that with the travel ban having been "struck down by the court," he had nothing more to add to that ruling. But he said the NBA is concerned and watching out for league members, in particular the Milwaukee Bucks
February, 16, 2017
Feb 16
5:12
PM PT
NBA All-Star Weekend in New Orleans is coming in hot and should offer plenty of entertainment. The actual All-Star Game airs Sunday and the celebrity game airs Friday, but Saturday's slam dunk contest and the 3-point challenge are always crowd faves. This year, some fierce big-namers will return as reigning champs, while some young guns look to steal the limelight.
Who's your pick to win each of Saturday's three events?
The first event on Saturday night from Smoothie King Center will be the skills competition, airing at 8 p.m. ET on TNT, followed by the 3-point contest and the slam dunk contest.
-- Courtney Schellin
February, 17, 2017
Feb 17
9:22
AM PT
Nick Young calls 3-point participation a blessing: All-Star weekend offers a showcase of just how much has changed for Nick Young in the past six months. For the first time in his career, he'll be part of it. On Saturday, he'll compete in the 3-point contest against Golden State's Klay Thompson, Cleveland's Kyrie Irving, Portland's CJ McCollum, Toronto's Kyle Lowry, Houston's Eric Gordon, Dallas' Wes Matthews and Charlotte's Kemba Walker. -- Los Angeles Times
The signs are all there: Magic Johnson is the man in charge of the Los Angeles Lakers: Since being named as a Lakers "advisor" two weeks ago, Magic Johnson has bombarded the media with one piece of advice. He shouldn't be the advisor. He should be the boss. He has talked to USA Today about wanting to "call the shots." He told ESPN he wanted to be the Lakers' "one voice." -- Los Angeles Times
Lakers young players D'Angelo Russell, Brandon Ingram are intriguing but inconsistent: With every clutch shot and dazzling pass D'Angelo Russell makes, the Lakers see in him a blend of skills and potential that could anchor their backcourt for years. Their vision of the future gets a bit murkier, though, as he fumbles with errant shots, poor passes and lackadaisical defense. -- The Orange County Register
'He's a meme every night he plays:' Nick Young's one-of-a-kind NBA career rolls on: Nick Young considered the question: What, exactly, is he? Is he a basketball player? A celebrity? A weird sort of 21st-century icon? "What would you consider Bobby Brown?" Young asked me. I told him I wasn't sure. -- The Washington Post
February, 16, 2017
Feb 16
10:15
AM PT
By ESPN.com
ESPNLosAngeles.com

Andrew D. Bernstein/NBAE via Getty ImagesLakers GM Mitch Kupchak says he's having more meaningful trade discussions this year.
On Wednesday, Los Angeles Lakers general manager Mitch Kupchak spoke with the Los Angeles Times and was asked if he thinks the team will make a trade by the Feb. 23 deadline.
"We are active, yes. We're active every year," Kupchak said. "Quite frankly compared to the last three or four years, we have a lot of talent on this roster that I think a lot of people have interest in -- varying levels of interest. I would think there's more meaningful discussions this year than there have been the last two or three years."
Of the players on the roster, Kupchak will likely get the most calls for Lou Williams, since the guard is having a terrific season and he signed a very reasonable contract through the 2017-18 season. Other players who might draw interest include Nick Young, Jordan Clarkson and Jose Calderon because of his expiring contract. Kupchak will likely try to deal Timofey Mozgov and Luol Deng, but there is very little interest in them.
Though Kupchak will remain active in trade talks, there is a chance nothing will get done by the deadline next week.
"A lot of it depends on your roster and what it looks like," Kupchak said. "I really like this group; they get along really well together, the guys that are here as mentors and leaders are doing a great job. The young players are showing growth. So it's all good."
--- Nick Silva
February, 16, 2017
Feb 16
8:05
AM PT
Lakers blown out again, this time by lowly Suns, 137-101: There was a hint of disdain in Luke Walton's voice Wednesday night when the Lakers coach was asked about his lengthy team meeting after the debacle that was a 137-101 loss to the Phoenix Suns in Talking Stick Resort Arena. -- Los Angeles Times
Mitch Kupchak says Lakers have more players that other teams may pursue in trade discussions this season: As the NBA trade deadline approaches on March 1, the Lakers have their ears open. "We are active, yes," General Manager Mitch Kupchak said. "We're active every year. … Quite frankly compared to the last three or four years, we have a lot of talent on this roster that I think a lot of people have interest in — varying levels of interest." -- Los Angeles Times
Listless Lakers stagger into All-Star break with 137-101 loss to Suns: The Lakers opened the game either bobbling the ball or clanking shots off the rim on nearly every possession. The first half ended with Phoenix throwing an alley-oop lob and a bank shot from halfcourt. Then, the Lakers spent the rest of evening doing little to fix the damage. -- The Orange County Register
Larry Nance Jr. more focused on his defense than dunk contest: It didn't bother Larry Nance Jr. that he needed a wrap around a sprained right thumb he jokingly said resulted from a thumb war with teammate Jordan Clarkson. Nance also looked unfazed about not participating in the NBA's Slam Dunk Contest during All-Star weekend in New Orleans. -- The Orange County Register
Lakers are still adrift, but are you losing interest?: This column is about the Lakers, the basketball team. But it's also about you, the loyal reader. This week, I ended a drought that, genuinely months ago, reached a career-high total. I attended a Laker game. Tuesday at Staples Center. Against Sacramento. Surprise, they lost. -- The Orange County Register
February, 15, 2017
Feb 15
8:39
PM PT
Associated Press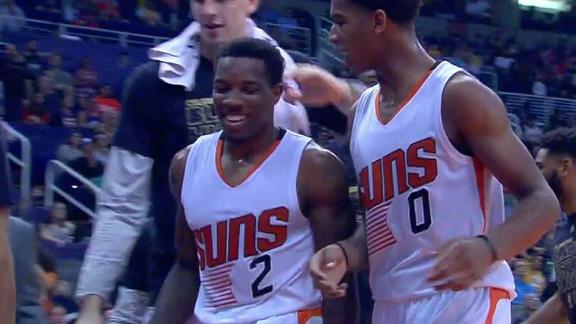 PHOENIX -- Eric Bledsoe had his third career triple-double, the first for a Phoenix player since November 2015, and Devin Booker scored 23 points to lead the Suns over the Los Angeles Lakers 137-101 on Wednesday night.
Bledsoe got his 10th rebound with 6:06 to go and exited shortly after, finishing with 25 points and a season high-tying 13 assists.
Marquese Chriss added 15 points and eight rebounds for Phoenix, with all four of his baskets on dunks. Alex Len came off the bench to contribute 15 points and nine boards.
The Suns led 102-76 after three quarters and coasted to their second victory in seven games and 11th straight over the Lakers at home.
Lou Williams and D'Angelo Russell led Los Angeles with 21 points apiece. The Lakers have lost three of four.
The Suns set season highs for points and field goal shooting (55.7 percent).