June, 25, 2017
Jun 25
12:53
PM PT
By
ESPN.com news services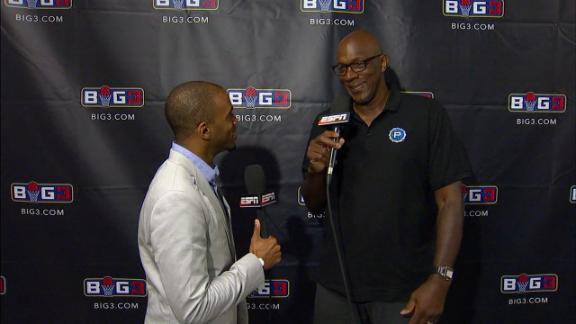 Clyde Drexler said Sunday he's flattered that LeBron James mentioned him as part of one of the first Big Threes, but the Hall of Famer said superteams began long before his 1995-96 Houston Rockets.
Earlier this month on the "Road Trippin'" podcast, James pointed to the 2002-03 Los Angeles Lakers (Karl Malone, Gary Payton, Shaquille O'Neal and Kobe Bryant) and 1995-96 Rockets (Drexler, Charles Barkley, Hakeem Olajuwon) as the original superteams.
James was responding to Draymond Green's declaration at the Golden State Warriors' victory parade that James had "started the superteam" with the Miami Heat, a few days after James had said he never played on a superteam.
Drexler, in Brooklyn, New York, on Sunday for the beginning of the BIG3 League, where he is a coach, told ESPN's Coley Harvey that the first superteams were the Boston Celtics
June, 25, 2017
Jun 25
9:01
AM PT
ESPN.com
Could the Big Baller Brand be expanding toward "Big Brawler" territory?
According to a report from the Pro Wresting Sheet, LaVar Ball, enigmatic father to new Los Angeles Lakers guard Lonzo Ball, and the WWE are in talks to feature a LaVar appearance on WWE Raw this Monday at the Staples Center in Los Angeles.
The rumors first started swirling when what sounds like LaVar discussing a WWE cameo was in the background of a live stream showing the Ball brothers' reaction to Lonzo being drafted No. 2 overall by the Lakers on Thursday night.
LaVar Ball, 48, has exhibited a level of showmanship on par with that of the WWE in the last few months. He was even booed by fans while leaving the Barclays Center following his son being drafted.
June, 25, 2017
Jun 25
12:41
AM PT
Andrew D. Bernstein/NBAE/GettyLonzo Ball was the second pick in the draft, but he may be the most NBA-ready rookie next season.
This week's mailbag features your questions on which top-10 picks are most ready to contribute as rookies, the returns on blockbuster trades involving star players and more.
You can tweet your questions using the hashtag #peltonmailbag or email them to peltonmailbag@gmail.com.
---
June, 24, 2017
Jun 24
4:37
PM PT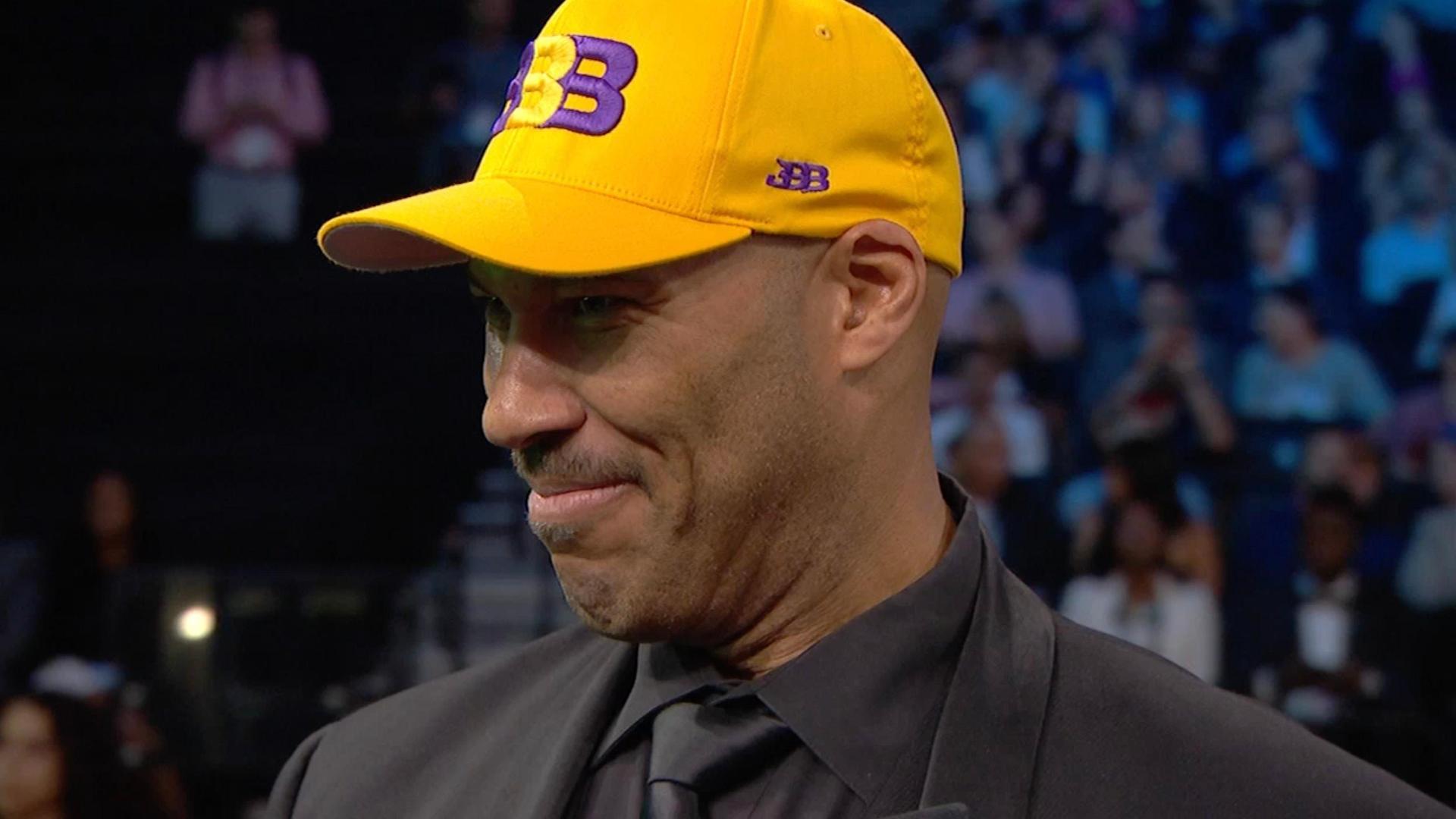 After Lonzo Ball was selected No. 2 overall by the Los Angeles Lakers in Thursday's NBA draft, his father, LaVar, wasn't shy about proclaiming his belief that the team would make the postseason in 2017-18.
"Lonzo Ball is going to take the Lakers to the playoffs in his first year," the outspoken LaVar told ESPN's Jeff Goodman.
One Las Vegas sportsbook doesn't share his confidence.
On Saturday afternoon, the Westgate Las Vegas SuperBook posted the Lakers' odds to make next year's postseason at plus-500, and minus-700 to miss the postseason. That means a $100 wager on Los Angeles to miss the postseason would win $14.29; a $100 wager on L.A. to make the postseason would win $500.
Odds were also posted for two other active teams on Thursday night: the Minnesota Timberwolves and Philadelphia 76ers.
Minnesota, which acquired All-Star Jimmy Butler in a draft-night deal, opened as a minus-260 favorite to make the postseason (bet $100 to win $38.46) and plus-220 to miss (bet $100 to win $220). The Timberwolves went 31-51 in a disappointing first-year campaign under coach Tom Thibodeau and have the NBA's longest playoff drought, having not made the postseason since 2003-04.
The 76ers now have the past two No. 1 overall picks in Markelle Fultz
June, 23, 2017
Jun 23
10:53
PM PT
June, 23, 2017
Jun 23
5:23
PM PT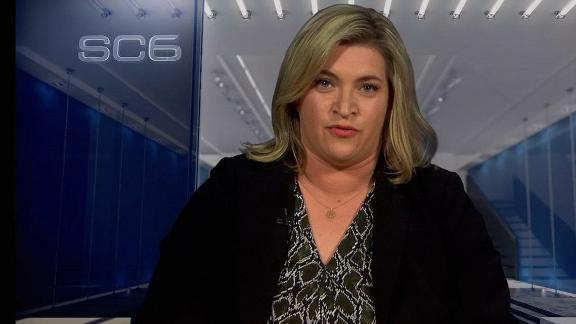 EL SEGUNDO, Calif. -- Los Angeles Lakers president of basketball operations Earvin "Magic" Johnson didn't mince words when asked why the team traded point guard D'Angelo Russell -- the No. 2 overall pick in the 2015 draft -- to the Brooklyn Nets this week.
"D'Angelo is an excellent player," Johnson said Friday when the Lakers introduced their top draft pick, point guard Lonzo Ball, at their practice facility. "He has the talent to be an All-Star. We want to thank him for what he did for us. But what I needed was a leader. I needed somebody also that can make the other players better and also [somebody] that players want to play with."
The Lakers traded Russell and center Timofey Mozgov to the Nets in exchange for Brooklyn center Brook Lopez and the No. 27 overall pick in Thursday's draft.
For the Lakers, the move was essentially a salary dump, as it allowed them to shed Mozgov's hefty salary -- he's entering the second year of a four-year, $64 million deal -- and take on Lopez's expiring contract.
Those moves should give the Lakers close to $60 million in significant cap room next summer -- enough to potentially sign two max-salary players.
Still, it marked a sharp and surprising end to Russell's tenure with the Lakers.
Johnson, however, kept praising the leadership qualities of Ball, whom the Lakers selected No. 2 overall out of UCLA.
"I went to the high school," Johnson said. "I talked to the principal. I talked to, I think, four teachers, they all said at different times, this guy, everybody attracts to this guy. And I said, OK, that's all I needed to hear. He's a leader. He treats people the right way. I said, OK, we've got our man now."
June, 23, 2017
Jun 23
5:16
PM PT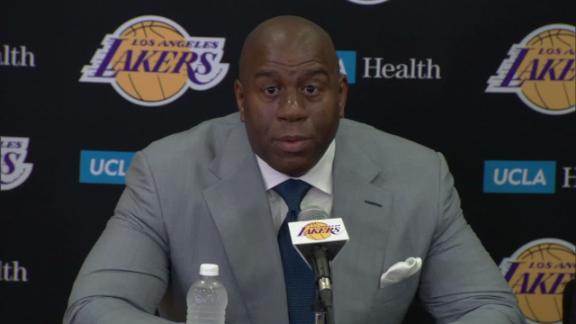 EL SEGUNDO, Calif. -- The Los Angeles Lakers wasted no time heaping sky-high expectations upon Lonzo Ball, whom they drafted with the No. 2 overall pick in Thursday's NBA draft.
When the organization introduced Ball on Friday at the team's practice facility, Lakers president of basketball operations Earvin "Magic" Johnson called him "the new face of the Lakers, the guy who I think will lead us back to where we want to get to."
Soon after, Johnson told Ball, 19, to look at a nearby wall, where several retired jerseys of Lakers icons are displayed.
"We expect a Ball jersey hanging up there one day," Johnson told Ball.
When asked about Johnson's comment, Ball replied, "I think it's a good goal to set. I'll definitely be chasing that."
Why the high expectations on Ball?
"He has greatness written all over him," Johnson said. "Now he just has to go out and push him, and we will, too. And [Lakers coach] Luke [Walton] and the coaching staff will do the same thing and it's OK, because he receives all that well.
"We're fine. We want expectations. We want to win championships here. We've got to get the right people in place to do that, but we're building every step. I'm not crazy. I know it's going to take time to build and we're building, but when we get the right people in here, we're going to win."
Johnson even referenced the 1980s Showtime Lakers -- a team he led -- when talking about the ball movement that he hopes Ball will bring to the Lakers.
"We want to start building a successful team, and you have to have a great leader," Johnson said, "and somebody that can make their teammates better, somebody who has incredible basketball IQ -- his IQ is off the charts -- and somebody who can get their teammates to follow them and want to get out on that wing like James Worthy