March, 24, 2017
Mar 24
6:24
PM PT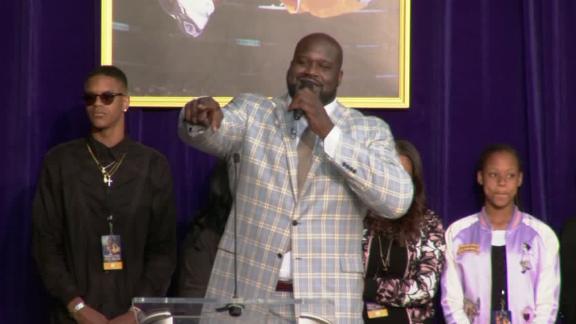 LOS ANGELES -- On stage, Shaquille O'Neal and Kobe Bryant sat side by side, wearing suits and smiles, whispering in each other's ears and laughing. They praised each other, embraced multiple times and spoke so fondly of championships won just a decade and a half ago.
In all, they looked like old friends, not like former teammates whose bitter feud split apart one of the most dominant NBA duos in history.
The Los Angeles Lakers icons reunited Friday as a 1,500-pound bronze statue depicting O'Neal dunking was unveiled at Star Plaza outside Staples Center, where O'Neal and Bryant won three consecutive titles together in the early 2000s.
"Some people thought the odds of Kobe Bryant showing up today were the same as Shaq sinking a free throw," Lakers legend Kareem Abdul-Jabbar said.
O'Neal said afterward that it "meant a lot" that Bryant attended the event, which featured many Lakers icons, including their ex-Lakers coach, Phil Jackson, former Lakers player and executive Jerry West, former star center Kareem Abdul-Jabbar, guard Elgin Baylor, and many of O'Neal's former teammates.
"Definitely couldn't have done it without him," O'Neal continued, speaking of Bryant. "We will always go down in history as the most enigmatic, controversial, dominant one-two punch ever created."
March, 24, 2017
Mar 24
3:15
PM PT
March, 24, 2017
Mar 24
10:12
AM PT
By ESPN.com
ESPNLosAngeles.com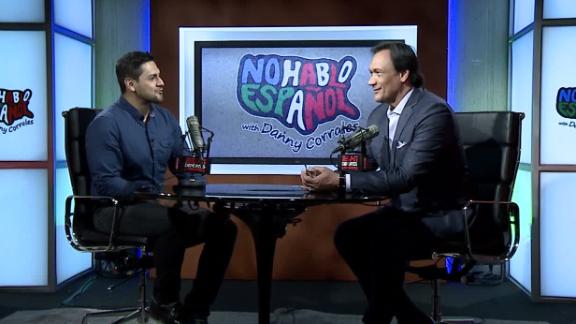 It's almost a Hollywood truth, everything is better with Jimmy Smits in it. And this holds true for No Hablo Español.
The Emmy and Golden Globe-winning actor and star of TV institutions such as "L.A. Law," "NYPD Blue," "The West Wing," "Dexter," and "Sons of Anarchy" is now starring in "24: Legacy" on FOX. In movies, Smits played Senator Bail Organa in two Star Wars prequels and the recent spinoff "Rogue One."
Sports has always been part of his life and upbringing in New York and Puerto Rico. The L.A. resident can frequently be seen at Staples Center.
Smits dropped by ESPN's Los Angeles studio to sit down with host Danny Corrales and weigh in on topics such as his new show, the iconic nature of "24" and the need for anti-inflammatory medication after running around on a day of filming. Most important of all, the two discuss the crucial nature of the proper pronunciation of the Spanish "R" sound, as explained via a memorable "Saturday Night Live" sketch Smits took part in years ago.
The acting star also recounted how feeling like an outsider in Puerto Rico helped him go into his profession. Although Smits and his family had often visited the island in his childhood (his mother is from Puerto Rico), it was only when they moved there for two years when Smits was around 10 that he had to make a major cultural adjustment. The lifestyle of the island was in sharp contrast to his life in the United States, where he had lived previously.
"After a lot of therapy," Smits said jokingly about the situation, he found that experience useful to draw on for a wide variety of roles.
Corrales also confessed that watching Smits in one of his key roles, Matt Santos on "The West Wing," had an impact on him. On the show, the character ascended to the U.S. presidency. On Corrales' show, Smits ascends to the status of one of the most affable guests on No Hablo Español.
---
Be sure to also check out the extended No Hablo Español podcasts.
March, 24, 2017
Mar 24
7:12
AM PT
Shaquille O'Neal will get his Lakers statue on Friday, and Kobe Bryant couldn't be happier: Only in looking back can Kobe Bryant truly appreciate the impact Shaquille O'Neal had on his career. In basketball history it is impossible to mention one without the other. "When you win three titles together and you've had so much impact on one another's legacy as a player and as a champion," Bryant said by phone this week. -- Los Angeles Times
Long trips for one game don't sit well with Los Angeles Lakers Coach Luke Walton: In the NBA's attempt to reduce games on consecutive nights and stretches of four games in five nights, the league has created a schedule quirk that annoys Lakers Coach Luke Walton: One-game trips several time zones away. The Lakers this season have played the Houston Rockets, Dallas Mavericks, Golden State Warriors, San Antonio Spurs and Oklahoma City Thunder in separate one-game trips. And they've got upcoming one-game trips to San Antonio and Minnesota. -- Los Angeles Times
Shaq has 'great emotions' before Lakers unveil statue: Shaquille O'Neal looked confused as he heard the news that further validated his place in Lakers lore. After laughing on set with Jimmy Kimmel on Jan. 28, 2016, ABC's late-night television host showed O'Neal a rendition of a 1,200-pound, 9-foot statue the Lakers planned to unveil of the former superstar outside of Staples Center. O'Neal hardly considered the honor a slam dunk, even if the statue showed him throwing one down. -- The Orange County Register
Shaq's teammates recall practice pranks, trying to defend him: His brute force intimidated anyone who tried to defend him, and his pranks left nearly everyone roaring with laughter. A dominant big man and a life-long jokester, Shaquille O'Neal brought those traits to every stop during his 19-year NBA career, which included an eight-year run with the Lakers (1996-2004) that yielded too many dunks and jokes to count. -- The Orange County Register
Lakers' Luke Walton strives to keep players focused as season winds down: Even when the Lakers' seasons ended in championship parades, this part of the NBA schedule seemed pointless, too. While the current Lakers (20-51) enter Friday's game against the Minnesota Timberwolves (28-42) at Staples Center eager to address their offseason through the NBA draft and free agency, the playoff-bound Lakers wanted to play a game that actually meant something. -- The Orange County Register