June, 23, 2017
Jun 23
5:23
PM PT
EL SEGUNDO, Calif. -- Los Angeles Lakers president of basketball operations Earvin "Magic" Johnson didn't mince words when asked about why they traded point guard D'Angelo Russell -- the No. 2 overall pick in the 2015 draft -- to the Brooklyn Nets this week.
"D'Angelo is an excellent player," Johnson said Friday, when the team introduced its top draft pick Lonzo Ball at its practice facility. "He has the talent to be an All-Star. We want to thank him for what he did for us. But what I needed was a leader. I needed somebody also that can make the other players better and also [somebody] that players want to play with."
The Lakers traded Russell and center Timofey Mozgov to the Nets in exchange for Brooklyn center Brook Lopez and the No. 27 overall pick in Thursday's draft.
For the Lakers, the move was essentially a salary dump, as it allowed them to shed Mozgov's hefty salary -- he's entering the second year of a four-year, $64 million deal -- and take on Lopez's expiring contract.
Those moves should give the Lakers close to $60 million in significant cap room next summer -- enough to potentially sign two max-salary players.
Still, it marked a sharp and surprising end to Russell's tenure with the Lakers.
Johnson, however, kept praising the leadership qualities of Ball, whom the Lakers selected No. 2 overall out of UCLA.
"I went to the high school," Johnson said. "I talked to the principal. I talked to, I think, four teachers, they all said at different times, this guy, everybody attracts to this guy. And I said, OK, that's all I needed to hear. He's a leader. He treats people the right way. I said, OK, we've got our man now."
June, 23, 2017
Jun 23
5:16
PM PT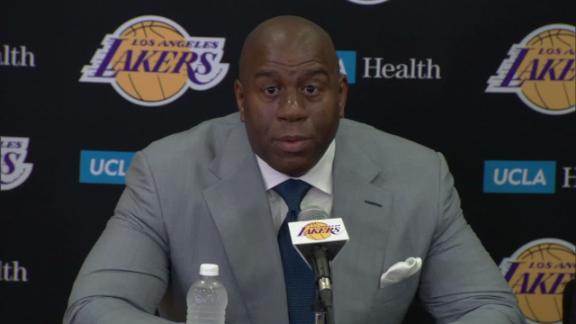 EL SEGUNDO, Calif. -- The Los Angeles Lakers wasted no time heaping sky-high expectations upon Lonzo Ball, whom they drafted with the No. 2 overall pick in Thursday's NBA draft.
When the organization introduced Ball on Friday at the team's practice facility, Lakers president of basketball operations Earvin "Magic" Johnson called him "the new face of the Lakers, the guy who I think will lead us back to where we want to get to."
Soon after, Johnson told Ball, 19, to look at a nearby wall, where several retired jerseys of Lakers icons are displayed.
"We expect a Ball jersey hanging up there one day," Johnson told Ball.
When asked about Johnson's comment, Ball replied, "I think it's a good goal to set. I'll definitely be chasing that."
Why the high expectations on Ball?
"He has greatness written all over him," Johnson said. "Now he just has to go out and push him, and we will, too. And [Lakers coach] Luke [Walton] and the coaching staff will do the same thing and it's OK, because he receives all that well.
"We're fine. We want expectations. We want to win championships here. We've got to get the right people in place to do that, but we're building every step. I'm not crazy. I know it's going to take time to build and we're building, but when we get the right people in here, we're going to win."
Johnson even referenced the 1980s Showtime Lakers -- a team he led -- when talking about the ball movement that he hopes Ball will bring to the Lakers.
"We want to start building a successful team, and you have to have a great leader," Johnson said, "and somebody that can make their teammates better, somebody who has incredible basketball IQ -- his IQ is off the charts -- and somebody who can get their teammates to follow them and want to get out on that wing like James Worthy
June, 22, 2017
Jun 22
1:27
PM PT
ESPN.com
With draft night in the rearview mirror, here's your chance to evaluate the moves the Los Angeles Lakers made Thursday. In his draft report card for every team

, ESPN Insider Chad Ford explained why he's a fan of Los Angeles' picks. Are you?
For more coverage of the draft and a recap of all of the picks, check out our Draftcast.
June, 22, 2017
Jun 22
7:03
PM PT
By
Photography by Landon Nordeman
Landon Nordeman for ESPNnull

On draft night in New York City, the Barclays Center becomes a runway for prospects and families in tow who entertain in all the glitz that comes with the NBA spotlight.

June, 22, 2017
Jun 22
11:24
PM PT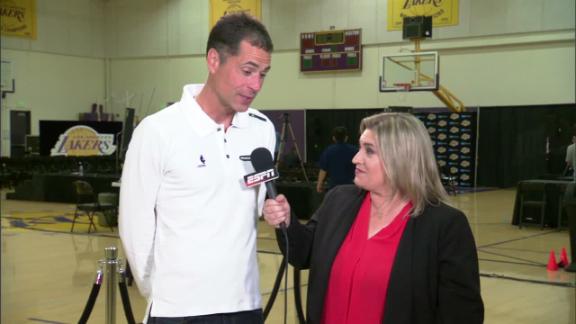 EL SEGUNDO, Calif. -- Los Angeles Lakers general manager Rob Pelinka on Thursday explained the team's logic for pulling off its draft-week trade with the Brooklyn Nets, which included shipping out promising point guard D'Angelo Russell in what amounted to a salary dump. The trade was made official Thursday.
Russell, the No. 2 overall pick in the 2015 draft, was dealt to Brooklyn along with center Timofey Mozgov, who is entering the second year of a four-year, $64 million contract. In return, the Lakers received Nets center Brook Lopez and the 27th pick in Thursday's draft.
Pelinka was first asked if Russell was traded in part because the Lakers were so confident in the abilities of point guard Lonzo Ball, whom the Lakers drafted No. 2 overall Thursday.
"I think D'Angelo is a special player and definitely wouldn't want to attach the name 'expendable' next to him, because he's an extraordinary talent," Pelinka said. "We just looked at that trade as really doing three things that were really positive for us.
"One is we got an All-Star caliber [center] that can spread the floor and open things up. Brook Lopez really transformed his game last year and became a guy that was making 3s."
Lopez, 29, averaged 20.5 points, 5.4 rebounds, 2.3 assists and 1.7 blocks for the Nets last season. He also attempted 387 shots from 3-point range and made 34.6 percent of them.
Lopez enters 2017-18 in the final season of his contract that will pay him $22.64 million. His expiring contract and clearing Mozgov off their books will give the Lakers close to $60 million in significant cap room next summer.
"Then of course, we were able to get amazing salary-cap relief and space, so in July of 2018 we have the ability to add hopefully two max-salary players to our franchise," Pelinka said. "And that really fit into our long-term play.
"And then three, it gave us the ability to have four picks in the draft [Thursday]. So we accomplished so much in one trade. It was really the perfect storm for us and we felt like it's going to have a big impact."
June, 22, 2017
Jun 22
9:15
PM PT
Chris Marion/NBAE via Getty Images
The NBA draft is a chance for the latest crop of basketball talent to make eye-catching fashion choices -- and the 2017 NBA draft class did not disappoint.
Some players, such as Malik Monk with his "The Woodz" pattern or Zach Collins with his homage to the famous "Welcome to Las Vegas" sign, incorporated nods to their hometowns. Other fashion decisions carried deeper sentiment: The lining of No. 5 overall pick De'Aaron Fox's suit featured breast cancer ribbons as a tribute to his mother, a breast cancer survivor.
Which prospect made the best fashion statement at this year's draft? Using the arrows next to each choice, weigh in by ranking the sharply dressed players below.
---
Bowties and shoes
Still other prospects went for flashy, unique accessories and footwear:
While the NBA draft picks were dressed for success at the Barclays Center in Brooklyn on Thursday night, it remains to be seen how they'll look -- or play -- in the uniforms of their new teams when the 2017-18 NBA season begins.
-- Brendan C. Hall