October, 25, 2016
Oct 25
8:39
AM PT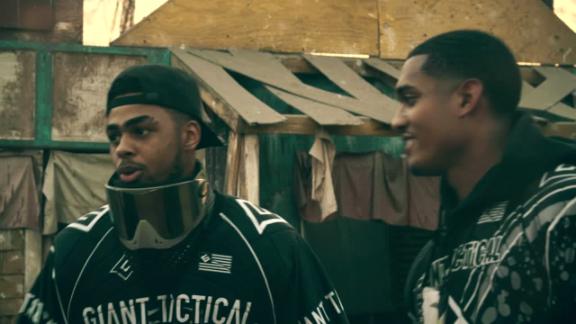 This story appears in ESPN The Magazine's November 14 Playing Through Pain Issue. Subscribe today!
Jordan Clarkson's brow furrows. "Let's get after it," he says. "You hear me?" "Yup, it's over," D'Angelo Russell replies, his eyes narrowing. "I'm gonna light his ass up." The "it" they're getting after? Uh, that's me.
It's a balmy evening at a paintball course in Bellflower, California, and the heirs of a Lakers backcourt relinquished by Kobe Bryant are armed to the teeth and feeling good. They've fine-tuned their craft over the past 12 months in regular games with teammates at Hollywood Sports Park, this world-class paintball facility 18 miles south of Staples Center. It's like a team-building exercise with high-velocity projectiles. And they're about to inflict their team-building all over me.
I owe all of this to former Laker Roy Hibbert, who introduced paintball outings to the team when he signed with LA in the summer of 2015. Now it's Russell and Clarkson, 20 and 24, respectively, who serve as torchbearers of the team's top pastime, which they believe will play a role in building chemistry on a remodeled roster of recent draft picks and league transients, among them free agent signees Luol Deng and Timofey Mozgov.
"It gets us talking, trying to get to the same goal of beating the other team, so it all transfers over," Clarkson says. But mostly "it's us bonding, something where we can get away from the basketball stuff and have fun."
FUN HAS BEEN at a premium for the once-mighty Lakers, now division doormats coming off a franchise-worst 17-65 season. Further jangling their nerves last season: former head coach Byron Scott's tough-love brand of tutelage, which often led to pine time for a young core that included 2014 lottery pick Julius Randle.