February, 21, 2017
Feb 21
10:24
AM PT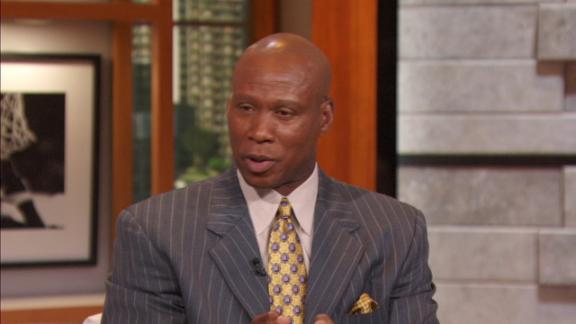 LOS ANGELES -- In a move that drastically reshapes the leadership structure of one of the NBA's most illustrious franchises two days before the league's trade deadline, the Los Angeles Lakers have named Hall of Famer Magic Johnson their new president of basketball operations while firing both longtime general manager Mitch Kupchak and executive vice president of basketball operations Jim Buss.
"Today I took a series of actions I believe will return the Lakers to the heights Dr. Jerry Buss demanded and our fans rightly expect," Lakers president and co-owner Jeanie Buss, Jim's sister, said in a statement Tuesday. "Effective immediately, Earvin Johnson will be in charge of all basketball operations and will report directly to me. Our search for a new general manager to work with Earvin and coach Luke Walton is well underway and we hope to announce a new general manager in short order. Together, Earvin, Luke and our new general manager will establish the foundation for the next generation of Los Angeles Lakers greatness."
At 19-39, the rebuilding Lakers have the NBA's third-worst record and the second-worst record in the Western Conference. They're coming off a franchise-worst 17-65 season and have missed the playoffs for three straight seasons, the longest postseason drought in franchise history.
Sports agent Rob Pelinka has emerged as a prime candidate to join the Los Angeles Lakers' front office as the new general manager and is in discussions with the team about the GM role, sources told ESPN. Pelinka was the longtime agent of Lakers legend Kobe Bryant.
Johnson was drafted by the Lakers in 1979, won five titles with the franchise during the 1980s and recently rejoined the Lakers in an advisory role. Johnson has held positions with the Lakers in the past, including honorary vice president, which he resigned from in June. He has also previously owned shares in the team, which he sold to Dr. Patrick Soon Shiong in 2011.
February, 21, 2017
Feb 21
11:40
AM PT
By ESPN.com
ESPNLosAngeles.com

AP Photo/Kim RaffIt appears multiple teams have expressed interest in Lakers guard Lou Williams.
As Thursday's trade deadline inches closer, it's becoming more apparent that Los Angeles Lakers guard Lou Williams is on the market and is being courted by multiple playoff teams.
Who are those teams? According to ESPN's Zach Lowe and Ian Begley, it's the Washington Wizards and Utah Jazz.
"Several reports have linked the Wiz to Lou Williams, and Washington has indeed explored trading a protected first-round pick for the king of the 2-for-1," Lowe wrote, but not optimistically. "Williams' game doesn't hold up as well in the playoffs, when referees don't buy his flailing and opponents pick at his defense over and over."
Although there are some serious reservations about the 12-year veteran, it hasn't stopped teams from reaching out to the Lakers to check in on Williams' availability.
"Some members of the Utah Jazz front office have expressed interest recently in Lakers guard Lou Williams," sources told Begley. "Many around the league believe Williams is likely to be dealt before Thursday's trade deadline. Some teams who have talked to the Lakers about Williams believe Los Angeles is seeking a first-round pick in any Williams swap."
Last week, Lakers general manager Mitch Kupchak told the Los Angeles Times that he believes the team will make a deal at the trade deadline.
"We are active, yes. We're active every year," Kupchak said. "Quite frankly, compared to the last three or four years we have a lot of talent on this roster that I think a lot of people have interest in -- varying levels of interest. I would think there's more meaningful discussions this year than there have been the last two or three years."
Williams, 30, is having the best season of his career, with highs in points (18.6 per game) and 3-point field goal percentage (.385).
--Isaac Chipps
February, 5, 2017
Feb 5
6:12
PM PT
Editor's Note (Feb. 21): This mock draft has been updated after the DeMarcus Cousins trade, the Blazers-Nuggets deal and the Raptors-Magic deal -- which all included 2017 first-round picks -- and includes a new projected draft order with new selections for multiple teams.
We're halfway through the NBA season and moving toward the end of the college basketball regular season, which means it's time for the third full mock for the 2017 NBA draft.
February, 21, 2017
Feb 21
7:04
AM PT
Lakers have much to address before season ends: NBA All-Star breaks used to be a relaxing time for Luke Walton. As a player, Walton often vacationed in Cabo San Lucas, Mexico, to enjoy some sun and recharge in the middle of a physically taxing NBA season. As an NBA coach, his schedule is dramatically different. Before the Lakers (19-39) stopped the persistent losing simply because they temporarily had no more games to play, Walton said he planned to use part of the All-Star break comparing notes with his coaching staff. The Lakers resume practice Wednesday before their first post-break game at the Oklahoma City Thunder (32-25) on Friday at Chesapeake Energy Arena. -- The Orange County Register
Five questions to keep in mind as the NBA trade deadline approaches: Who is doing what, exactly, in the Lakers front office? The Lakers have a couple of compelling options heading into the deadline, and Magic Johnson's new role as an "advisor" to team President Jeanie Buss makes things in the already confusing front-office situation even murkier. -- Los Angeles Times
February, 20, 2017
Feb 20
11:10
AM PT
By ESPN.com
ESPNLosAngeles.com

Patrick Smith/Getty ImagesThe Washington Wizards have made February deals the last few years and they may do the same in 2017.
The Toronto Raptors acquired forward Serge Ibaka on Feb. 14 and it signaled their intent to retake their spot as the No. 2 team in the Eastern Conference behind the Cleveland Cavaliers. Many followers of the NBA are wondering if the Boston Celtics and Washington Wizards now will make trades to upgrade their rosters to counter the Raptors' move. When asked, John Wall said he believes Wizards president Ernie Grunfeld will make a deal by Thursday's trade deadline.
"I think so," Wall tells CSN Mid-Atlantic. "We're looking at some options to help our bench out. Other than that I don't know. I haven't talked to him about it."
Grunfeld has been willing to make deals near the trade deadline in the past and last season acquired Markieff Morris on Feb. 11. In 2015, he landed Ramon Sessions from the Sacramento Kings and in 2014 Andre Miller was added as part of a three-team deal with Denver and Philadelphia.
The Wizards could use more firepower off the bench and they may call the Los Angeles Lakers regarding Lou Williams.
-- Nick Silva
February, 19, 2017
Feb 19
6:54
PM PT
February, 18, 2017
Feb 18
8:09
PM PT
NEW ORLEANS -- NBA commissioner Adam Silver put Texas and any other state considering legislation similar to North Carolina's controversial "bathroom bill" on "notice" while also making it clear that the recent travel ban has posed a "concern" and clashes with what the NBA represents.
Under the proposed Texas legislation, people would be required to use bathrooms that correspond to the sex on their birth certificate. Silver is monitoring the situation and said the NBA would keep its marquee events away from states with similar measures to North Carolina's HB2 law.
Silver and the NBA moved this year's All-Star Game from Charlotte to New Orleans due to the North Carolina law, which limits anti-discrimination protection for lesbian, gay, bisexual and transgender people.
"I mean, I'm not ready to stand here today and say that that is the bright line test for whether or not we will play All-Star Games in Texas," Silver said at his annual state of the NBA address at All-Star Weekend. "[But] it's something we're, of course, going to monitor very closely. What we've stated is that our values, our league-wide values in terms of equality and inclusion are paramount to this league and all the members of the NBA family, and I think those jurisdictions that are considering legislation similar to HB2 are on notice that that is an important factor for us. Those values are an important factor for us in deciding where we take a special event like an All-Star Game."
The NFL, which just held the Super Bowl in Houston, said recently that state laws that conflict with its commitment to be inclusive could factor into where it holds future Super Bowls.
Another political issue that could be problematic for the NBA is President Trump's recent executive order banning travel of citizens from seven Muslim-majority nations that was imposed on Jan. 27.
The U.S. Court of Appeals for the 9th Circuit rejected and maintained a freeze on the controversial immigration order. Homeland Security Sec. John Kelly said on Saturday that the Trump administration is considering a more "streamlined" version of the executive order banning travel for citizens of those seven Muslim-majority nations.
"I do have concern about travel bans," Silver said. "I don't have access to the same intelligence obviously or security information that people in the government do. But we are a business based on global mobility. Twenty-five percent of our players were born outside of the United States. We do a tremendous amount of business on a global basis, and if you think about what the NBA stands for, it's, in essence, the very best all coming together, the very best in the world all coming together to perform at the highest level.
"So government restrictions on travel, I am concerned about," Silver continued. "It goes against the fundamental values and the fundamental ingredients of what make for a great NBA, and that is the very best in the world coming here."
Silver noted that with the travel ban having been "struck down by the court," he had nothing more to add to that ruling. But he said the NBA is concerned and watching out for league members, in particular the Milwaukee Bucks
February, 16, 2017
Feb 16
5:12
PM PT
NBA All-Star Weekend in New Orleans is coming in hot and should offer plenty of entertainment. The actual All-Star Game airs Sunday and the celebrity game airs Friday, but Saturday's slam dunk contest and the 3-point challenge are always crowd faves. This year, some fierce big-namers will return as reigning champs, while some young guns look to steal the limelight.
Who's your pick to win each of Saturday's three events?
The first event on Saturday night from Smoothie King Center will be the skills competition, airing at 8 p.m. ET on TNT, followed by the 3-point contest and the slam dunk contest.
-- Courtney Schellin