March, 29, 2017
Mar 29
10:55
AM PT
ESPN.com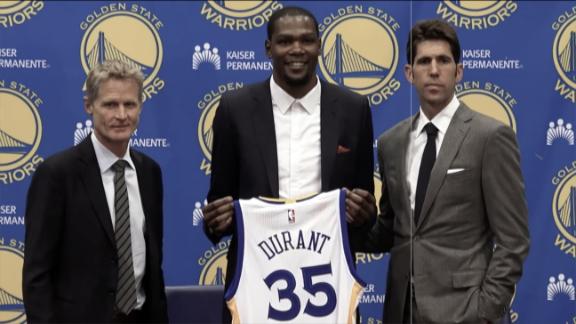 Our 2017 management rankings continue with a look at the NBA's lead basketball decision-makers off the court -- team presidents, vice presidents and general managers -- the people who have the strongest say when it comes to transactions.
We asked our ESPN Forecast panel to rate every team's basketball decision-maker(s). In particular, we asked the voters to rate each team's front-office management on its guidance and leadership in terms of how it affects overall on-court success, both in the short and long terms.
We've already unveiled our overall management and coach rankings. On Friday, we'll finish things up with our owner rankings.
Here's how the 30 franchises rank, according to our panel:
---
Management Rankings: GMs/presidents
March, 30, 2017
Mar 30
6:56
AM PT
Several Lakers will get to guard Minnesota's Karl-Anthony Towns: Los Angeles Lakers Coach Luke Walton looked over to Julius Randle, lined up at the Target Center, ready to do some extra shooting after practice. "Julius, you want us to put Zu on Towns tomorrow?" Walton said, teasing the Lakers power forward about having rookie center Ivica Zubac take the defensive assignment on Minnesota big man Karl-Anthony Towns. -- Los Angeles Times
Lakers' Luke Walton says team plans to talk to NBA about long one-game trips: As he reflected on his 10-year NBA career, Lakers coach Luke Walton remembered the annual Grammy trip, when the Lakers traditionally travel east for about two weeks so Staples Center can prep for the music awards show. The slate of back-to-back games became a staple, too. Never had Walton experienced what his Lakers players are currently enduring. When the Lakers (21-53) visit the Minnesota Timberwolves (29-44) on Thursday at Target Center, it will mark the team's sixth one-game trip to a Midwestern city this season. -- The Orange County Register
March, 29, 2017
Mar 29
10:42
AM PT
ESPN.com news services
Andrew D. Bernstein/NBAE/Getty ImagesLamar Odom says that drugs took away his ability to prepare for basketball.
LOS ANGELES -- Lamar Odom said he's "a walking miracle" after being found unconscious with cocaine in his system in a Nevada brothel in 2015.
Odom told Us Weekly that he blames cocaine for helping end his NBA career. He says "drugs killed my drive to want to train and be in shape."
He also said that he hid his cocaine use from ex-wife Khloe Kardashian for a while, but she found out about two years before their 2013 split.
"She was disappointed. So was I," he said. "The sad thing about it is, I don't know if I was disappointed because I was actually doing the drug or because she caught me. She knew I was doing cocaine the whole time after that. It was my drug of choice. I'm not going to say she accepted it because that would be the wrong word. Tolerated would be a better word."
He also says that he regrets cheating on Kardashian when they were married.
"If there is one thing I regret when I was married, it was having multiple affairs with different women," he said to Us Weekly. "That wasn't the stand-up thing to do."
Kardashian filed for divorce in 2013 but delayed it after the incident at the brothel. Odom said Kardashian helped him regain his memory after the episode. Their divorce was finalized this past December.
Odom said he's sober now after finishing a rehab stint in January.
Information from The Associated Press was used in this report.
March, 29, 2017
Mar 29
6:45
AM PT
Lakers crumble in fourth quarter of 119-108 loss to Wizards: Young Lawson Walton sang "Happy Birthday" to his father, and Lakers rookies Brandon Ingram and Ivica Zubac offered the same greeting to their coach at morning shootaround on Tuesday. Luke Walton appreciated all the warm wishes, then reality set in hours later when the 37-year-old Lakers coach watched his young team crumble down the stretch for another loss – outscored by 24 points in the fourth quarter of a 119-108 setback to the Washington Wizards at Staples Center. -- The Orange County Register
Thomas Robinson tries to provide energy, whether he's on court or not: As he sat patiently on the bench, Lakers forward Thomas Robinson remained unsure if and when he would step on the basketball court. With Lakers coach Luke Walton disgusted with his team's energy, he turned to a source who has become as dependable as a backup battery. Robinson entered an eventual blowout loss against the Clippers last week and provided the kind of unyielding hustle his teammates lacked that night. That energy resulted in 16 points on 7-of-8 shooting and six rebounds in only 10 minutes. -- The Orange County Register
Lakers let lead dissipate late in 119-108 loss to Wizards: For his birthday, the Lakers almost gave Coach Luke Walton a win. What happened instead was ultimately better for the franchise. The young Lakers showed fight and shot the ball well. They threatened one of the best teams in the Eastern Conference. And then they lost to the Washington Wizards, 119-108, at Staples Center. -- Los Angeles Times
Lakers rookie Brandon Ingram misses second straight game with knee tendinitis: Rookie forward Brandon Ingram on Tuesday missed his second consecutive game because of tendinitis in the patellar tendon in his right knee, sitting out the Lakers' 119-108 loss to the Washington Wizards. Although only two weeks remain in the Lakers' season, Coach Luke Walton expects Ingram to return before it ends. -- Los Angeles Times
March, 28, 2017
Mar 28
10:00
PM PT
Associated Press
LOS ANGELES -- John Wall scored 34 points and Washington rallied in the fourth quarter to beat the Los Angeles Lakers 119-108 on Tuesday night, clinching the Southeast Division title for its first division crown in 38 years.
Wall shot 14 of 25 and Bradley Beal was held to 16 points on 7-of-16 shooting, but the Wizards ended the longest division-title drought in NBA history with their fourth straight victory.
"I didn't know that," coach Scott Brooks said before the game. "Now we're fighting for playoff positioning."
When the franchise last claimed a division title in 1978-79, it was known as the Bullets of the Atlantic Division and played in suburban Landover, Maryland. The team had won its lone NBA championship the previous season and went on to lose the 1979 Finals to the Seattle SuperSonics.
From 1979-80 on, Washington has had one of the worst winning percentages in the league, and while the team has made the playoffs 14 times in that span, it hasn't gotten past the second round.
March, 28, 2017
Mar 28
7:24
AM PT
Metta World Peace has played limited time but remains a leader for Lakers: It's a white board that hangs on the wall at the Lakers' practice facility in El Segundo, dressed in Lakers colors. Yellow-striped with a Lakers logo and the words "Los Angeles Lakers Winners Board" in purple block letters at the top. The name atop the list isn't a name at all. It just says, "Queensbridge" -- a nod to Metta World Peace, who grew up in Queens, N.Y. -- Los Angeles Times
The Lakers are officially Jeanie Buss' team, so what will she do?: She is firmly in her father's chair now, no more shadow, no more question. Four years after the death of the legendary Jerry Buss, his daughter finally, formally emerged Monday as the powerful leader of Los Angeles' most powerful sports franchise. The Lakers are now Jeanie Buss' team. It's official, it's indisputable, and it's for as long as she wants. -- Los Angeles Times
Buss family feud over Lakers appears to end with Jeanie removing brother Jim as a trustee: The battle between Jeanie Buss and her brothers for control of the Lakers came to an official end Monday, with Buss remaining in charge of the legendary franchise. After a month of legal maneuvering, including a forceful attempt by Jim and Johnny Buss to seize the organization from their sister, the siblings asked a Los Angeles County Superior Court judge on Monday to issue an order that ensures Jeanie will remain the team's controlling owner and on the board of directors. -- The Orange County Register
Lakers rookie Brandon Ingram 'doubtful' for Tuesday's game against Wizards: Lakers coach Luke Walton stressed that durability has not been much of a concern for Brandon Ingram. Among NBA rookies, no one has logged more minutes than Ingram, who has played more than 2,000 in his debut season. But the 19-year-old forward will likely miss a second consecutive game Tuesday against the Washington Wizards because of patellar tendinitis in his right knee. He is considered doubtful after he did not practice Monday. -- The Orange County Register
March, 27, 2017
Mar 27
10:32
AM PT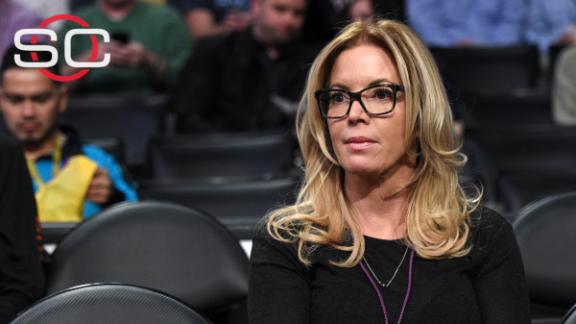 The legal battle to control the Los Angeles Lakers is essentially over as controlling owner Jeanie Buss has removed her brother Jim Buss as a trustee and replaced him with her younger sister Janie Buss, according to documents entered into Los Angeles Superior Court on Monday morning.
The court agreed that the three trustees are obligated to do everything in their power to ensure Jeanie Buss remains both the Lakers controlling owner and head of the Lakers board of directors for life.
"It's great that we were able to work this out so fast. We've resolved everything clearly and cleanly and now we can get back to work," Jeanie Buss told ESPN. "Laker fans deserve success -- and now we can focus again on bringing it to them.
"I'm also very happy that my sister Janie is becoming a trustee of my family's Trust. I love her, I trust her and I'm excited to work alongside her."
The three siblings are co-trustees of four trusts that own 66 percent of the Lakers. On March 2, Jeanie Buss had filed a lawsuit in probate court after her older brothers Johnny and Jim Buss appeared to stage a coup to oust her from the board of directors. The hearing to settle that lawsuit -- scheduled for May 15 -- has now been cancelled after Jim Buss agreed to step down as a trustee and signed documents to that effect last week, according to a source with knowledge of the situation.
According to sources close to the situation, neither brother was given any additional financial settlement beyond what'd they'd be entitled to through yearly salaries and disbursements from the trust.
The addition of Janie Buss firmly tilts the balance of power and solidifies Jeanie Buss' position as the head of the franchise.