As we noted in Tuesday's postgame video, the defensive side of the ball was a brutally humiliating experience for Amare Stoudemire. I mean, wretched. Brian suggested Alvin Gentry be allowed to play seven guys at once, since Amare equaled -2 defenders. Stoudemire's lockdown prowess reminded me of Patrick Swayze in Ghost, given how Pau Gasol and Lamar Odom were seemingly walking through him.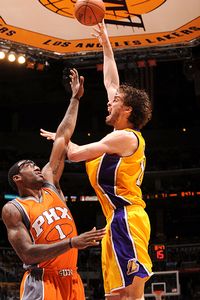 Noah Graham/NBAE via Getty Images
This was every bit as easy for Pau as
it looked.
Harsh assessment? Perhaps. But not only weren't we alone, the privilege of criticizing Amare's D felt like taking a number for a deli sandwich. Gotta get in line and wait your turn. Below the jump is just a sampling of what was flying around Twitter and ESPN's Daily Dime chat. And I emphasize this is truly just a sampling. Plenty more was out there, but a hard target search of this magnitude would have been downright exhausting.
Even more striking than the volume of comments was how they arrived in furious unison. Like a ton of bricks. Defense often goes overlooked in favor of the game's flashier side, particularly for an All-Star of Stoudemire's explosiveness and athleticism. The guy is capable of putting on quite the show while masking this deficiency.
Sometimes, however, the D is so bad, a group mind decides it simply can't go ignored.
@BQRMagic: Collins says the Lakers will have Pau "go to work" again. Is it "work" if it doesn't take any effort?
@BQRMagic: Pau Gasol is conducting a layup drill. Assistant coaches with padding offer more resistance in pregame warmups than Phoenix is
@forumblueandgold: Amar'e isn't fighting around the post. He's standing tall when Pau faces up. He's doing everything wrong on D.
Michael Schwartz (Valley of the Suns/TrueHoop Network): It's funny, Amare would have been better off if the Suns lost to the Spurs in 7.
@latmedina: It's amazing to see Amare play horrible defense in real time.
@jemelehill: So if Lamar Odom was "lucky" in Game 1, then Pau Gasol must be a sorcerer
Comment from Amare Stou*amire: You think I should change my name? There's a "d" in it..
Comment from AtlJoe: Zach, Amar'e's not boxing out, not making shots, not attacking the basket, and is horrible on defense. When did he start playing for the Warriors?
@RicBucher: Please send sympathy tweets to my friend/colleague Chris Broussard. This week's debate is on Amare's max-deal worthiness. He was in favor.
@genericdude: @RicBucher Amare, max deal, maybe only for the Warriors
@RicBucher: Amare has to hope there was a TV blackout in Mia, so DWade/Pat Riley missed this. Then again, I'm in the arena + can't find him. Not on D.
Comment from Salman: Amare is the lakers best player
Brian Kamenetzky, Land O'Lakers: They won't be able to stop Gasol as long as Stoudemire is in the same ZIP code. There's a reason Gentry had Lopez on him whenever possible.
@ESPNLandOLakers:Amare is the opposite of kryptonite on the defensive end. BK
@mcten:Wow, Amar'e just fell asleep right there. Terrible D
LeBron: Wherever Amar'e goes. I will not follow.
Comment from Kevin Arnovitz: Any suitor for Amare this summer needs to consider who they've got at the 5 to clean up his defensive calamities down low.
Comment From stash: amare rotates as often as jupiter
Comment From ZK: They keep talking "when Amare rotates" shouldnt it be "IF Amare rotates"?
Comment From trevor:Amare might as well stuff a few million dollars worth of bills into a black garbage bag and set it on fire. That's basically what he's doing in this series.
Comment from Kevin Arnovitz: First time Amare has challenged a shot all series. So that's progress.
Comment From Amare Stoudemire: I promise I am gonna rebound more. Just give me max money!!!
Comment From mr.wisdom: Amare has one more rebound than me tonight
Comment From Ummmm: Yo momma so fat Amar'e Stoudamire could outrebound her!!!
Comment From California Mountain Snake: Amare is rebounding like he's 5'4".
Comment From mr.wisdom: Amare is the "most unluckiest man" in the world
@ETrinidadMBA: @Mike_Bresnahan Amare may as well remove the letter D from his last name...since he doesn't play any...
@SI_ChrisBallard: No better example how little athleticism matters w/o effort than Dudley sticking Kobe while Stoudemire stumbles around.
@SI_ChrisBallard: Somewhere Adam Morrison's lobbying to get some PT just so he can iso Amare. Probably get 30.
@ESPNLandOLakers: Amare late on another rotation. Now he's making James Naismith's spirit cry. BK
@ESPNLandOLakers: Amare is the opposite of kryptonite on the defensive end. BK
@ESPNLandOLakers: Was Amar'e actually a better defender when he blatantly didn't care? AK
@ArtGarcia_NBA: Rumor has it that Amare said Pau, Ron-Ron, Odom, Kobe, Farmar, Magic, Kareem, Worthy & Shaq were lucky.
@lakers_sth: Hmmm... should I watch McHale and Webber kill Amar'e or Barkley kill Amar'e?
@wondahbap: What foolish new team spends on Amare? Can't be one with Championship hopes, right? Bottom feeder that needs to sell tix? D is non existent
Comment from Skyler: Hmmm, the worst +/- on the court is Amare's -17, I guess he needs to worry about more than Odom's luck.