By one measure at least, he's the country's most popular.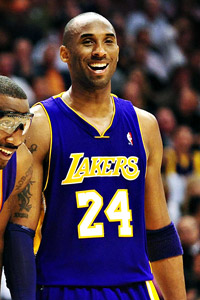 Mark J. Rebilas/US Presswire
Why is this man smiling? Because he's popular, that's why.
A new Harris Interactive shows Kobe Bryant has caught Tiger Woods as America's most popular athlete. Granted, Woods' recent history brought him back to the field in a big way, but it doesn't change the basic reality: The "love me or hate me" thing with Bryant is dead, and has been for a while now.
Love won.
Not to say some basketball fans still don't like him or certain writers don't pick on him. But generally, 24 die-hards are left to complain Bryant doesn't get a lofty enough placement in the G.O.A.T. conversations, or to protest when he's called the league's second best player. Neither constitutes fodder for first ballot induction into the Haterade Hall of Fame. Kobe rarely endures the sort of criticism he more regularly faced a few years back while at the center of controversy in Colorado, during the breakup of the Threepeat squad, or even as recently as the Radio Tour of '07.
Instead, Kobe's jersey has been the league's top seller for two seasons, as it was in 2007. His threads have dominated Europe and China as well. The Lakers play only for sold-out crowds, and it's not because of Sasha Vujacic. Even if some still haven't come around on Kobe the person, they have on the player. More respect, more enthusiasm, and connection to a guy owning consecutive Finals MVP awards, and a regular season version as well. Winning helps a great deal, as has time.
Bryant used to dare people to hate him. Now he just rides a horse, because there aren't enough people carrying the torch for the old narrative declaring Kobe the most polarizing player in the league. He's not. He's the most popular, apparently not just in the NBA but perhaps in all of American sports as well.
Hopefully the tired storyline can be put to bed for good in light of today's news. I doubt it will. People still call the Lakers a soft, finesse, offense-oriented team despite all evidence to the contrary. Convenience is a powerful lure. Just rest comfortably knowing the next time you hear Kobe depicted as a wildly controversial figure, it's really not true.