In the eyes of many paying customers, Jamie Varner did enough to tarnish the undefeated record of Kamal Shalorus on Sunday.
In the eyes of two ringside judges, he fell short. So did someone's prescription eyewear.
It wasn't domination, but Varner did enough -- including a straight right in the second that nearly made Shalorus take a knee -- to earn a decision even without the benefit of a point deducted that same round for low blows. But only one ringside official agreed, with the other scoring for Shalorus and with Cecil Peoples rendering the fight a 28-28 draw.
The call for judging reform has grown repetitive and there's not much to add to the conversation, except to reiterate the obvious need for an auditing system for state contractors that currently don't have to offer any explanation or rationale for their behavior. Nice work if you can get it.
As if that wasn't enough for fighters to worry about: Between Rich Franklin ambling around the Pearl in Las Vegas with a pink arm cast and Matt Hamill gamely trudging through two more rounds with a broken hand (and staph, and blurred vision) Saturday, it's hard not to be reminded of the idea that human bodies really weren't meant to crash into one another at velocity.
Hamill, 33, broke his left hand on Keith Jardine's skull early in the first round, but went on to batter and bloody Jardine to earn a majority decision; last weekend, a kick from a re-energized Chuck Liddell broke something called the ulna in Rich Franklin's left forearm. (You don't learn about the names of body parts like "ulna" until they stop working.) Both join a laundry list of athletes who shatter or misplace bones or cartilage but continue fighting. This is not the kind of thing you see in organized sports, primarily because damage to valuable players can hurt the franchise.
In MMA, you're more or less an island: The pain or suffering you endure doesn't compare to the pain and suffering of a possible loss. Internal damage can be hidden, and often is.
The only time athletes lose their poker face is when judges come into play: Varner grimaced more than Franklin, and with good reason.
Next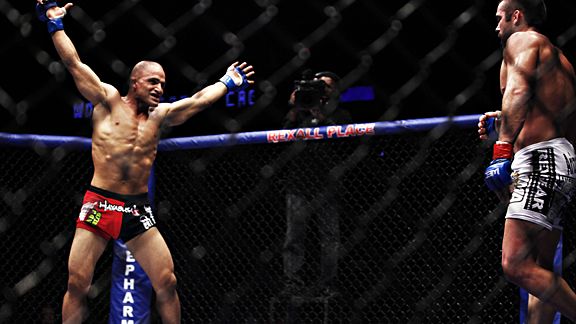 AP Photo/Phillip Chin
Brace yourself: Don't be surprised if Kamal Shalorus and Jamie Varner meet again in the near future.
Next for Hamill: Cyrille Diabate or Thiago Silva would sort out Hamill's ability to keep a fight on the ground when he's threatened on the feet -- for a wrestler, he doesn't do all that much wrestling.
Next for Jardine: Bellator.
Next for Varner: A rematch with Shalorus.
Next for Shalorus: See above.
Next for "Ultimate Fighter 11" winner Court McGee: Probably another "Ultimate Fighter" alum: C.B. Dollaway or Kyle Noke.
Awards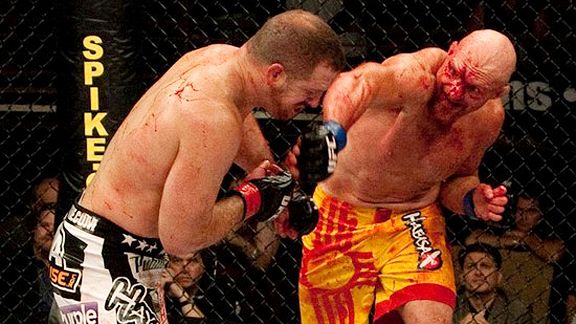 Josh Hedges/Zuffa/UFC
Keith Jardine's blood found its way on to a few lucky cagesiders on Saturday.
The double-check-that-demographic award: Paramount, for plugging its "Last Airbender" fantasy film -- based on a Nickelodeon cartoon and ostensibly aimed at children -- during the "Ultimate Fighter" finale. It might be the first movie to have both a Happy Meal and a blood-splattered Octagon logo devoted to it. Congratulations.
The speaking of blood splatters award: Anonymous cameraman and anonymous ringside woman, for getting doused with a splash of Jardine's blood after a takedown by Hamill. The cameraman, desensitized to the gills, calmly wiped his lens; the woman appeared to be going into shock.
The tired rap award: Dana White, for committing to the line about a "six-figure contract" for the winner of the "Ultimate Fighter" series. That sounded good when established athletes were barely making more than that in 2005; today, it's a little awkward.
The giant problem award: WEC ring interviewer Craig Hummer, who dwarfs most of the 155-pound-and-under athletes. He does a fine job, but making fighters look like they couldn't get in line for a theme park ride is underwhelming.
Etc.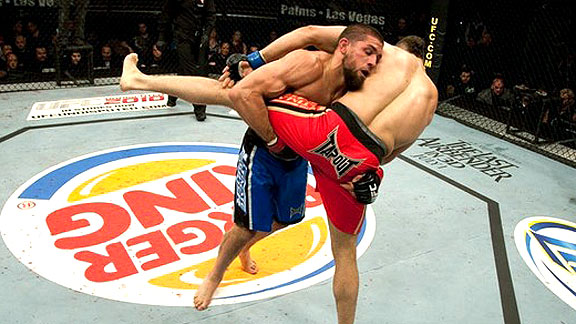 Josh Hedges/Zuffa/UFC
Court Magee walked away with TUF 11 honors and an extra $25,000 submission of the night bonus.
• The UFC had its own recession Saturday, dropping bonuses to $25,000: Magee earned submission of the night, while Hamill and Jardine got fight of the night; MMAJunkie.com reported a crowd of 1,708 for the finale.
• Much was made of Matt Hamill's staph lesion on his lower back, with some questioning whether he should have even been allowed to compete. (Staph can spread quite easily from person to person, especially when they're leaking fluid all over one another.) My suspicion is that Jardine was alerted Hamill had an infection, but it's hard to refuse a fight 30 hours prior to the bell. Couldn't they have at least bandaged it, or allow infected fighters to sport a rash guard?
• Mark Hominick and Yves Jabouin split a $20,000 Fight of the Night bonus on the WEC broadcast Sunday, and it's worth going out of your way to see. Versus and the promotion would be wise to let it go viral on their sites.