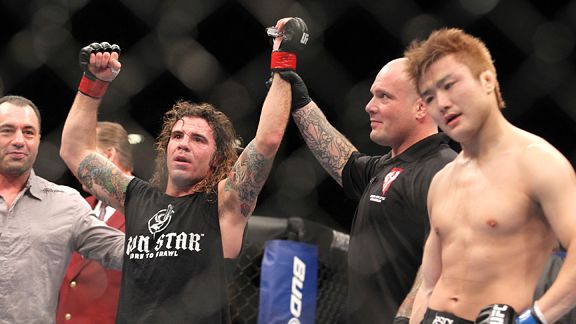 Ed Mulholland for ESPN.com
Clay Guida, left, can teach young guns a thing or two about making it in the UFC.
UFC lightweights Clay Guida and Joe Lauzon attended "The Ultimate Fighter" Season 14 tryouts on Monday in Newark, N.J.
The veterans were there to support teammates from their respective training camps.
Guida (28-11-0) was on hand to offer inspiration to several Chicago-area teammates and a handful who call Jackson's MMA in Albuquerque, N.M., home.
Among the fighters who reached the interview round, whom Guida accompanied to the Marriott at Newark International Airport, were bantamweights Carson Beebe and John Dodson.
When the excitement over Beebe and Dodson began to subside, Guida took time to discuss his upcoming bout against Anthony Pettis. The two are scheduled to meet June 4 in Las Vegas.
"I give Anthony Pettis all the props in the world for not sitting around and waiting for the winner of Frankie Edgar and Gray Maynard," Guida told ESPN.com. "I respect the fact that he's stepping up the competition after coming off a great win against Ben Henderson to fight someone like myself."
Tweet, tweet
Don't miss a moment of the latest MMA coverage from around the world. Follow us on Twitter and stay informed. Join »
Although Guida has nothing but good things to say about Pettis' professionalism, he believes it was less than wise of the lightweight titleholder of the now-defunct WEC to accept this fight against him.
Pettis burst onto the national MMA scene in December when he took the WEC 155-pound crown from Henderson. He offset Henderson's wrestling with solid takedown defense, pinpoint striking and an instantly legendary off-the-cage kick.
But Guida says it will take more than that for Pettis to survive what he has to offer.
"I'm a bad matchup for him," Guida said. "I'm a bad matchup for most of my opponents.
"You know you're going to have to be in shape. You know you're going to have to be able to stop a takedown or get your own takedown. You know you're going to have to strike a little.
"You're going to have to do a little of everything, but I do it just a little better than everyone. It's not pretty; my fighting style is definitely not that technical. But I've tightened up my game in those areas that were needed to get me to that next level and compete with the top guys."
Lauzon was disappointed that his teammates from Team Aggression in Bridgewater, Mass. (bantamweight Joe Cushman and featherweight Tony Leate) didn't make it beyond the grappling and striking portions of the TUF 14 tryouts.
But while Cushman and Leate must wait a bit longer to realize their dreams of fighting inside the Octagon, Lauzon expects to make his return in the not-too-distant future.
"I talked to [UFC matchmaker] Joe Silva, and they were thinking in May, but I rolled my right ankle pretty bad -- a high sprain," Lauzon told ESPN.com. "Now they're thinking July or August -- they're booking out that far. But I have no idea, nothing is exact.
"I'm back to training -- not 100 percent -- but we're very close."
Lauzon (19-6-0) hasn't fought since November, when he was submitted in the second round by George Sotiropoulus at UFC 123. He still finds the setback difficult to swallow.
"It seems that every fight I lose, I wish I could get back," Lauzon said. "There's something that I did wrong, or maybe something didn't go right in training camp or whatever.
"There are always a couple of things I wish I could have done differently, but I don't like making any excuses."