For more than half a decade in mixed martial arts, Albuquerque, N.M., has been a place of harmony for its practitioners. Making your way west to Greg Jackson's camp has become a sort of pilgrimage to reinvention (at least) or self-discovery (at most).
You know this when guys like Melvin Guillard -- for so long beleaguered -- talk about the straight and narrow path in life, and his usual toolbox (rudimentary headhunting) begins to look more like a full-blown tool shed (patient striking, creativity, wrestling, humility). Or when Joe Stevenson says he doesn't care about bonuses, that he had a deeper sense of the whole. Kyle Noke and Jackson wrestled crocodiles together. Donald Cerrone and Clay Guida are practically blood brothers.
It's an extraordinary family.
Tweet, tweet
Don't miss a moment of the latest MMA coverage from around the world. Follow us on Twitter and stay informed. Join »
That's because people not only become better fighters at Jackson's; they grow up there. This has been known as long as the UFC has been popular. And so has the idea that teammates at Jackson's become, by dint of selflessness, close enough to be off limits to each other in the matchmaking game. The words most commonly bandied about in New Mexico are "brother" and "family" and "respect" and "never." As in: We'd never fight each other. For reasons why, see the other three words.
That is, until Jon Jones -- a member at Jackson's since 2009 -- was expedited through the process from prospect to contender to UFC light heavyweight champion and greatness in six weeks. In the rush of unfolding events, Jones announced on a Versus telecast that he'd fight teammate and core Jackson member Rashad Evans if he got by Mauricio Rua at UFC 128. He did. Emphatically. Scarily. Conflictingly. And now we have what's known as a rift at the Zen temple of North American MMA.
Whether it's a temporary thing or something bigger, nobody knows. But it took six weeks to alter an honor code of six years.
[+] Enlarge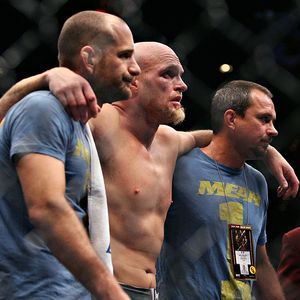 AP Photo/Eric Jamison
Brothers in arms: Keith Jardine, center, has had the support and help of trainer Greg Jackson, left.
"I went in [Monday] and it was business as usual," said longtime Jackson member Keith Jardine. "Once the hype for the Jones/Evans fight starts happening, I don't know. Is Jon going to stay in Albuquerque? I don't know. Right now there are no weird feelings in the gym or any of that."
But lines will be drawn, and if they haven't, they will be soon. With the fight between Jones and Evans being made, Jackson said he won't corner either man because "I can't win that one, so I'm not going to play." He said he loves them both too much. He is leaving the other coaches like Mike Winklejohn and Mike Van Arsdale to their gut feelings on the matter.
Jones himself has said he is only doing what the UFC is asking, though fighting Evans definitely "sucks."
And Evans, who helped shape the gym's identity and mystique by showing rapid improvement in his game and lifting the 205-pound championship, has left the team.
A guy like Jardine, Evans' closest friend, feels the awkward divide more than just about anybody.
"

Without Rashad, who knows if it ever would have happened? He was one of the first guys to come in from out of town and join the team … People were calling Rashad up and he was bringing people to town, and without him, who knows if any of that would have ever happened? Without Rashad Evans, maybe this Jackson's phenomena never happens.

"

-- Keith Jardine, on Rashad Evans' influence on the growth of Greg Jackson's camp
"One thing to remember is Rashad is instrumental in this whole Jackson phenomenon starting," Jardine said. "Without Rashad, who knows if it ever would have happened? He was one of the first guys to come in from out of town and join the team. And he was a guy who, when the sport was growing, he was winning fights and everybody was looking at him as he was getting better. People were calling Rashad up and he was bringing people to town, and without him, who knows if any of that would have ever happened? Without Rashad Evans, maybe this Jackson's phenomena never happens."
Since Evans, many fighters have relocated to New Mexico, including Guida, Kyle Noke and, of course, Jones.
Jardine has grown fond of Jones over their year-and-a-half training together and admits having a high degree of respect for him, but wouldn't go so far as to say they would hang out together after training.
His connection with Evans is well-documented, having been with Rashad since appearing on "The Ultimate Fighter" Season 2.
"You know, I haven't thought about it too much, but no question I would be supporting Rashad," Jardine said. "He's one of my closest friends in the world. I have a lot of loyalty and friendship with him."
[+] Enlarge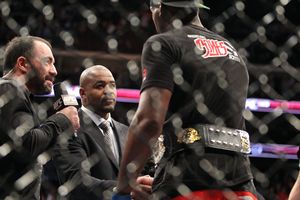 Ed Mulholland for ESPN.com
It's in with opponent Jon Jones and out with Team Jackson for Rashad Evans, left.
Jardine, who is on a two-fight win streak in smaller promotions and looking to make his way back to the UFC -- possibly as a middleweight -- likens what we're seeing right now to a combination of business and life happening as it happens.
"It'll never be the same, you know? This gym, when the UFC broke out in 2005, was built on me, Rashad, Nate Marquardt, Joey Villasenor and Diego Sanchez," Jardine said. "Nate's going to stay in Denver most of the time now. That's sort of like the old generation, and they're welcoming the future with Jon Jones, and that's kind of where it is right now. For me, there's no hard feelings; it's just business."
The family-first feeling the Jackson team has given off has been infectious enough to inspire copycats and controversial enough to draw Dana White's ire. The talk of a possible Jones-Evans showdown at times foreshadowed Jones' fight with Rua, which tells you something about how promotion and drama get along so well. When something the UFC boss says is inevitable clashes with something for so long sworn against, people are going to pay attention.
"It all started from that interview that Jon did, talking about the possibility of fighting with Rashad [with Ariel Helwani on Versus]," Jardine said. "That's just something that doesn't need to be said. Of course they could have been made to fight, and they both knew it. But for Jon to go out and say that made Rashad look like a punk, and that's kind of what happened to start it all. It was already sensitive, so it blew up after that."
It has. And it took a transcendent fighter, one with no noticeable weaknesses and potential for superstardom-- the kind the UFC has not yet seen -- to perhaps unwittingly alienate a cast with a lot of tradition.
"Jon's just a kid," Jardine said. "He doesn't really think through a lot of things of what he says. And I'm sure he probably regretted it right afterwards and all that, so I don't think he had malicious intent in doing it."
Maybe not, but his intentions with Evans in the cage, particularly after this feud plays out over the next few months, might get to that. And it'll be all Jackson can do to watch through his fingers.