It's always a fun occasion when possibility crosses over into probability -- especially when possibility has forever felt more like fool's hope.
With the epic news of UFC's parent company Zuffa purchasing its primary competition Strikeforce, the doors are being slowly opened for fights that would otherwise never happen. Amid all the monopoly talk and whether it's healthy to eliminate promotional competition, to a fan of MMA this is what's known as the upshot. It might take a year or so as contracts play out between Strikeforce and Showtime, but it's only a matter of time before the world's pound-for-pound best fight under one promotion.
Tweet, tweet
Don't miss a moment of the latest MMA coverage from around the world. Follow us on Twitter and stay informed. Join »
Alistair Overeem versus Cain Velasquez … not as far-fetched as it once was. Georges St. Pierre versus Nick Diaz … no longer strictly hypothetical. Fedor Emelianenko versus Brock Lesnar or Randy Couture? Fans want it, fans pay to watch, money makes fights. (Fedor's management obliging). Allure is still the main ingredient in matchmaking, and Joe Silva's Rolodex is on its way to becoming whole.
So what does it all mean for the future of MMA? For one, it means that P4P rankings are about to get a lot more homogenized. It also means there will be incredible depth at every weight as Strikeforce's elite make their way to the Octagon.
Here are eight Strikeforce fighters that will carry the most intrigue into the UFC, and some matchups that still seem too good to be true.
Fedor Emelianenko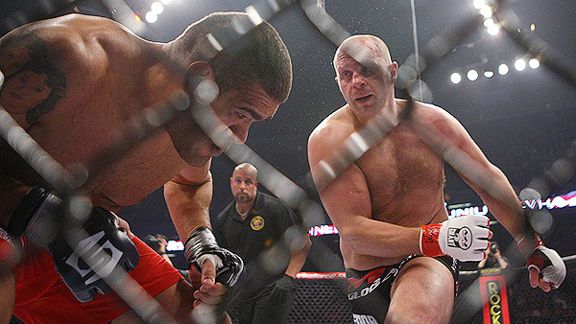 Dave Mandel/Sherdog.com
Who thought the day would come when Fedor Emelianenko fought under the UFC banner?
With two losses in a row, the "game is catching up to him" chants are loud enough to drown out the small matter of the 27 consecutive wins before that, but the game never catches up to must-see legacy and hype. Nor, it can be said, the fans' appreciation for the way Fedor fights. To see him finally step into the Octagon and face an opponent like Couture or Lesnar -- for so long off-limits and argued to death through speculation -- would be a "big moment." Big if for no other reason than most fans had grown used to the idea that they'd never see it. (And, truthfully, they still might not).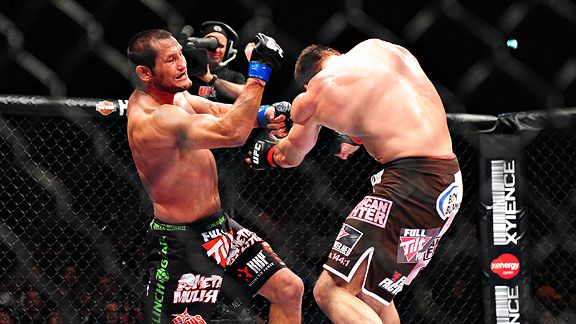 Martin McNeil for ESPN.com
Who wouldn't welcome Dan Henderson's all-out style back in the Octagon?
Dan Henderson left the UFC on the highest note possible -- by earning knockout of the year honors against Michael Bisping at UFC 100. People still thank him for it in passing. Since then, Hendo has knocked out Renato Sobral, and then Rafael Cavalcante for the light heavyweight belt. He nearly knocked out Jake Shields as well. That's what he does: He knocks people out, or he goes out trying. For a guy who'll happily fight in three weight classes, he could feasibly fight anybody from Chael Sonnen to Mauricio Rua to Junior dos Santos and still have likable chances.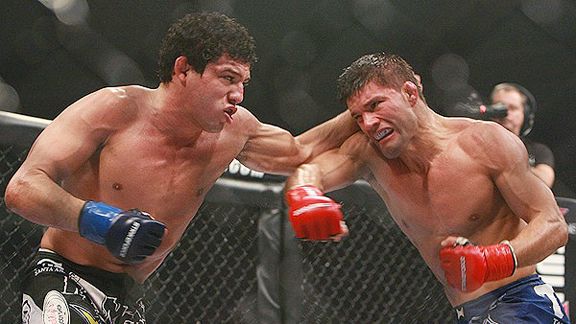 Dave Mandel/Sherdog.com
Look out, UFC: "El Nino" might be coming sooner rather than later.
Strikeforce's lightweight champ would be jumping into the deepest talent pool in MMA, but it's hard to imagine Gilbert Melendez and current UFC champion Frankie Edgar putting on anything other than an epic fight. And not just Edgar: Guillard, Guida, Pettis, Maynard, Jim Miller et al. The round robin matches at 155 -- already so competitive that most guys just below the top 10 are looking over the shoulder for fear of a pink slip -- get that much crazier with El Ni