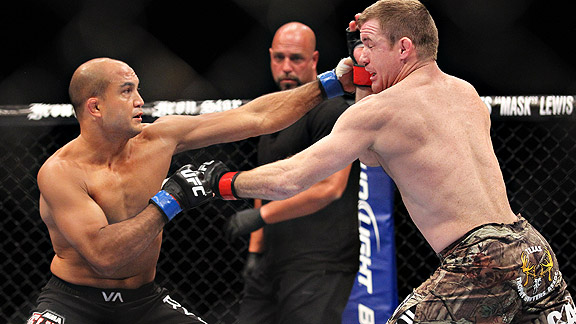 Ed Mulholland for ESPN.com
Matt Hughes' last outing in the Octagon didn't go over so well.
Matt Hughes has expressed the desire before. But this time, he might follow through.
"I don't know if I'll sign another contract with the UFC," the former welterweight champion said Thursday in San Jose, Calif., where he'll corner middleweight Robbie Lawler at the HP Pavilion this weekend against Strikeforce titleholder Ronaldo Souza.
Tweet, tweet
Don't miss a moment of the latest MMA coverage from around the world. Follow us on Twitter and stay informed. Join »
Hughes has one fight remaining on his current UFC deal and said he plans on fulfilling his obligation to his longtime promoter by the middle of the year. Out of fitness preservation, Hughes, patting his stomach, said he stepped back into his gym, H.I.T. Squad in Granite City, Ill., three weeks ago to maintain his shape. Beyond that, he didn't say what his future holds, though the 37-year-old powerhouse did not shut the door on competing again.
After a busy 2010, which saw him win two fights and lose one -- a stunning 21-second knockout against B.J. Penn in December -- Hughes (45-8) is focused on "trying to make sure my kids know who their dad is. The UFC is not the top priority on my mind right now."
Outside of the cage, Hughes hosts Trophy Hunters TV on the Outdoor Channel, which features the fighter on a documentary-style program revolving around his hunting adventures.
Whatever he decides, Hughes, who owns a 9-3 record in UFC welterweight title fights, will go down as one of the great 170-pound fighters in mixed martial arts history.
"I would have to talk to my wife. I'd have to talk to Dana," Hughes said. "I wouldn't call it a retirement. It wouldn't be out of the realm of possibility for me to fight two or three times. I have said I'm going to fight one more time for the last three fights. I meant it. I really have."