A quick glance at Herschel Walker's body of work -- heck, just his body -- suggests it's foolish to set restrictions on the athletic aspirations of the former NFL star and Olympian.
But at age 48, even as he competes as a professional mixed martial artist, is Walker to be taken seriously when he says he's considering a return to professional football?
[+] Enlarge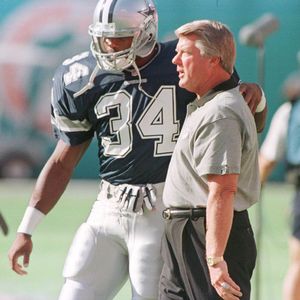 Zoran Milich/Allsport/Getty Images
"Hey, Jimmy: You think we could get those young fellas Aikman and Irvin out here for one more run?"
"I've told everyone that at 50 I might try football again to show people I can do that," Walker said on Monday during a conference call to promote his upcoming fight. "I want to be the George Foreman of football, come back and do that one more time."
Walker, a former Heisman Trophy winner and Pro Bowl running back, has two destinations he says he would consider for a possible NFL comeback.
"The two teams I would come back to play for are Minnesota or Atlanta," Walker said. "It would probably be Atlanta because that's home for me.
"I'm a Georgia boy. That's just home."
Born in Wrightsville, Ga., Walker was a running back at the University of Georgia from 1980-1982. After winning the Heisman Trophy in his junior season, he left school to play professionally in the United States Football League. Three years later, he signed with the Dallas Cowboys.
These days, Walker is a heavyweight mixed martial artist who competes in Strikeforce. Walker stopped Greg Nagy in the third round on Jan. 30, 2010, in his MMA debut.
He will make his second MMA appearance on Saturday in San Jose, Calif., against Scott Carson (4-1-0). That fight will air on Showtime at 10 p.m. ET.
Walker credits his physical conditioning with influencing his decision to possibly return to the NFL.
"I'm a much better-conditioned athlete now than when I was playing football," Walker said. "I'm 48 and in better shape now than I was when I was in my early 20s, playing football."