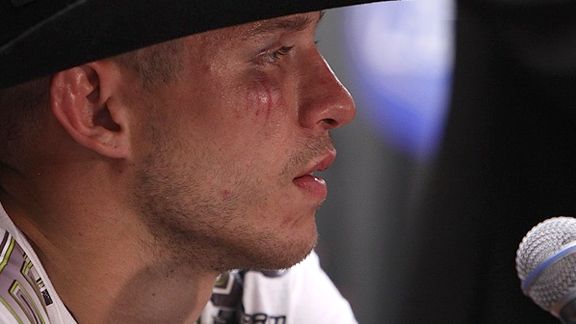 Courtesy Sherdog.com
That'll leave a mark: Donald Cerrone's poor choice of words might damage his career.
Donald Cerrone, cowboy hat usually perched over a charming smirk, seems like the kind of guy who doesn't take a serious sport so seriously: He's got that horse-wrangler ease of manner that Don Frye created a cottage industry out of.
That vibe made Cerrone's comments during a Web radio broadcast earlier this week even more striking -- Cerrone vowed to murder opponent Jamie Varner in their late-September rematch. (He also used a verbal slur.)
Naturally, Cerrone was immediately contrite and issued some damage control via Twitter to minimize the impact; the WEC later released their own statement distancing themselves from Cerrone's comments.
While obviously politically and morally reprehensible, those comments might be best censored by reminding fighters that big-time sponsors aren't usually advocates of murder threats. It is not a coincidence that Georges St. Pierre, easily the most well-represented fighter thanks to deals with Gatorade and Under Armor, is also the most carefully controlled personality in the sport.
Unfortunately, he might be the exception proving the rule. This is the problem of MMA's rise to mainstream and corporate America: The same mentality that allows fighters to overcome a natural aversion to being beaten up in front of witnesses is the same attitude that encourages them to speak without a filter. You mess with the bull and you get the horns, as they say.