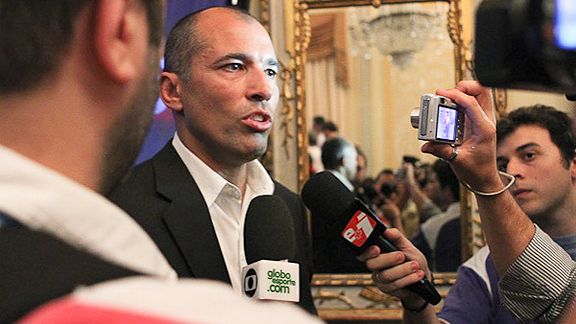 Sherdog.com
Blame it on Rio: Royce Gracie, 44, is pondering an August return to the Octagon in Brazil.
When the UFC held a press conference in Rio de Janeiro last week to announce only its second show there in 12 years, Royce Gracie appeared and told gathered media that a slot for him in the August event was being "negotiated."
Assuming that Gracie won't tie his belt for less than seven figures, and knowing that the UFC brand is no longer in need of promotional stunt work, it's probably more likely that any Gracie on that card would be Renzo. But assuming the 44-year-old Royce -- who won three UFC tournaments in 1993 and 1994, and who probably was the single biggest influence on groundfighting in martial arts history -- does fight, upper management has to know that no one wants to see a repeat of the Matt Hughes tragedy in 2006. (A cross-trained younger athlete beats an older, one-dimensional one. You could've filed that story two months before it happened.)
Odds on some possibilities that would actually make for an intriguing fight:
Tweet, tweet
Don't miss a moment of the latest MMA coverage from around the world. Follow us on Twitter and stay informed. Join »
Ken Shamrock (10-1)
Good story, terrible fight. Shamrock may be so scorched that he probably can't shoot a takedown, which would mean Royce would try to drag him down in his guard. But Shamrock allegedly owes Zuffa court fees over a contract dispute, and this would be one way of working it off. (Biggest obstacle: Gracie would have to drink a ton of water to weigh in at the minimum 186 pounds for a fight at 205.) Maybe more appropriate for the 20th anniversary of the UFC in 2013, but that assumes Shamrock isn't in traction by then.
Kazushi Sakuraba (12-1)
He split two fights with Gracie, including a 2000 bout that, at 90 minutes, was "The Godfather" of MMA matches. Getting him would require negotiating with Dream/Japan, and although that's not impossible, it's probably not worth the hassle.
Matt Hughes (20-1)
Dearly beloved, we are gathered here today ...
James Toney (60-1)
Classic matchup -- and one the Gracies always wanted -- but the UFC won't deviate from state commission standards, even though Brazil is a pretty liberal place for a fight.
Roy Jones Jr. (100-1)
Right weight class, and Jones was willing to fight Anderson Silva under MMA rules. But expensive.
Yoshihiro Akiyama (10-1)
Akiyama originally was supposed to fight Gracie in Japan several years ago but he injured himself. He would probably keep Royce standing and pummel. Depressing.
Wallid Ismail (3-1)
Ismail never got much momentum going as an MMA fighter and hasn't fought in eight years. But he did choke out Gracie in a jiu-jitsu bout in Brazil in 1998, the first real indication the guy was human. Bonus for promotion: In the arena of trash-talking, Ismail is the Brazilian Chael Sonnen.