There is no eclipsing the UFC brand. No chance at all. Too much brand power, too much broadcast content, too many top fighters and too much of a lead on international expansion. Most attempts to compete will wind up looking like the XFL. At least that Vince McMahon venture went big early and imploded quickly; many fight promotions prefer a slow, dripping death.
[+] Enlarge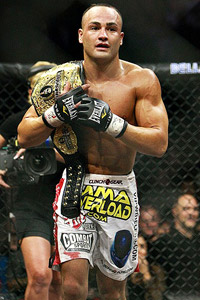 Dave Mandel/Sherdog.com
Eddie Alvarez has the belt, but will he gain the buzz now that Bellator has a new home on MTV2?
I was ready to write Bellator's eulogy earlier in the year. Despite its strong roster of talent, the promotion's champions (Hector Lombard, Eddie Alvarez) had little competition -- and the rare contenders it did groom could be plucked by a promotion with deeper pockets. Worse, Bellator's deal with Fox Sports Net made it virtually impossible for any viewer to feel any sense at all of continuity. What the promotion had done so wisely -- fracture shows into "seasons" that were easily understood and followed -- was totally undone by the network's time-slot bleeds. At least half the time my TiVo recorded a Bellator program and played it back, no one was getting kicked in the head.
What kept Bellator's optimism up might have been dwelling on the idea of Fox serving as a staircase. Long before Spike entered the picture, the UFC had struggled with its own FSN deal. It seems likely that having had some sort of presence on television made the promotion less of a risk to the channel that would become its permanent home. In both cases, the UFC and Bellator have used that erratic exposure to graduate to a higher-profile opportunity on a Viacom-owned station.
(That shared umbrella might be the most interesting fact of Bellator's new deal with MTV2, which is scheduled to launch in March with a light heavyweight tournament: Viacom owns both Spike and the music-television channels, making Bellator a kind of distant cousin in a family tree that the UFC obviously has no interest in exploring.)
And although it would seem that the opportunity to expose its product to 75 million homes is Bellator's hand to play as it sees fit, the reality is that its success or failure has relatively little to do with the promotion. It's entirely dependent on how MTV2 chooses to capitalize on its new toy.
Spike's success in recent years can be attributed in large part to its comfort in becoming a destination channel propped up mainly by the UFC: While "1,000 Ways to Die" and "Manswers" are cheap programming filler that can rot brains as rapidly as anything else on television, it's the UFC machine that keeps the channel a visible and viable choice for desired demographics. It's a partnership that has paid dividends for both parties. Without mainlining UFC's product on basic cable, it becomes extremely difficult to coerce viewers into stuffing their cable bill full of pay-per-view events.
Tweet, tweet
Don't miss a moment of the latest MMA coverage from around the world. Follow us on Twitter and stay informed. Join »
If MTV2 has had any designs on becoming a preselected programming option instead of a channel-surfing, it's-either-this-or-"Die Hard II"-on-TBS desperation choice, it hasn't offered much evidence of it. The channel's programming is primarily recyclables from MTV and the occasional, quasi-cultish comedy series such as "Wonder Showzen." It's a sidecar on the MTV motor, content with repeats and low-wattage programming. Its only identity is having a lack of identity.
Bellator can change that. In contrast to the UFC, which offers 24 weeks of the pre-taped "Ultimate Fighter" and a handful of live events in a calendar year, Bellator is floating the idea of hosting 27 live events in 2011. That's a regular, consistent percussion of live bouts.
If MTV2 wants to make the company an equal content partner, it could mean a radical change in how the network is perceived. If the channel wants to treat Bellator as silent filler and hope the hardcores latch on to it, it won't be worth considerably more than the Fox deal. As we've seen with CBS and Strikeforce, there's no guarantee a deal leads to corporate adhesion. A broadcast partner with no interest in your product isn't worth the coaxial cable it's fed through.
Assuming the network gets it, Bellator still has significant hurdles to overcome: There is potential that its inoffensive production could be reimagined for the ADD generation; injuries often wreck the tournament format; and there's still the inherent suspicion on the part of viewers who don't see "UFC" anywhere in the channel listing.
Although there is no catching the UFC, there are niches available in MMA -- but it takes a marriage between product and provider to secure one. For Bellator to have a chance, MTV2 needs to do a lot more than just the bare minimum. The UFC and Spike gave everyone the formula; it's up to Viacom to find out if it's repeatable.