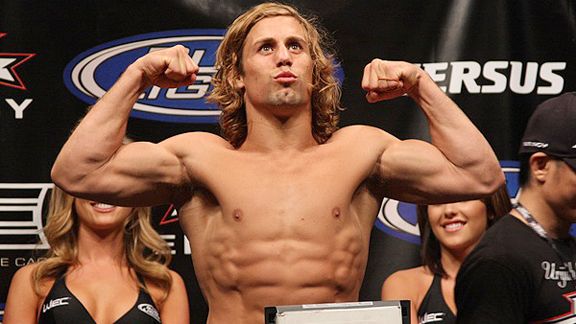 Sherdog.com
Urijah Faber already is a recognized star, but his newly minted UFC division deserves more exposure.
There's no better direct-delivery system to popularize fighters (or fights) than coaching slots on Spike's 5-year-old "Ultimate Fighter" franchise. With 12 hours and three months of basic-cable promotion, it beats HBO's "24/7" series in volume alone.
With a January start fast approaching, UFC's Dana White told gathered media over the weekend that Chael Sonnen-Wanderlei Silva and Urijah Faber-Miguel Torres were under consideration for the slots. From a television producer's point of view, you want Sonnen. He guarantees good footage, clips and manufactured melodrama. Silva is a good man doing the slow burn in the background. It'd work.
Sonnen, who just got through a disclosure process for medically-approved testosterone, is still over the burner.
Even if Sonnen were spotless, there would be a stronger case to be made for Faber and Torres getting a promotional engine behind them for the UFC's introduction of lighter-weight classes. There is still a vast audience in MMA that hasn't sampled the WEC's product and has little conception of the appeal of those divisions. Faber is already a celebrity and both fighters have personalities, and recruiting bantamweights and featherweights would help get fans invested. Sonnen has many problems, but a lack of self-promotion isn't one of them. Haven't the WEC guys waited long enough for exposure?