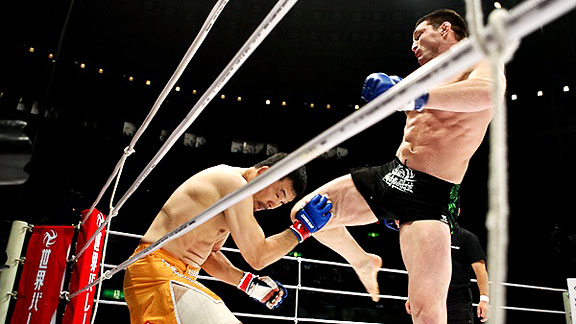 Taro Irei for Sherdog.com
Kazushi Sakuraba has absorbed untold punishment in his 14-year career, but it's on with the show.
One day, the most prized commodity in the study of cerebral trauma in mixed martial arts may be the lumped-up brain of Kazushi Sakuraba, the 14-year veteran of Japan's masochistic fight scene who seems to have little interest in aging gracefully and every motivation to do it painfully.
For K-1's end-of-year spectacular, Sakuraba will face Marius Zaromskis, a violent striker good enough to put Nick Diaz on his heels and tear through Dream's 2009 welterweight grand prix. Bizarrely, Zaromskis has suffered more TKO losses (four) in the past few years than Sakuraba, who has been stopped by strikes once since 2005. But records don't tell the whole story. Sakuraba is ailing and was in significant trouble in fights he survived. He generally resembles little of the man who once was considered the best in the sport. Putting his hobbled knees and geriatric reflexes against a little monster like Zaromskis is a strange choice. But strange has a different meaning in Japan.
Sakuraba's compulsions for continuing to compete remain ambiguous: His salaries in Pride were allegedly underwhelming and (again, allegedly) paid to his academy, Takada Dojo, rather than to him personally. Money is an easy explanation, but Sakuraba wouldn't remotely be the first athlete to fear what his life would become without competition. He might be the closest thing Japan has come to having its Muhammad Ali in MMA -- enigmatic, talented and a born salesman -- but if he's not careful he might wind up having more in common with the boxer than he'd like.